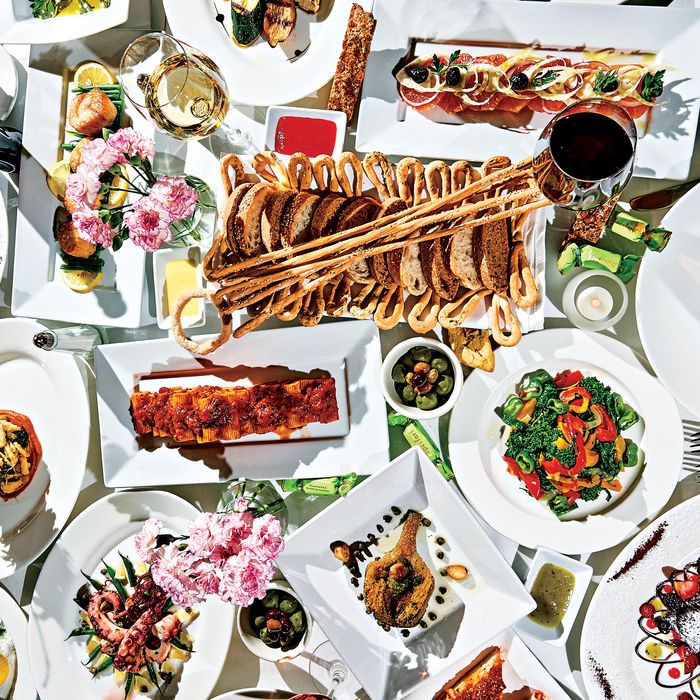 Queen is a great red-sauce joint frozen in another era.
Photo: Bobby Doherty
It's time to talk Italian restaurants. Specifically, red-sauce joints. What makes a red-sauce joint great? Ideally, the waiters should be ancient and somehow rude and jolly at the same time. Tablecloths should be white or checkered, the floors covered in red carpet, and the walls decorated with gold-framed oil paintings. The clientele should be mostly over 60 and loud. And the Italian-American standards (veal parmigiana, chicken scarpariello, manicotti, linguine with clam sauce, and osso bucco) should be perfectly drenched (without being watery!) in various iterations of cheese, "gravy," butter, wine, and garlic.
1. Queen Italian Restaurant
84 Court St., nr. Livingston St., Downtown Brooklyn; 718-596-5955
Above all, a great red-sauce joint should be frozen in another era without feeling musty. Queen is that, with the added bonus of the food being more delicious than it needs to be. Located on an otherwise uninspiring stretch of Court Street, next to a McDonald's and a few blocks from Borough Hall, the 58-year-old restaurant (which was once called Queen Marie's and originally located across the street, next to a XXX movie theater that's now a Barnes & Noble) is pretty universally ignored by New Brooklynites — despite its bright-pink-and-green neon signage. In-the-know locals (and those who work in the nearby courthouses) who've been going here for decades are greeted warmly by the 80-something-year-old pint-size host Franco, who manages to keep traffic flowing smoothly — even on Friday and Saturday nights, when the place is bursting with families, couples on date nights, and 15-person birthday parties. Run by Pasquino and Vincent Vitiello, the sons of the original owner, Queen offers two menus, one that hasn't changed since 1958, and one that has: Stick to the original for heaping portions of chicken parmigiana with housemade mozzarella, a particularly umami-y cappellini bolognese, a perfect lasagne, and a zesty shrimp fra diavolo. While the restaurant's firmly set in a time before the SoulCycle across the street was even a glimmer in its founder's eye, if you ask nicely, the waiters might even make you a gluten-free veal Marsala.
2. Don Peppe's
135-58 Lefferts Blvd., nr. 149th Ave.; 718-845-7587
If Queen is the perfect refined neighborhood red-sauce joint, Don Peppe's, way out in Ozone Park (it's about a ten-minute drive from JFK), is the perfect chaotic and boisterous special-occasion spot — that's only No. 2 on this list because of the schlep required to get there. Brusque waiters (legend has it that a waiter once spilled wine on the wife of Lucchese crime boss Paul Vario, who later ordered his people to attack the waitstaff with lead pipes) dole out cocker-spaniel-size plates of their signature linguine with white clam sauce, cracklike shrimp Luciano, and a transcendent sweet and tender chicken with lemon and butter. Chefs love the place — keep your eyes peeled for the Franks of Frankie's Spuntino and Michael Psilakis of MP Taverna.
3. Manducatis
13-27 Jackson Ave., at 47th St., Long Island City; 718-729-4602
Since 1977, Italian-born husband-and-wife team of Ida and Vincenzo Cerbone have overseen this beloved Long Island City spot that's No. 3 for being classic, but also being a little bit weird: Walk in and you feel like you've accidentally stepped into an insurance agent's office, as you encounter Vincenzo, wearing a suit, sitting at his desk piled with magazines, working the books. He'll escort you to the two art-adorned adjoining dining rooms, where an apron-clad Ida works the room, directing diners to old-world favorites like eggplant rollettini, a bountiful prosciutto antipasti, and veal parmigiana, all served on plates featuring photos of Ida as a baby. Wonderful, but weird.
4 Gene's
73 W. 11th St., nr. Sixth Ave.; 212-675-2048
Gene's is on the list mostly because it's so damn charming. And because, 97 years after it opened on this cozy corner of 11th Street, it's still somehow packed with regulars who've been coming here since the 1950s. Start your meal with a complimentary plate of crudite and the baked clams oreganata, and you can't go wrong with the chicken Marsala. A bonus: The bar is wonderful and always full of oddball characters.
5. Frost
193 Frost St., at Humboldt St., Williamsburg; 718-389-3347
So why isn't Ur-red-saucery Bamonte's on here? Yes, it's still a pretty amazing place: On a recent night we stopped by, Jeopardy was on the TV, a group of old guys in leather jackets were huddled by the bar, and we saw a priest show up to a birthday party at the next table. But the food just really leaves something to be desired. We suggest getting a drink at the bar, soaking in the scene, and then heading a few blocks east to the less-known (but adored by its regulars) Frost for a much better culinary experience. Opened in 1959, the place is still very 1959: The walls are bright yellow, the floors linoleum, the banquettes bright red. Frost is known for its seafood, and the seafood is what to get here, like the baked clams, the fried calamari, and their show-stopper, shrimp fra diavolo. End the night with a delightful tartufo.