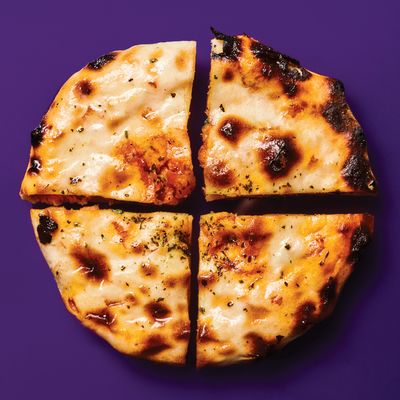 Indian Accent.
Photo: Bobby Doherty/New York Magazine
Conventional wisdom has generally held that anyone in New York seeking the most delicious and authentic versions of an imported culinary tradition should head to the outer boroughs — and for Indian, Jackson Heights has long been the destination. But, as it turns out, at some point the script flipped, and with a few exceptions, the city's top spots for Indian food are now in Manhattan — and top they are: excellent, elegant, and diversified enough to shed the cuisine of the patronizing, oversimplified designation of "ethnic food" and place it squarely on the level of French or Italian.
1. Indian Accent
123 W. 56th St., btw. Sixth and Seventh Ave.; 212-842-8070
It should come as no surprise that the best Indian restaurant in New York arrived directly from the source: Indian Accent is an outpost of a critically acclaimed Delhi restaurant. This lends it a certain authenticity and authority, but what sets it apart is the creativity of its chef, Manish Mehrotra. He has reimagined traditional recipes for a luxury setting (the cost of a meal here is not insubstantial) — but not by subjecting them to the techniques of the cuisines that are more typically associated with fine dining. Rather, he is extremely careful when it comes to ingredients and preparation, and playful and intuitive when it comes to presentation and unexpected combinations. The result: beautiful dishes like the ghee-roasted lamb — served with a bamboo steamer filled with roti pancakes, inspired by Peking duck — and the delicate stuffed Kashmiri morels, crowned with a play on the traditional cracker known as papadum, made here with Parmesan cheese.
2. Ganesh Temple Canteen
143-09 Holly Ave., Flushing; 718-460-8493
If it's pure, simple, comforting authenticity you seek in your Indian food, you can probably do no better than the Temple Canteen, which is in the basement of a Hindu house of worship. It's often filled with people who have just come from prayer, sitting around folding tables and chairs to share expertly prepared, extremely inexpensive south Indian treats — from fiery mirchi bajji (similar to jalapeño poppers) to crisp masala dosas, which come with sides of coconut chutney and sambar.
3. Moti Mahal Delux
1149 First Ave., at 63rd St.; 212-371-3535
With over 100 locations across India, Nepal, and New Zealand, this place may be formulaic, but only in the positive sense of the word: The kitchen's formulas ensure you'll eat some of the city's best butter chicken and tandoori chicken in a dining room with a lovely, elegant but relaxed vibe.
4. Dhaba
108 Lexington Ave., nr. 27th St.; 212-679-1284
Curry Hill's preeminent Indian restaurant is also one of the very best citywide, whether it's for the greatest-hits lunch buffet or for dinner, as the menu includes nearly 100 dishes from across northern India, with a whole section devoted to London-style grub.
5. Junoon
27 W. 24th St., nr. Broadway; 212-490-2100
Like Indian Accent, Junoon, too, aims to normalize the idea of Indian fine-dining in New York — and succeeds heartily, to the point where it's earned a Michelin star — but plays it a bit safer, with beautifully prepared and elegantly presented but familiar dishes, and the dining room has a slightly stuffier vibe.
Awadh
2588 Broadway, nr. 98th St.; 646-861-3604
An Upper West Side destination from the same chef-owner behind Moti Mahal Delux (as well as Curry Hill's kebab-focused Bhatti Indian Grill). It's devoted to the culinary tradition of its namesake, the Awadh region in northeast India, known for slow-cooking methods and elegant, elaborate presentation.
Haldi
102 Lexington Ave., nr. 27th St.; 212-213-9615
One of Dhaba's many sister restaurants (all founded by chef and Kolkata native Shiva Natarajan, though some are no longer owned by him), this one, also in Curry Hill, specializes in representing the culinary diversity of Kolkata, which includes — most unusually — dishes inspired by the city's population of Baghdadi Jews.
Jackson Diner
37-47 74th St., nr. 37th Rd., Jackson Heights; 718-672-1232
Though the idea that the best Indian food in New York is to be found in Jackson Heights doesn't hold much weight anymore, it's fun to revisit some of the old-timers. Perhaps chief among them is Jackson Diner, where the food is quite good — if not mind-expanding — and makes a good prelude to treats at nearby Rajbhog Sweets (which also has a great steam table of savory dishes, as it happens).
Paowalla
195 Spring St., at Sullivan St.; 212-235-1098
If you still long for Tabla, late of the Flatiron District, it's worth it to pay a visit to Paowalla, Floyd Cardoz's latest mostly Indian restaurant. Open less than a year ago, it feels like it's still getting its footing — and sometimes veering off course. But some dishes — like the eggs Kejriwal, a sort of cheese toast with a hidden egg, from Mumbai — are true standouts.
Tamarind Tribeca
99 Hudson St., at Leonard St.; 212-775-9000
Rarely does a restaurant of this size (absolutely massive at 11,000 square feet) offer such delicious and refined food: artfully presented, expertly prepared dishes from all over India, featuring ingredients you might not expect, like crab and venison.
*A version of this article appears in the March 6, 2017, issue of New York Magazine.
*This post has been updated to reflect that Tabla was located in the Flatiron District, not the Upper West Side, and Ganesh Temple Canteen is located in a Hindu house of worship, not Hindi.