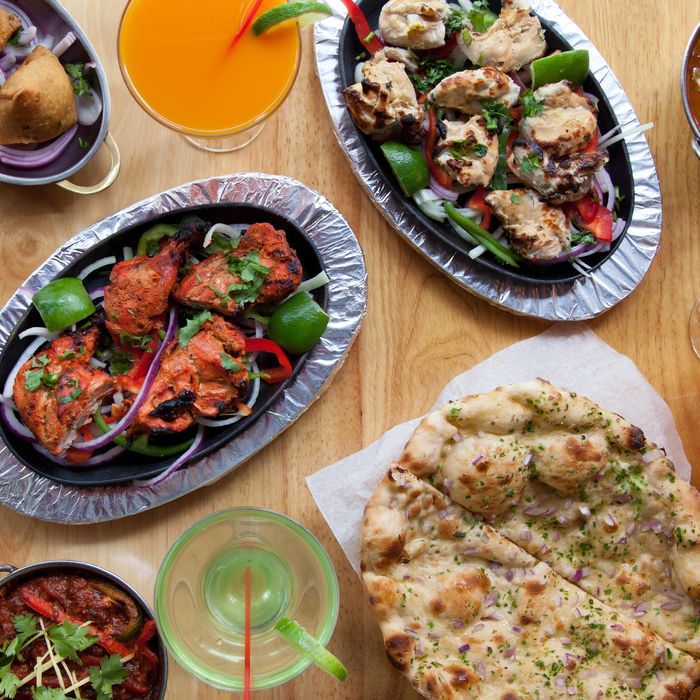 Dhaba's menu has become something of an essential text.
Photo: Miachel Breton
The city's Indian-food scene now includes a sleek midtown import where ramps are artfully wilted on upscale paneer, as well as a handful of Floral Park shops that serve the beany, ultra-spicy breakfast curry dish known as misal pav. And even Curry Hill, the subsector of Rose Hill known for its overload of affordable food and nonstop buffets, is undergoing something of a renaissance of culinary identity. Here are the five best spots that go beyond the curry house playbook in favor of regional road food, papery dosas, and fish that comes dry-fried and doused with fiery mustard oil.
1. Dhaba
108 Lexington Ave., nr. 27th St.; 212-679-1284
Hemant Mathur, the chef and restaurateur who propelled Dévi and Tulsi into the fine-dining stratosphere, made a somewhat unprecedented move when he signed on to overhaul six Indian restaurants at the same time. Three are on this list. Dhaba's lunch buffet remains a draw, which makes a certain amount of sense, given the veritable war of Sternos and chafing trays on Lexington Avenue, where restaurants march into battle bearing piles of samosas. Dhaba's regular, non-all-you-can-eat menu, however, has become something of an essential text. Minced lamb kabobs are spiced and smoky, and the roster of meatless northern-Indian dishes includes cabbage cooked down with toasted chilies and turmeric until it has more concentrated flavor than a plate of pulled pork. Mounds of paneer enrobed in spinach simmer in a creamy gingery shaam savera (or tomato gravy) until they resemble delightful, cheesy meatballs. Dining-room kitsch and overall theatrics are kept to a minimum, which benefits real, made-to-order spectacles like the tandoor-cooked chicken. Punjabi standards like methi chicken showcase the mild flavor of fresh fenugreek; fragrant green cardamom and bay leaves are carried along by the dish's creaminess. "Indian food," of course, is a way of saying many dozens of distinct regional styles and innumerable influences. Dhaba's namesake, in Punjab and beyond, is the name for a kind of way station for weary truckers. On Lexington Avenue, it's a gateway.
2. Mughlai Indian Cuisine
329 Third Ave., nr. 24th St.; 212-889-0909
This restaurant quietly took the place of an old Baluchi's in February. The name may be familiar, but Mughlai has no connection to the now-shuttered Upper West Side dining room of the same name. And while the menu has all the usual suspects — lamb vindaloo, chicken curry — nothing (surprisingly) has a mass-produced big-batch appearance. There are no rote flavors to be found, and the food is consistent. Methi malai matar is a rumble of peas and fresh herbs, not a stewy mess. Golden-fried samosas and vibrant chutney pack a pleasant dose of chili pepper. Onion bhajias are piping hot, and the Mughlai special biryani goes heavy on sticky, meaty cuts of goat. The eggplant in the baingan bharta is melted and caramelized; there's naan stuffed with minced lamb, and kulcha packed with more flecked onion than an old-school bialy. Service can get frantic as bags of delivery orders pile up out front, but diners often get a dish of cold, conciliatory cardamom-flavored and pistachio-crowned rice pudding on the house.
3. Desi Galli
101 Lexington Ave., nr. E. 27th St.; 212-683-2292
Though it serves decent biryani and soupy, nourishing yellow dal, the always reliable, slightly disheveled Desi Galli is all about the cheap snacks known as chaat. The pea and paneer kathi roll, filled with fragrant tomato and shredded cheese that's been griddled up into something resembling the texture of scrambled egg, is a great entry point. The roll has all the poise of a compact burrito but none of the stomach-bombing heft, and it comes with vibrant mint chutney. The pav bhaji are a paragon of the form, consisting of toasted buttery buns and a cauliflower-heavy vegetable mash. It should be noted that a second, slightly flashier Desi Galli recently opened in the East Village. Fittingly, it sells "Desi poutine," a plate of spiced fries drenched with tikka masala gravy and paneer. There are no current plans to bring the newfangled mash-up to Murray Hill, but the flagship seems equally determined to prove it can keep up with the times: It recently introduced a gluten-free paratha made with chickpea flour.
4. Haldi
102 Lexington Ave., nr. 27th St.; 212-213-9615
From the sconces to the enameled chairs, Haldi is blasted with a color a shade brighter than taxi yellow. It references the restaurant's name — haldi is the word, or loanword, for turmeric in several languages — and turmeric is the through line for Mathur's varied Marwari and Bengali menu influences. More broadly, the restaurant explores the cuisine of Calcutta's Jewish population. Meaty hunks of tilapia in the hawker fish fry pop with mustard seeds and the sting of onions, and kebabs like the chapli, scented with toasted cumin and hot chili, are among the city's finest.
5. Kokum
106 Lexington Ave., nr. 28th St., 212-684-6842
Kokum zeroes in on a certain kind of South Indian–style food that punches up fatty base flavors with sharp herbal accents. Lamb "dry" fries in a minimum of fat; wizened red and plump green chiles dial in all kinds of heat, more to add flavor and less of a punitive sting. The idea is to keep everything light. Take the crispy cubes of spiced dark meat in the Kumily chicken fry, for example, which is served with a fistful of fresh curry leaves tossed in at the end. The pungent herb reappears throughout the menu, notably in a dish of okra cooked on full blast with mustard seeds and fried lentils. Seventeen types of dosa, some stuffed with lamb and dry chile, are made by a dedicated dosa chef, and shrimp bubbles away in coconut-cream-thickened curry. Idlis, the steamed lentil and rice cakes that have a tangy sourdough-like flavor, bob in miniature form in ghee-slicked sambar, a tomato stew simmered with drumstick, a stalky, hearts-of-palm-like vegetable with a grassy flavor. The mood can get frenetic, especially during peak brunch and the bargain sampler-style thali lunch. The small dining room also sometimes makes it harder to chutney your dosas in peace.