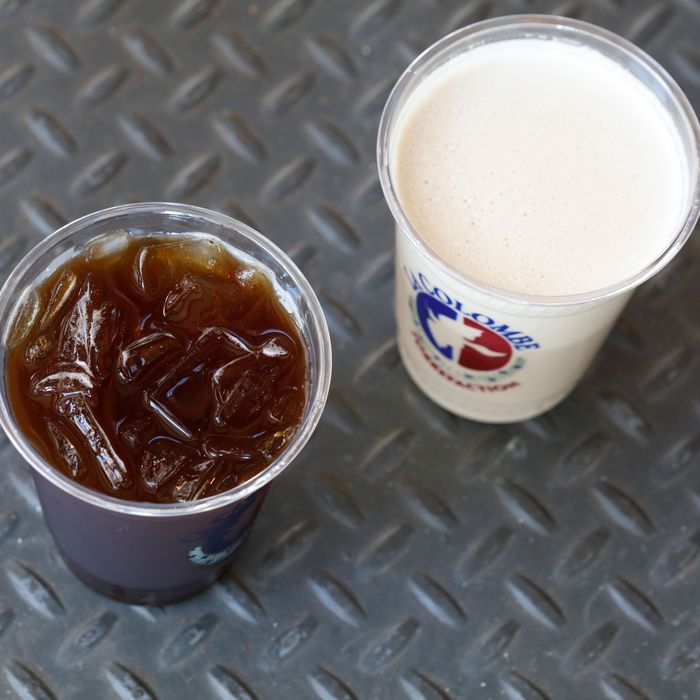 A game-changer.
Photo: Melissa Hom
For many people, the arrival of warm weather also means the return of iced coffee, but this is a landscape fraught with peril, since so many places offer subpar versions. When done right, though, cold coffee is a wonderfully smooth, subtly aromatic staple of summer. These four spots definitely won't disappoint.
1. La Colombe Torrefaction
Multiple locations
Todd Carmichael debuted his so-called "draft latte" last summer — an immediate total game-changer for iced coffee. The $4 frothy drink, poured straight from a tap, has a texture closer to Guinness, and it's made fresh throughout the day. La Colombe's staffers mix three parts fresh milk with one part cold-pressed espresso, and then connect a keg to a nitrous-oxide line that infuses gas throughout the coffee, giving it its signature texture and a layer of microfoam. It's slightly sweet and incredibly smooth. (It's also available in cans now.) And take note: People who prefer their iced coffee without milk can also get in on the action with La Colombe's on-tap Pure Black–branded cold brew.
2. King's
37 Carroll St., nr. Columbia St., Red Hook; 718-232-7736
This under-the-radar coffee shop, which operates out of a garage in Red Hook, officially reopened on Memorial Day, and it serves coffee just three days a week (Friday, Saturday, Sunday, from 9 a.m. to 6 p.m.). Owner Dominic Palastro's passion borders on the obsessive about his iced coffee: He starts with cold water specifically selected for its mineral content, and he "cold drips" it through the grounds (a blend from old-school Italian roaster "Mister" Joe Iervasi) extremely slowly, for up to 18 hours. Then he mixes every order himself with the resulting concentrate instead of batching the iced coffee, as many shops do. Order it straight-up or mixed with organic milk and sugar, if you'd like. Either way, the slower-than-usual method results in an iced coffee that highlights the beans' chocolate and fruit flavors.
3. Santina
820 Washington St., nr. Gansevoort St., 212-254-3000
In keeping with the theme of Mario Carbone and Rich Torrisi's Meatpacking restaurant, the $9 coconut iced coffee tastes like a trip to a tropical beach, and it's unlike any other iced coffee in town. It's made with La Colombe cold brew and a proprietary mix of coconut milks, achieving a balance that's not nearly as sweet as a Starbucks Frappuccino, but also less bitter than regular iced coffee. While the creation was once restricted to breakfast service, it's become so popular that it's now available from 10 a.m. to 6 p.m. every day of the week (to go, too), as well as at the restaurant's summer-only Coconut Cart in Gansevoort Plaza.
4. Blue Bottle Coffee
Multiple locations
James Freeman's New Orleans–style iced coffee was a pioneer in the world of next-level cold coffee, but even with all of this category's technological innovations, it remains difficult to beat. The coffee is cold-brewed with chicory — there's the New Orleans touch — for 12 hours, then hit with rich whole milk, making for a finished product that's simultaneously smooth and strong. Bonus points: It's available in carton form, too.