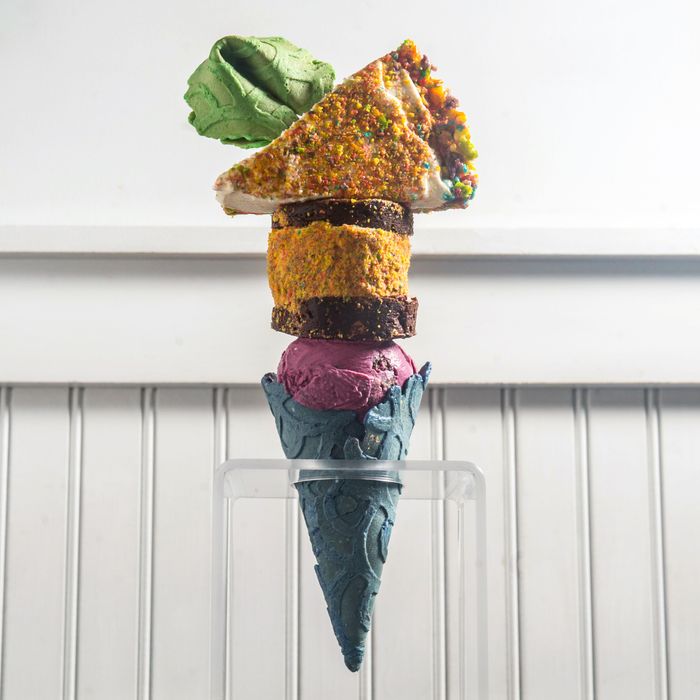 Ice & Vice.
Photo: Paul Wagtouicz
In a city where you can find ice cream basically anywhere food is sold, from grocery and corner stores to restaurants and bars, and even on the street (Mister Softee cravings are real), an establishment that specializes in the stuff had better go big or go home (and drown its sorrows in a pint of bodega Häagen-Dazs). Here are New York's absolute best ice-cream shops, from longtime landmark fixtures to the hottest new kids on the block.
1. Ice & Vice
221 E. Broadway, nr. Clinton St.; 646-678-3687
Dare we call the men behind this stall turned sleek little shop mad geniuses? The flavors on offer are outrageous, but scientifically so: You might liken a towering cone or sundae here to a stick of Willy Wonka's three-course-dinner chewing gum, for the way each cleverly named scoop attempts to recreate a dish or snack — or even an entire meal — that you wouldn't necessarily associate with ice cream, let alone dessert. Ants on a Farm showcases raisin, celery, and chocolate chips. 9AM contains French-roast coffee, chicory, Vietnamese cinnamon, condensed milk, and doughnut truffle. Pork Your Melons combines honeydew, prosciutto chips, and white balsamic reduction. Even vanilla (Basic B) is amped up with black-lava sea salt. The craziest part? It all tastes good.
2. Ample Hills Creamery
Multiple locations
Ample Hills gets major points for inspired creativity, too, but it's got a less intellectual, more playful vibe going on, targeted more toward the young, the young at heart, and the stoners among us (Munchies is one of the most popular flavors). The whimsical concoctions tend to be incredibly sweet, more often than not featuring cookies and candy and all manner of nostalgia-invoking junk food, from Fig Newtons to Peppermint Patties to chocolate-covered saltines. But it's got a certain wholesomeness, too: pasteurized on-site using hormone-free, grass-fed dairy, and made with organic sugar.
3. Davey's
Multiple locations
Unlike Ice & Vice or Ample Hills, Davey's isn't about breaking the mold — it's about perfecting it, turning out a small selection of unusually on-point versions of beloved classics, made completely from scratch using a carefully selected brand of dairy (Battenkill) and a finely tuned percentage of butterfat to sugar. Coffee isn't just coffee — it's Strong Coffee (and how); raspberry sorbet is ramped up with just a hint of Riesling; and Speculoos Chocolate Chip improves upon the concept of cookie dough. Plus, it offers a killer brownie, which can be ordered alone or as a sundae base, and a peanut-butter-pie shake.
4. Morgenstern's
2 Rivington St., nr. Bowery; 212-209-7684
There isn't a dull flavor on the menu, from strawberry-pistachio pesto to lemon-shiso espresso to licorice, and there are lots of them to choose from. But what really sets Morgenstern's apart are aesthetics. The shop itself is delightful: bright and clean and old-fashioned in an extremely of-the-moment way, all custom fonts and black-and-white-tiles and charming stools and seating nooks. The engaging, knowledgeable employees wear neat white aprons and paper hats, and scoop the ice cream into unusually perfect spheres. The King Kong banana split — five towering scoops drizzled in sesame caramel with pickled pineapple and a Luxardo cherry — especially, is a sight to behold, and to Instagram. It even has avocado-ice-cream toast.
5. Big Gay Ice Cream
Multiple locations
You can scoff at the tourists who snake down the block in the warmer months, or insist that soft serve is an inferior form of ice cream, or write off the concept as a gimmick, but the fact is that a Big Gay ice cream (the Monday Sundae, for example, which features a cone lined with Nutella, a drizzle of dulce de leche, and sea salt) is extremely satisfying and delicious. Plus, the gimmick is irresistible (don't be a killjoy), and you can't have soft serve at home! The tourists are onto something.
Blue Marble
Multiple locations
Brooklyn's Blue Marble is akin to Davey's in its commitment to honing straightforward classics (chocolate, strawberry, cookies and cream), with a rotation of restrained seasonal specials like sweet corn or spiced-cider sorbet. It's also completely organic, and good enough that it's now sold by the pint in grocery stores.
Brooklyn Bell's the Local
843 Classon Ave., nr. Lincoln Pl., Prospect Heights; 718-399-2613
Satisfying, comforting flavors — like roasted strawberry, sweet-potato pie, and black-lava caramel (with black Hawaiian sea salt) — are made on-site "like your grandma would," with egg yolk instead of additives and stabilizers.
Cones
272 Bleecker St., nr. Morton St.; 212-414-1795
Anyone who's been to Buenos Aires knows that helado (a.k.a. gelato) shops are a way of life, and this West Village spot brings it to New York, with flavors ranging from dulce de leche and maté to tiramisu and sabayon (another classic Italian dessert).
Eddie's Sweet Shop
105-29 Metropolitan Ave., Forest Hills; 718-520-8514
At over 100 years old, Eddie's is an institution, as real-deal retro soda fountain as they come, with neon signs and tin ceilings and a tiled floor — plus homemade ice cream, classic sundaes, and egg creams, best enjoyed on a stool in vintage metalware at the long marble counter, and purchasable only by cash, which goes right into the 1920s cash register.
Il Laboratorio del Gelato
188 Ludlow St., at Houston St.; 212-343-9922
Calling itself a laboratory is not just for effect — the stark glass-and-concrete space, conceived by the man behind Ciao Bella gelato, looks the part; and the incredible array of flavors are painstakingly prepared on-site, often custom-made for chefs and caterers and sometimes bizarrely specific, ranging from acacia honey to cheddar cheese to Greek coffee.
OddFellows
Multiple locations
OddFellows, whose co-owners include a former wd~50 pastry chef, can get too odd — for example, their version of s'mores, which incorporates a smoke flavor in an attempt to truly capture the campfire treat, misses the mark and ends up tasting like barbecue — but their basic ice-cream formula is great, and many of the rotating flavors (like, recently, banana pudding and tangerine sorbet) land and delight.
Soft Swerve
85B Allen St., nr. Broome St.; 646-476-6311
The concept of (not to mention the lines at) this Lower East Side newcomer is very similar to Big Gay's — soft serve, taken to its logical conclusion — but has a distinctly Asian spin, offering flavors like ube (purple yam), matcha, and black sesame, and toppings like condensed-milk drizzle and mochi.
Van Leeuwen
Multiple locations
It must be noted that the consistency of Van Leeuwen ice cream tends to really emphasize the ice — it can be sort of flaky, and sometimes you get a whole chunk of the stuff. But they use top-notch ingredients to achieve some truly awesome flavors — including Earl Grey tea and passion-fruit layer cake — and they have a hefty offering of equally interesting and delicious vegan options, too, made with coconut, cashews, and cocoa butter.