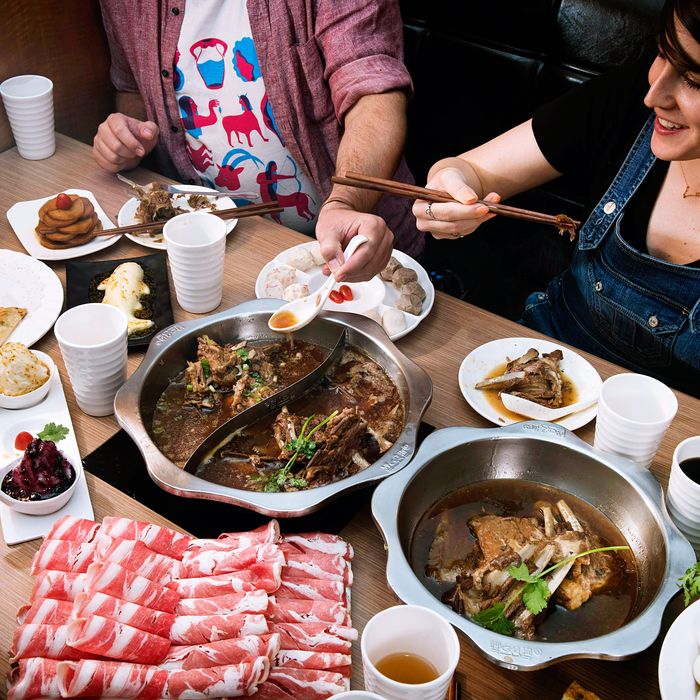 Hot pot is as much dinner as it is an activity. Coming together over aromatic, bubbling broth is a communal experience that requires participation beyond simply putting chopstick to mouth. You do the cooking, as diners dunk thinly sliced meat and various other ingredients (enoki mushrooms, pork belly, fish balls, chrysanthemum greens, etc.) until they're ready. (Even the requisite dipping sauces are often made by diners at salsa-bar-like setups). It's a meal, it's a night out, and it's an exercise in proper cooking technique, and these are the five places where it is the absolute best.
1. Lao Cheng Yi Guo
136-55 37th Ave., nr. Union St., Flushing; 646-240-5030
The Chinese import Lao Cheng Yi Guo (or Beijing First Lamb Shabu, Inc.) isn't like the other hot-pot spots in New York. The broth here can be had mild or spicy, but what you'll always get is a robust lamb soup that's gamy, rich, and even a little sweet. There's warm spice, with a subtle heat. Sichuan peppercorn lends its famed tingling property, and the broth itself comes with an ample serving of tender lamb. The meat is first-rate, as are the other ingredients: Chrysanthemum greens are peppery and vivid; baby bamboo retains a satisfying crunch. There are even delicate egg-crêpe dumplings, a celebratory dish in China. (Just don't let them cook for too long.) Sides like puckery old vinegar peanuts and flaky fried clay-oven rolls will help you make a complete meal. And it's essential to order some hand-pulled noodles, with which you can turn the broth into a proper soup.
2. Little Sheep Mongolian Hot Pot
105 Bowery, nr. Hester St.; 646-484-5707
136-59 37th Ave., nr. Union St., Flushing; 718-762-8881
Little Sheep — a chain in China — offers hot pot as nightlife, catering to a younger crowd with a brightly lit dining room and a soundtrack that mixes sugary EDM with Pitchfork-approved producers like Kaytranada. Broths include the mild, flavored with the East Asian fruit jujube; the sour pickled-cabbage version; and the spicy broth, which perfumes your table with the scent of Sichuan peppercorn. Meat options are plentiful, and you can spend a whole meal dunking different proteins: lamb shoulder, garlic beef, juicy beef meatballs, and various offal opportunities. And, as at other top hot-pot spots, the greens here are notably fresh, and take so well to the broth, you're liable to favor them over the (also-excellent) thin-sliced lamb.
3. Little Lamb Mongolian Hot Pot BBQ
40-24 College Point Blvd., nr. Roosevelt Ave., Flushing; 718-359-1668
5216 Eighth Ave., nr. 53rd St., Sunset Park; 718-436-7878
Little Lamb, a chain out of Inner Mongolia, offers five kinds of broth, including one enhanced by tomatoes and a Mongolian herbal broth with nuts and jujubes bobbing around. The sauce area is one of the most varied — there's red and white fermented bean-curd sauce, satay sauce, crushed peanuts, etc. — and 100-odd items for cooking. These range from the usual suspects (spongy tofu) to unexpected offal (duck flippers, beef aortas). Meats like beef rib eye and lamb are uniformly vibrant when they arrive at the table, while a vegetable platter offers a bouquet of flora, including several different greens. Those seeking a place for their hot-pot party are well-advised to keep the Flushing location of Little Lamb in mind: It seats 136 people and has private rooms, so no one will see you splashing broth on your shirt.
4. Mister Hotpot
5306 Eighth Ave., nr. 53rd St., Sunset Park; 718-633-5197
133-42 39th Ave., nr. Prince St., Unit G02, Flushing; 718-939-3334
You may find your head bobbing to this spot's thumping electronica soundtrack, while you dip your sliced pork belly. The room itself has a modern look, with foggy glass panels snaking around booths; exposed ventilation and hanging lights; and vintage posters of early 20th-century China. Amid all of this is the hot pot that delivers. There are some tweaks to the traditional format, like a som-tum broth with cubes of pineapple and shellfish, and a creamy pork-bone soup that's worth ordering. Then there are showier items, like bacon-wrapped enoki mushrooms and fried-tofu-skin rolls served in a cone. Everybody seems to order the Mister Beef, which comes with a raw egg. It doesn't seem to make much of a difference once the beef is dunked in bubbling broth, but that's okay: They might make a show of things at Mister Hotpot, but the quality doesn't suffer as a result.
5. Hou Yi Hot Pot
92 Hester St., nr. Allen St.; 212-966-3420
97 Second Ave., nr. E. 6th St.; 212-625-8989
Hou Yi, which has locations in Chinatown and the East Village, nails the all-you-can-eat hot-pot experience. Customers can eat for a full hour before having to re-up or stop ordering. The broths are also more varied than "mild" and "spicy." There's pickled vegetable and beef, Vietnamese spicy beef curry, Italian-style tomato with pork, Thai spicy pork, and more. (Word of warning: Anything "spicy" is labeled that way for a reason — they don't cut back on the chile heat here.) The quality of ingredients won't blow you away, but the enoki mushrooms are springy enough, the beef takes well to your DIY sauce (there's even peanut butter!), and the greens are up to snuff. Beer is, as ever, cheap, but what really makes Hou Yi a party is the self-serve ice-cream bar that you can hit up for several rounds of scoops.