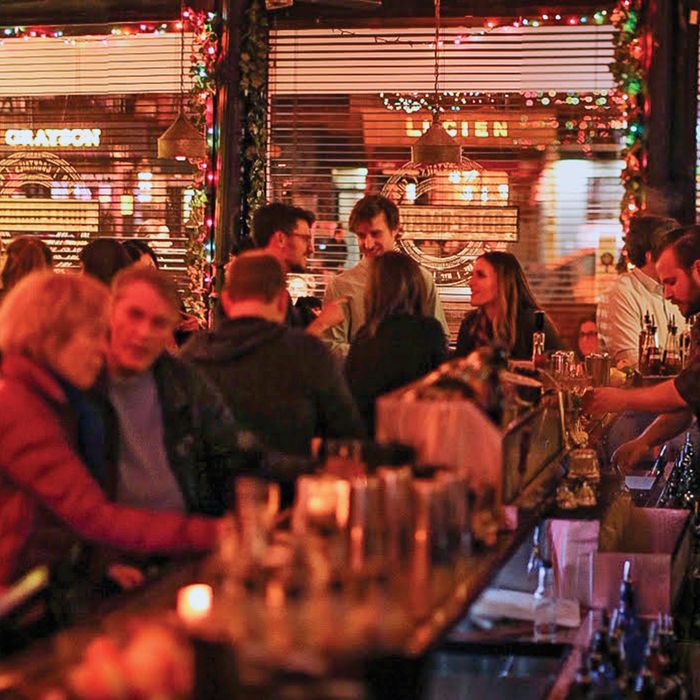 Boilermaker.
Photo: @matthattanyc
The best happy hours let you get tipsy quick, yes, but those are a dime a dozen, and you probably already have a favorite within walking distance of work. So we searched for truly excellent bars offering particularly happy specials like steep wine discounts, and not just on the house red; or well-shaken cocktails priced at half what neighborhood bars typically demand. And of course we looked out for quick, friendly service — it's not a happy hour if you're waiting 20 minutes for a bartender's attention to get in that last drink order before the clock strikes 7 p.m. Finally: Lots of restaurants offer fun happy hour deals (like Empellón Cocina's $5 taco-and-beer and Bobwhite's $5 chicken-and-beer) but we focused on true bars, meaning all these places work for groups of co-workers looking to have more than a polite two drinks.
1. Boilermaker
13 First Ave., at 1st St.; 212-995-5400
Happy hours in office-heavy locations get crowded quickly — and often the specials aren't that good to begin with. And happy hours at bars in, say, Bedford-Stuyvesant or Jackson Heights often end too early for Manhattan workers. But Boilermaker's East Village location is a good compromise. Weekdays from 5 to 8 p.m., 12 fantastic cocktails like Mai Tais, daiquiris, and old-fashioneds are $8 apiece, plus: $4 Brooklyn Lagers and $7 wine. Food's not a part of the happy-hour menu, but it's cheap enough already (and good — we even like the pickle-and-fig-aioli-topped veggie burger). And if you stay after 8 p.m., well, you can drink $7 beer-and-shot specials till midnight, when the late-night pancake-and-mimosas menu begins.
2. La Compagnie des Vins Surnaturels
249 Centre St., nr. Broome St.; 212-343-3660
From 5 to 7 p.m. daily, dishes like za'atar-spiced chickpeas are $5; wines by the glass are $5 off. Try Smallfry's Stella Luna from South Australia, a cinsault-shiraz blend, or test your skills with the Mystery Wine: "Guess the wine and win the bottle!" There's lots of seating in the pretty, mirror-heavy room that's good for groups, including a semi-private room off the bar (call ahead).
3. Terroir
24 Harrison St., nr. Greenwich St.; 212-625-9463
The excellently selected wines by the glass are several bucks off from 4 to 6 p.m. and 11 p.m. to close daily; bar snacks like chicken-liver toast are $2 off. The joyfully educational nature about the place is a testament to brilliant, funny owner-sommelier Paul Grieco and his ace serving team; there's perhaps no bar staff in New York that knows or cares more about wine.
4. 169 Bar
169 E. Broadway, nr. Rutgers St.; 646-833-7199
In the city, the easiest and most fun place to drink a lot for really cheap is at 169 Bar, where a PBR and a shot are $3 from noon to 7:30 p.m. The bar is divey as all get-out but still wonderful, and happiest during the day, while the sun still streams through the shutters but before the crowds of 24-year-olds pile in.
5. Donna
27 Broadway, at Dunham Pl., Williamsburg; 646-568-6622
The happy-hour specials run from 5 to 8 p.m. on weekdays, and till 11 p.m. on Tuesdays, when you can also get two tacos for $5 when you buy a drink. Draft and frozen cocktails are just $8 — try the Bird-Colada, which mixes a frozen Jungle Bird and a Branca Menta–enhanced piña colada and is normally $13. The airy space is beautiful and the service poised and friendly.
Eastwood
221 E. Broadway, at Clinton St.; 212-233-0124
Two-for-one is always fun, and at Eastwood the frequently changing beer selection is great. From 5 to 8, order one beer and receive a little stone — a token for a second for free. It's not the only bar in town to have a special like this, but it's likely the only one to also offer such excellent falafel sandwiches, and crispy fries with tartar sauce.
Onderdonk and Sons
566 Onderdonk Ave., at Menahan St., Ridgewood; no phone
This low-key, old-school-feeling sister bar to Greenpoint's Pencil Factory has a great happy hour: $11 for a beer (Sixpoint, Victory, etc.), fries, and a burger that tastes deliciously like a backyard-grill special. From 4 to 7 p.m. and midnight to close, seven days a week.
The Waylon
736 Tenth Ave., nr. 50th St; 212-265-0010
If you're looking for cheap drinks in midtown, you probably already know where to go (Rudy's). But if you're looking for relatively cheap drinks at happy hour time — and a space where you can find a seat and hear yourself think — try the Waylon, which has $6 wines by the glass and cold Lone Stars and Shiners for $5 from noon till 7 p.m. Use the money you save to order some queso, which tastes imported from Texas, and to feed the country-heavy jukebox. (P.S.: In warm weather, you can take your drinks in the spacious backyard.)
*A version of this article appears in the March 6, 2017, issue of New York Magazine.