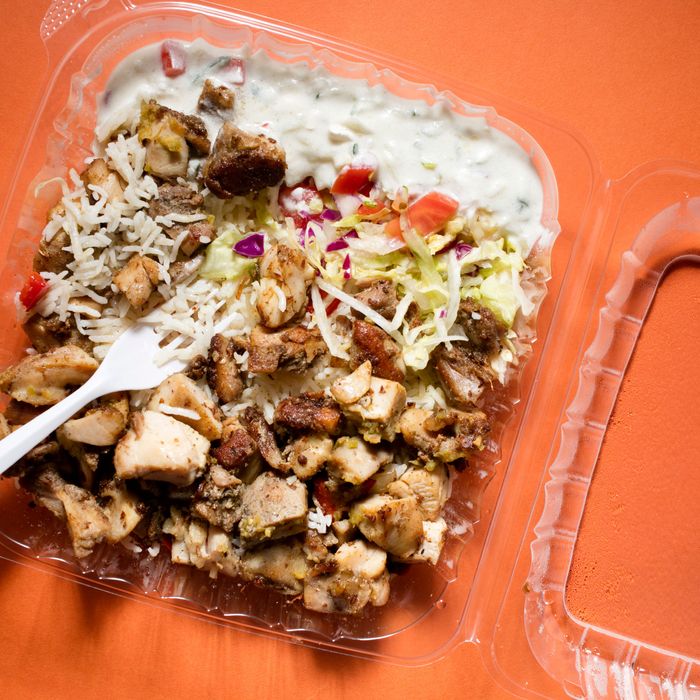 The chicken-and-rice platter at Kwik Meal.
Photo: Melissa Hom
There are dozens and dozens of halal carts in this city at any given moment. It would be impossible to visit them all, let alone try every dish from each: Many of them move around, and many offer an almost dinerlike array of options — from lamb kebabs and chicken biryani to Philly cheesesteaks and Jamaican beef patties. But here, we present a ranked list of those carts that have risen to name-recognition status and park at the same location all the time, by way of one representative dish: chicken over rice. These are the absolute best iterations in New York, giving "street meat" a good name.
1. Kwik Meal
45th St., nr. Sixth Ave; 646-729-8702
A frequently used selling point for this especially sleek, trim midtown cart, with its cheerful green signs and laminated press clippings, is that the chef and owner, the Bangladesh-born Muhammed Rahman, used to cook at the Russian Tea Room — which is funny, considering that the Russian Tea Room is a restaurant not particularly known for its food, which is, of course, Russian. But perhaps his time there is what inspired his formal-yet-friendly vibe, and the culinary standards he abides by, which you'd sooner expect at a sit-down establishment where the chefs wear toques and whites, as he does in the cart, than at a fast-food cart. The chicken in his chicken-and-rice platter is leg meat, unless you request breast — rubbed in a spice mixture and freshly grilled; then chopped into perfectly bite-size, slightly crispy, succulent chunks; and served with fragrant basmati rice and a salad that is dressed, unlike the usual cart offering of just plain shredded lettuce. The white sauce, which at so many other places tastes flatly like mayonnaise, is exceptional — a tangy blend of cucumber, Greek yogurt, sour cream, and cottage cheese (plus sugar, lemon juice, and vinegar) — and the hot sauce is unusual, too: bright green and flecked with pepper seeds, pleasingly piquant, but round and smooth. It makes a pretty picture, and comes in a clear-plastic clamshell, instead of the standard Styrofoam, so you can gaze at it lovingly while you take it back to your office or the nearest bench. The price, which tends to fluctuate slightly, is a bit higher than most, at around $7.50, but it's worth it. You can call in advance to order, and they even take credit cards.
2. Royal Halal
44th St., nr. Sixth Ave.; 347-724-0504
Midtown is lucky: Around the corner from our top pick is another gem, this one run by a kindly husband and wife, who make a killer chicken and rice. The dark-meat chicken is finely chopped and juicy, and golden brown from its aggressive, deeply flavorful Indian-spice marinade, and flecked with sautéed onions and pepper. The fluffy basmati rice is stained with turmeric to a satisfying shade of yellow, and the tangy white sauce is just the right consistency, on the thinner side, to double as a dressing for both the chicken and the salad, which is made with shreds of romaine lettuce, sliced cucumber, and fat wedges of tomato. The whole thing gets a last-second sprinkling of ground cumin, and there's hot sauce available, too. As with Kwik Meal, you can call ahead to place an order, or order online. They don't take credit cards, but the meal is a steal at $5.50.
3. Sammy's Halal
Multiple locations
Just north of Washington Square Park on Sixth Avenue, and at the corner of 73rd Street and Broadway in Jackson Heights, you'll find the wonderful chicken and rice at Sammy's. Tender, slightly saucy bits of dark meat, reminiscent flavorwise of tandoori chicken, are laced with chopped sautéed onions; bathed in a sweet, slightly tangy white sauce; and then drizzled in a subtly smoky, red hot sauce or an herby, garlicky green variety, or both. The chicken sits on a big scoop of perfectly seasoned, brown-hued, long-grained rice that's flecked with whole spices — and on the other side of the Styrofoam container, to balance it all out, is a refreshing salad of crunchy iceberg with a bit of shredded red cabbage.
4. The Halal Guys
Multiple locations
If there's one halal cart that's a household name — at least in New York — it's this one. They have virtually taken over the two northern corners at the intersection of 53rd Street and Sixth Avenue, and they've also got a cart on 53rd and Seventh, plus one at LaGuardia Community College in Long Island City, and brick-and-mortar shops in the East Village and on the Upper West Side. (Not to mention locations all over the country and even the world, including South Korea and the Philippines.) They're so famous and popular, they've even got copycats (see below). The hype is not unwarranted: Their slogan is, "We're Different," and it's true. The chicken, slung from a huge pile on the cart's grill, is basically shredded, which means it can be on the dry side, depending on how long it's been sitting there. But it's deliciously seasoned, with a peppery kick, and the rice, colored almost violently orange, is super flavorful, redolent of cardamom and citrus. The list of ingredients on the plastic packets of white sauce (which used to be available in self-service squeeze bottles hanging off the side of the cart) reveal it to be basically mayonnaise, but it's pretty good mayonnaise, while the red hot sauce, also served in ketchuplike packets, is a bit on the harsh side. But the whole shebang — which includes shredded lettuce and a few triangles of soft, squishy pita — hits the spot, especially late at night or in the wee hours of the morning, should you find yourself nearby.
5. Rafiqi's
Multiple locations
Our unscientific tabulation of the number of Rafiqi's carts in Manhattan hovers somewhere above a dozen. The big hunks of dark meat in the chicken-and-rice platter are tender and fatty, almost falling apart; on the saucy side; and aggressively spiced — served over delicately seasoned, pale-yellow rice, and topped with a tangy white sauce and relatively mild, powdery red hot sauce. What really sets Rafiqi's apart, though, is the salad; as advertised on some of the carts: "More Toppings, More Flavors, Same Price." In addition to the obligatory shredded iceberg, you can choose from tomato, red onion, cilantro, corn, chickpeas, black beans, and black olives — or opt for all.
Halal for All
52nd St., nr. Sixth Avenue; 646-226-7515
On the one hand, there's something super shady about the way this outfit is a full-on Halal Guys impostor — down to the yellow T-shirts and plastic bags, and the plastering of the words "Original" and "We Are the Original" all over the cart and its umbrellas, trapping unsuspecting customers who don't realize they haven't yet made it to 53rd Street. On the other hand, you kind of have to admire the bravado and the hustle; this is New York. All that aside, it's said to be run by a Halal Guys defector, and the food is extremely similar and almost as good: The chicken is just a tad too peppery; and the hot sauce is harsh enough that you might want to skip it; but the white sauce, which comes fresh from a squeeze bottle, is much more flavorful; and the rice and pita are pretty indistinguishable. You could do worse than to end up here, if the line is too long up on 53rd, or if you just can't bear to walk another block.
Tariq's #1 Halal Food
240 Park Ave. S., nr. 19th St.; no phone
The very popular Tariq's is very similar to Rafiqi's, especially in its salad offerings, which include corn, cilantro, shredded lettuce, tomato, and earthy stewed chickpeas, but the chicken, though similarly juicy and a bit spicier, cooked with slices of sweet onion, lacks a certain oomph, and the rice is on the bland side. They are particularly generous with the white sauce, though — if that's your thing — and it's generally a solid option, if you're in the neighborhood.