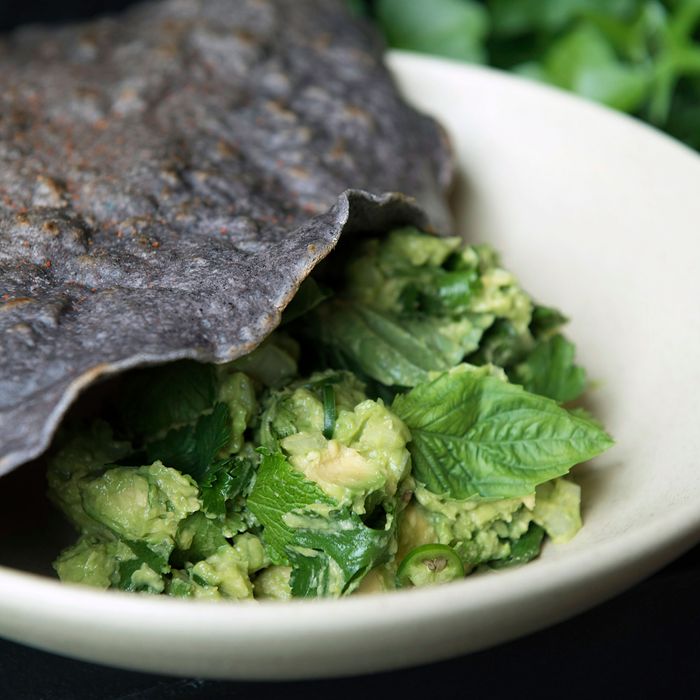 Unexpected herbs make Atla's guacamole stand out.
Photo: Liz Clayman
Like haiku, guacamole is a heavily codified, hard-to-master, deceptively complex tradition with very few elements, all of which need to be perfect. Obviously, avocados, preferably creamy Hass avocados from Mexico or California, are the main stakeholder in a guacamole's greatness. The presence of acid (lime juice, ideally), onions (white or red), herbs (necessarily cilantro, sometimes others), and heat (serrano, jalapeño) are all important contributing factors, too. Yet it is the preparation — always fresh — that really makes or breaks a great guac. The choices below, both traditional and slightly more new-look, are the very best.
1. Atla
372 Lafayette St., nr. E 3rd St.; no phone
The very best guacamole in New York City is difficult to find. Literally. At Atla, Enrique Olvera's freewheeling, all-day, casual spot downtown, an order of guacamole arrives under cover of a large face-size fried chip of nixtamalized blue corn. Dusted with árbol-chile powder and Wonka-like in its deep-purple hue, the chip sits atop the bowl like a shield protecting what's underneath. In addition to traditional players like cilantro, serrano, and white onion, chef Daniela Soto-Innes adds coarse-chopped herbs like mint, tarragon, and basil to give this guac a walk-in-the-garden feel.
2. ABC Cocina
38 E. 19th St., nr. Park Ave. S.; 212-677-2233
Pea guacamole is good. It was good when Jean-Georges Vongerichten originally put it on the menu at ABC Cocina in 2013. It was good when Melissa Clark trumpeted it for the New York Times. It was good when the internet went bananas. It was even good when Barack Obama — in perhaps the biggest policy blunder of his eight years in office — took to Twitter to decry it. And it is still good today. After all, the underlying fundamentals remain sound. The sweet peas counter the heat from charred jalapeños. Toasted sunflower seeds add earthiness, and the onion pops against the creamy canvas of avocado. This guacamole is not just a pleasure to eat, it is a reminder of the extraordinary delusions and madness of crowds.
3. Empellón Cocina, Empellón Taqueria, Empellón
Multiple locations
Within Alex Stupak's Empellón empire, the chef provides seven salsas of increasing heat to accompany his superlative guacamole. Most amiable is the smoked cashew, nutty and pleasant; darker and viciously hot is the salsa habanera; best is the tangy, but not burning, salsa, borracha. As fetching as they are, the guac remains the star. Stupak's secret, he tells me without much prodding, is that he is extremely conscientious that the avocado is not overly mashed. It is not, as usual, mashed at all, but rather forced through a mesh cooling rack so that the large chunks of avocado remain intact: "Within the chunks of avocado," he says, "I must be able to observe the gradations of color."
4. Rosie's
29 E. 2nd St., nr. Second Ave.; 212-335-0114
Avocado is an ever-changing fruit, the flesh of which is as sensitive to the seasons as our own. At Rosie's, Vicki Freeman and Marc Meyer prove themselves adept and attentive lovers of the avocado. There are no outlandish additions here, no interlopers intended to spice things up. "The idea is to just let the flavor of the avocado come through," Freeman says. Team Rosie's constantly adjusts the proportions of chile, lime, and salt to compensate for variations in the fruit itself, and a stroll through the bustling restaurant proves the approach's success: Molcajetes of guacamole are on nearly every table.
5. Casa Enrique
5-48 49th Ave., nr. Vernon Blvd., Long Island City; 347-448-6040
The labor that renders Casa Enrique's guacamole exceptional happens long before it hits the molcajete, the basalt mortar-and-pestle in which all guacamole of merit arrives. The kitchen crew chars and minces the serrano chiles, which both imbues a delightful smokiness and softens the spice. From there, a relatively conservative ingredient mix — cilantro, sea salt, onion, and tomato — is added, along with a liberal (and welcome) dose of salt.
6. El Vez
259 Vesey Street, at N. End Way; 212-233-2500
Bummed that Sue Torres's Sueños is no more? You aren't alone. Happily, Torres's husband, Darren Carbone, recently took over as executive chef at Stephen Starr's vast Mexican place, El Vez. As a result, the guacamole at El Vez has taken on hitherto unachieved levels of greatness. Take, for example, the Tito Santana, named after the legendary professional wrestler. It is an example of maximalist guacamole, and the Santana could easily go wrong. Happily, like Santana himself, the guacamole is hulking, but striking in its grace. Strips of jícama adds freshness, cubes of mango play by the rules, and the red bell pepper has learned its lines.