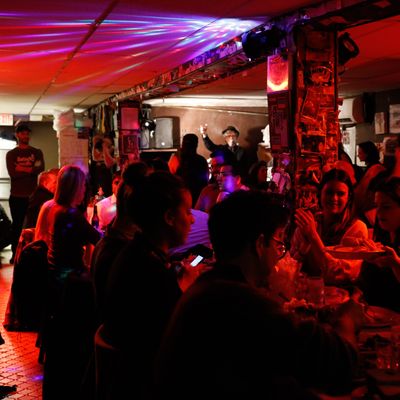 Sammy's Roumanian finds something to celebrate every night.
Photo: Melissa Hom
The thought of corralling a big group of friends or family to a restaurant can seem daunting, but with a little planning, group dining in New York can actually be a total cinch. And sometimes making a reservation for a large party is the easiest way to get into a buzzy spot — especially if it's one that doesn't normally accept reservations. Here are the five best restaurants for a group dinner in New York, plus a whole host of runners-up that offer a wide range of festive delights, from whole-beast feasts to a private pizza party to Korean with a side of karaoke.
1. Sammy's Roumanian
157 Chrystie St., nr. Delancey St.; 212-673-0330
Ever been to a bar-mitzvah party? Have a good time? No? That's probably because there weren't bottles of Ketel One encased in solid ice on each table. At Sammy's, which opened more than 40 years ago, every night is a bar-mitzvah party for grown-ups. The low-ceilinged, subterranean, grouty-tiled dining room, with walls plastered in candid photographs of past diners, is hardly what most people would expect to find on hearing the word "steakhouse," which is how Sammy's categorizes itself. The food is not exactly why you come here — although it's not bad, especially if you're nostalgic for your Jewish great-grandmother's cooking and especially if she was not the world's greatest cook. There is schmaltz on every table, in the kind of pitcher that maple syrup comes in at a diner; kreplach; potato pancakes; flanken with mushroom-barley gravy; and of course, steak, well done. Make your own egg creams with bottles of U-Bet chocolate syrup and old-fashioned seltzer dispensers. It's food that's meant for sharing, and Sammy's makes it especially easy to do so with their reasonably priced family-style prix fixe. (But be warned: that frozen vodka is the only alcohol on the menu, and it's sold at bottle-service prices.) Reservations are encouraged, and even huge parties are welcome. A recent inquiry about how many people could be accommodated for a Wednesday-night birthday party was met with a jovial response: "20, 30, 50, whatever!" And the more is truly the merrier at Sammy's, where the winking, unflappable waitstaff moves around the room with ease, and the in-house entertainment, centered around a keyboardist/DJ named Dani Luv and lots of Billy Joel songs, is best enjoyed among a large audience, especially one that's up for dancing the hora. It might not be cheap, but the place is a fount of joy.
2. Mission Chinese
171 E. Broadway, nr. Rutgers St.; no phone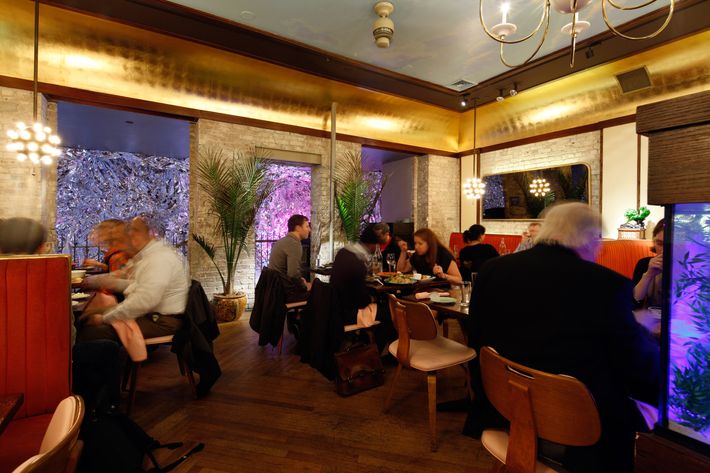 There's a lot to love about Mission Chinese, but high on the list is how much fun it is. From the lavish '80s-coke-den décor to the uptempo soundtrack to the exceptionally exciting cocktails (like the coconutty Phil Khallins, which comes in a bowl and looks like tom kha soup), it's a bit of a theme park and a natural setting for a party. Moreover, it's the rare dining room whose ample size doesn't detract from highly professional service and consistently excellent food. Basically everything coming out of the kitchen is meant to be shared, but they make it especially easy to order with preset menus that showcase their greatest hits, from salt-cod fried rice to thrice-cooked bacon and broccoli beef brisket. Reservations for up to seven people can be made via the Reserve app, and up to 17–18 if you're willing to squeeze — by emailing.
3. Momofuku Ssäm Bar
207 Second Ave, at 13th St.; 212-254-3500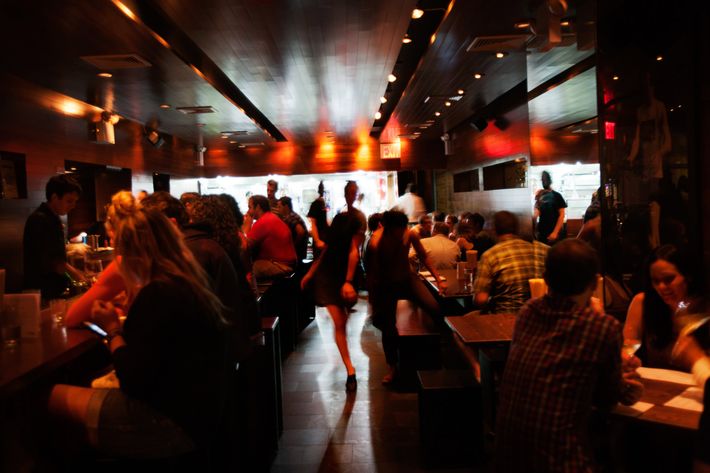 No matter how you feel about David Chang and his attempts at worldwide domination, you have to hand it to him for being both a pioneer and master of the modern "large-format" meal. The most famous of his feasts, the pork-shoulder bo ssäm, has launched a thousand Brooklyn dinner parties: It's available for takeout and the recipe tends to inspire even the most amateur of home cooks. But there's nothing like the real thing, straight from the professional kitchen. Moreover, the only way to make a reservation at Chang's sleek, spare, still-sexy-after-all-these-years Ssäm Bar is to commit with a crowd to a big ol' hunk of meat, whether it's the bo ssäm, duck, brisket, or rib eye. Each is available as a centerpiece, with sides and fixings for groups of up to ten, or as part of a multi-course prix fixe involving lots of other dishes for bigger parties. Either way, it may be the best and most cost-effective Momofuku experience.
4. Barbuto
775 Washington St., at 12th St.; 212-924-9700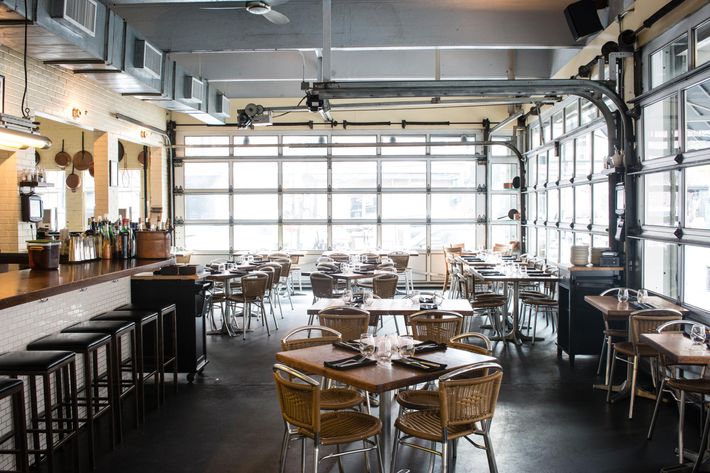 Rustic Italian food, it could be argued, is best enjoyed family-style, and Barbuto delivers big-time with the three- to four-course menus you can arrange for in their cozy, semi-private dining room, which seats up to ten, or better yet, at the chef's table in the kitchen, which can hold 14. There, you get supper and a show, plus the thrilling feeling of being extra-special guests. A bounty of antipasti — bruschetta, burrata, the famous kale salad (which existed before the craze and outlived it) — is followed by two primis (gnocchi with butternut squash, say, and rigatoni with pancetta and cauliflower), three entrées — including the roast chicken with salsa verde that put the chef and owner Jonathan Waxman so firmly on the map — plus sides and dessert.
5. Glasserie
95 Commercial St., nr. Manhattan Ave., Greenpoint; 718-389-0640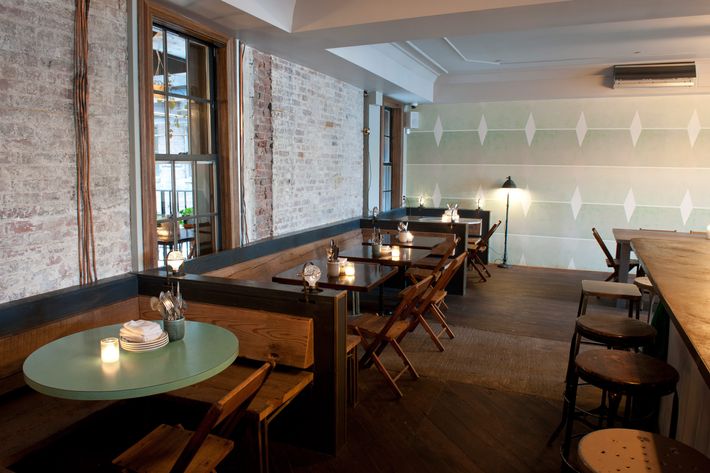 Though Greenpoint's neighborhood star has risen with Williamsburg's, the relative difficulty of getting to its outer edges means it can still feel blissfully uncrowded and almost serene, in an industrial, down-by-the-docks sort of way. By New York standards, Glasserie, in a former glass factory, is gargantuan, with multiple spaces (both indoor and outdoor) and an event cap of 350 people. But even the main dining room is extra-roomy, making it one of the unusual restaurants that takes reservations on OpenTable for up to 12 people, no special inquiry or email required. Most of the playful, Mediterranean/Middle Eastern–driven dishes take well to being shared, especially during weekend brunch when you can opt for a "mezze feast" with a smorgasbord of small plates for the table and a choice of one bigger option — like lamb pies with sunchokes and hard-boiled egg — per person.
Honorable Mentions
Babu Ji
175 Ave. B, at E. 11th St.; 212-951-1082
The modern-Indian darling accommodates mostly walk-ins; parties of six or more can make a reservation, but only for the Chef's Table tasting menu.
The Breslin
20 W. 29th St., nr. Broadway; 212-679-1939
April Bloomfield will make you and your party of 8 to 14 an entire suckling pig plus sides and dessert, or a similar feast built around prime rib, balsamic-roasted duck, or fried chicken, served at the oval chef's table, just outside of the kitchen.
Congee Village
100 Allen St., nr. Delancey St.; 212-941-1818
Cantonese and karaoke (available in the private rooms downstairs, which also come with a minimum) make for a killer combination. Reservations are accepted for groups of 5 to 80 people, no set menu required.
Di Fara
1424 Ave. J, at E. 15th St, Midwood; 718-258-1367

The best-kept secret at one of the most beloved and tiniest pizza joints in New York, where the wait for a pie can feel interminable, is that you can rent the whole place out on certain weeknights for groups of around 25. For just $30 a head, you get all the pizza that Dom DeMarco can make in two hours and unlimited soft drinks. (BYOB.)
Don Peppe's
135-58 Lefferts Blvd., nr. 149th Ave., Ozone Park; 718-845-7587
You might be willing to trek all the way to Queens for one of the absolute best red-sauce Italian restaurants in New York, but are you willing to wait for a table when you get there? Parties of ten or more can skip the anxiety by making a reservation. And besides, you're going to need lots of help eating that gigantic platter of linguine with clam sauce.
Enoteca Maria
27 Hyatt St., nr. Central Ave., St. George; 718-447-2777
If you want an unpretentious, home-cooked meal for your dinner party but can't bring yourself to cook or clean up, try Staten Island's Enoteca Maria, where the chefs are literally Italian grandmothers, who take turns in the kitchen. The room is on the small side but it's easy to push tables together and reservations for large groups are accepted.
Fu Ran
40-09 Prince St., nr. Roosevelt Ave., Flushing; 718-321-1363
There are plenty of Chinese restaurants that can accommodate large parties at big round tables in Flushing, but perhaps none so interesting as this one (formerly known as Fu Run, lest there's any confusion) which serves the rare–in–New York cuisine of Dongbei. Confoundingly delicious, highly shareable dishes include the much-written about "Muslim lamb chop" and a spicy, herb-y salad listed on the menu as "tiger vegetables."
Han Dynasty
Multiple locations
The Philadelphia export, with outposts in the East Village and on the Upper West Side, takes reservations only for eight-plus people, which is the best way to eat there, anyway: A group of that size unlocks access to the extremely reasonably priced tasting menu, a steal of a way to eat through all the fiery offerings.
High Street on Hudson
637 Hudson St., nr. Horatio St.; 917-388-3944
A party of six or eight can snag the charming U-shaped booth tucked into a nook near the open kitchen, which provides a front-row view of the action. Larger groups can be accommodated in the main dining room. The "Leave It to Us" package will get you a custom, shareable menu, featuring specialties like the rotating daily breads and rye rigatoni.
Insa
328 Douglass St., nr. Fourth Ave., Gowanus; 718-855-2620
Reservations for this Korean spot are for parties of 6 to 16 only — go with a group of eight and you can monopolize one of the normally communal tables, which have two built-in grills for barbecue. And after dinner you can move seamlessly into a private karaoke room.
Kang Ho Dong Baekjeong
1 E. 32nd St., at Fifth Ave.; 212-966-9839
The line for the Manhattan flagship of the wildly popular Korean-barbecue chain can wend down the block, but a party of six or more can book ahead for a two-hour seating in a VIP room featuring a fixed menu.
MP Taverna
Multiple locations
Massive dining rooms in both Astoria and Williamsburg, plus a menu that includes a bounty of share-friendly mezzes and a "whole animal" section make this an obvious choice for Greek for a group.
Oriental Garden
14 Elizabeth St., nr. Bayard St.; 212-619-0085
This seafood-centric classic, popular with big-name chefs, offers a wide variety of family-style meals that showcase their signature Cantonese dishes for groups of eight to ten.
Queen
84 Court St., nr. Livingston St., Downtown Brooklyn; 718-596-5955
With both portions and a dining room unusually large for Downtown Brooklyn — plus plenty of roomy round tables — it's a win-win-win for anyone seeking a festive night of saucy Italian standards, and Grub Street's top pick for where to get them.
Red Farm
Multiple locations
The only way to make a reservation at the popular, reimagined-dim-sum palace is to gather together the 8 to 20 people you like best, and sit for pastrami egg rolls and soup dumplings at either 5 p.m. or after 9:30.
Roberta's
261 Moore St., nr. Bogart St., Bushwick; 718-417-1118
$100 a person before drinks for a pizza prix fixe feels awfully steep, but for die-hard fans who can afford it (and can't afford to wait in long lines) it's the only way to guarantee a seat at Roberta's — so long as you've got a group of 10 to 16 and are willing to sit at 6:30 or earlier.
Sanrasa
19 Corson Ave., nr. Daniel Low Terr., Tompkinsville; 718-420-0027
This Staten Island Sri Lankan spot sets itself apart not only with its cut-above food, but also its capacity for big groups: 12 can fit at one table in the main dining room, and groups of up to 55 can reserve the private party room.
Sripraphai
64-13 39th Ave., Woodside; 718-899-9599
One of the best Thai restaurants in the city is also one of the biggest; no reservations, no problem, most of the time. And the menu is huge, too, with something for everyone, from the most adventurous heat-seeker to a pad-thai addict.
Tatiana
3152 Brighton 6th St., nr. Brightwater Ct., Brighton Beach; 718-891-5151
It's the Sammy's Roumanian of Brighton Beach, a guaranteed rip-roaring good time, by way of a weekends-only Vegas-style revue featuring dancers, singers, and a 12-piece band. Any party larger than four can go for the bountiful "Russian-style banquet," featuring a puzzling mishmash of decent dishes only some of which are Russian (try the mushroom julienne!); any party larger than ten must order it.
Toro
85 Tenth Ave., nr. 15th St.; 212-691-2360
The chef's table, which seats 10 to 16, is a great way to sample the tapas and other inventive Spanish delicacies, in a special family-style menu. The same menu can be ordered elsewhere in the dining room, too, and the cavernous space means other tables can be configured for a large group if the chef's is booked.
Via Carota
51 Grove St., nr. Bleecker St.; 212-255-1962
The lovely and lively Italian lovechild of the restaurateurs and real-life partners Rita Sodi and Jody Williams is considerably more capacious than either of their other West Village restaurants (I Sodi and Buvette), which makes it a natural choice for a group — and rolling deep is the only way to get a reservation. A party of six to eight can book the semi-private wine room, and up to ten can be seated at the communal table in the main dining area.