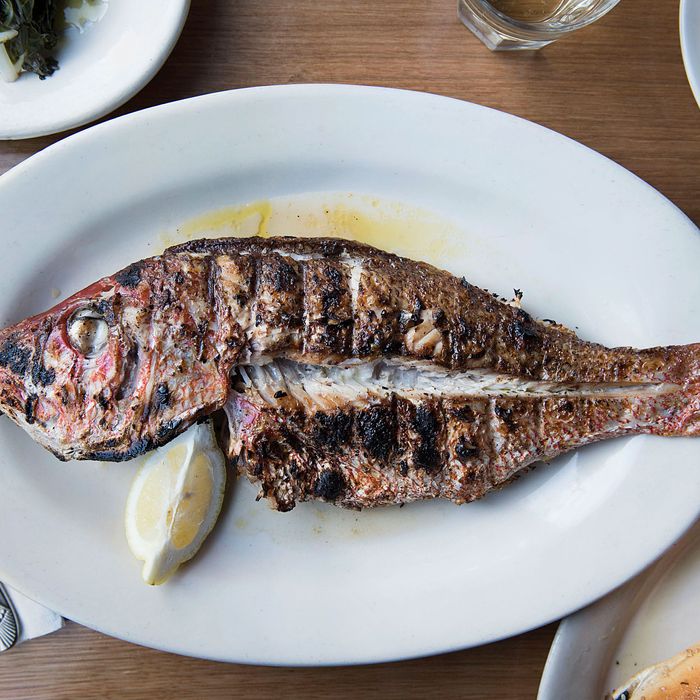 Taverna Kyclades.
Photo: Liz Clayman
Those weary of the self-seriousness, faux-casualness, and baroque stylings of much of Brooklyn and Manhattan fine dining would do well to sojourn in Astoria for a therapeutic round of the evergreen flavors, tonic simplicity, and unstudied warmth of the neighborhood's Greek tavernas. Indeed, in its reliance on elemental cooking techniques, on the sea's bounty, and on olive oil as an end in itself, Greek cuisine is somewhat reminiscent of those of Portugal and Spain, the other historic Euro outliers vis-à-vis the Franco-Italian pantheon. And given that the 21st-century Iberian culinary conquest for a while turned every plate small and every entrée or appetizer into a tapa, is it only a matter of time before the entire globe goes Greek?
1. Taverna Kyclades
33-07 Ditmars Blvd.; 718-545-8666
Arguably the only Astorian taverna to qualify as a destination for those hailing from more glamorous boroughs, Kyclades bruits its status with a full-court press of Michelin and Zagat imprimaturs on the brick wall in back under an Aegean-blue-lit ceiling. Such routine excellence, of course, means waits for tables often resemble one of Hercules's more passive labors, even if the compassionate staff will fortify you with a complimentary glass of wine. Once you're seated, forgo the obligatory Greek salad — merely ordinary here — in favor of the quartet of venerable spreads: tzatziki, skordalia, taramasalata, and tyrokafteri (a peppers-and-feta purée), all of them thicker, heftier, and more flavorful than the competition's. But at Kyclades, even more than at most Greek joints, seafood's the thing: An appetizer of deep-fried anchovies gives this flavor booster of a fish a deserved star turn, whole grilled red snapper is lusciously moist and meaty, and a nightly special consisting of a single nautilus-size prawn was enough to defeat a table of three. Meat is by no means an afterthought, however, the gaminess of lamb riblets is nicely set off by the sharp, garlicky bite of the aforementioned tzatziki, proving that a cuisine needn't have a huge repertoire of show-offy sauces to claim respectability.
2. Gregory's 26 Corner Taverna
26-02 23rd Ave.; 718-777-5511
Something of a cult favorite and secret go-to for Greek-foodies, Gregory's may well be the most rustic and "authentic" of all the neighborhood locales, at least if the atmospheric prevalence of spoken Greek and fisherman hats are any markers. Go ahead and spoil your appetite with the warm pita and addictive tapenadish kalamata–olive spread that are slapped down at your table as you peruse the menu, but save room for the cheese-stuffed peppers, the zucchini patties, and the saganaki — perhaps the most irresistible plate in the Greek lexicon: A slab of kefalograviera sheep's-milk cheese coated in flour, fried, and served with a lemon half to cut the richness. Fried cheese? 'Nuff said.
3. Agnanti
19-06 Ditmars Blvd.; 718-545-4554
Well worth the ten-block trek from the N, this charming taverna spills out onto the sidewalk fronting a pastoral stretch of Astoria Park, making it an ideal hot-weather hangout. Gutsy Greek sausage comes inflected with your choice of orange or leek, and packs a bracingly herbal punch either way. Rooster in tomato sauce with "imported pasta squares," a house specialty, is half coq au vin, half Chef Boyardee, and immensely comforting.
4. Bahari Estiatorio
31-14 Broadway; 718-204-8968
Hidden in plain sight in the shadow of the elevated tracks of the Broadway subway station, this narrow storefront opens onto a warm, white space beyond the uninspiring steam trays of stewed okra by the open kitchen. The solid, workmanlike food shines brightest in side-dish standbys like the horta (boiled bitter greens) — blanched to a bright, mineral freshness, rather than stewed to green porridge as is the norm — and lemon potatoes deeply imbued with an acidic brothiness, adding up to an experience mysteriously more satisfying than the sum of its parts.
5. MP Taverna
31-29 Ditmars Blvd.; 718-777-2187
This satellite of Michael Psilakis's dining empire expands the taverna concept both spatially — with an airy bi-level room whose clubby upper floor still feels surprisingly intimate — and culinarily. Dishes as diverse as gnocchi (served with lamb sausage, feta, and pine nuts) and paella (mussels, sausage, orzo) get a well-conceived fusion boost, and more-traditional offerings — "Grandma's Greek meatballs" chief among them — are dependable exemplars as well.
Christos Steak House
41-08 23rd Ave.; 718-777-8400
Greece being a land of a great deal of surf and precious little turf, the concept of a Greek steakhouse may seem odd, but Christos will prompt the diner to wonder why there aren't more of them. To the point where, before long, following up your lamb-cigar app and prasini (romaine, feta, scallions, and dill) salad with a hulking rib eye, rather than a ubiquitous branzino, will feel more inevitable than novel.
E Taverna
26-19 23rd Ave.; 718-606-6606
An under-the-radar denizen of 23rd Avenue, a.k.a. Taverna Row (Gregory's, Telly's, Stamatis), E Taverna trendily — if unnecessarily — terms its mezes "tapas," but behind the gimmick are solid renditions of all the Greek classics, and a cozily snug room with a musical-instrument theme. Just try to resist the urge to grab the bouzouki hanging from the rafters and essay George Harrison's "Girl" solo.
Loukoumi
45-07 Ditmars Blvd.; 718-626-3200
Relegated to the barren reaches of northeast Astoria, practically within cab-hailing distance of the Grand Central Parkway, Loukoumi was nevertheless so packed with locals on a recent Saturday night that the kitchen melted under the pressure, and our dishes took the better part of an hour to arrive. Ample consolation was to be had, however, in tenderly chewy octopus and in sweetbreads cooked like scaloppine in a lemon, butter, and white-wine sauce.
Zenon
34-10 31st Ave.; 718-956-0133
One of a tiny handful of area restaurants billing themselves as more Cypriot than Greek (though the distinction, at least in the culinary sphere, remains elusive). Choose one of the three meze meals (assorted, seafood, or vegetarian) and gird yourself for a two-stage bombardment of dishes both cold (dips, salads, seafood) and hot (stuffed mushrooms, calamari, grilled halloumi). Or order from a main menu that includes a long list of specials by day of the week (spring lamb with string beans on Tuesdays, rabbit stew on Sundays).