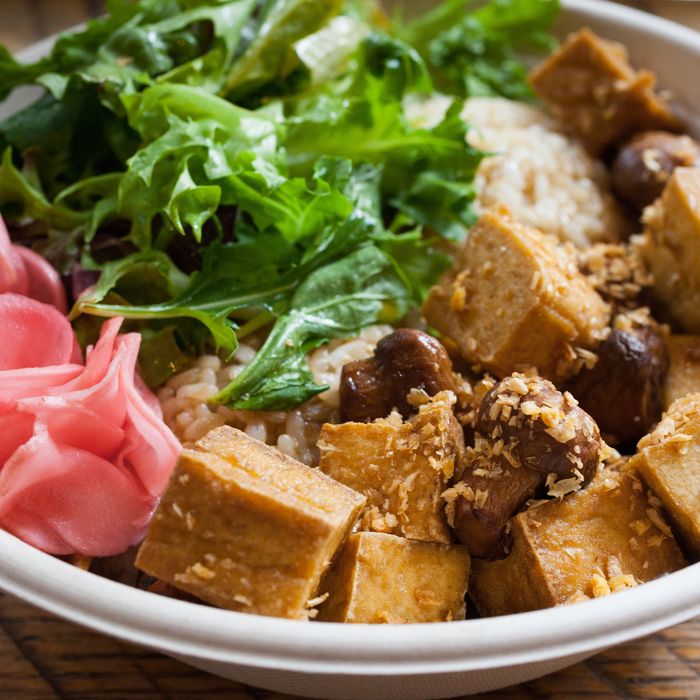 The kind of lunch you can feel good about eating every day.
Photo: Miachel Breton
It's time to declare the best grain bowl in New York. This is a one-dish meal that includes a base of grains, and then a mix of vegetables, protein, and dressing. A grain bowl, as judged here, is not a composed dish found at an elegant restaurant — it's something available all day, ideally to go, at a casual spot. These three are tops.
1. Lumpia Shack Snackbar
50 Greenwich Ave., nr. W. 11 St.; 917-475-1621
"California-style" restaurants like Dimes have popularized the idea of a grain bowl in New York, but the city's most distinct bowls come from restaurants that have a culinary identity specific to one culture. The best: Lumpia Shack Snackbar, a tiny West Village spot named after Filipino spring rolls. But the rice bowls are the true standouts here. The quality and freshness of the ingredients — which have a heavy emphasis on seasonality and local sourcing — already puts the bowls here far ahead of other places. Each $12.50 build-your-own bowl starts with a base of fluffy brown rice, pickled radishes, and green salad with fresh herbs. Nice, simple, healthy. Then the toppings: crisp tofu and mushrooms, which pair particularly well with the creamy, coconut-based bicol sauce. Or fatty, caramelized pork belly, ideally matched with a slightly sweet adobo sauce of soy and black-bean hoisin. Add on veggies like plump, pan-fried asparagus, or even a fried egg, if you'd like. This is the kind of food you can feel great about eating often.
2. Mimi's Hummus
Multiple locations
No ingredient is an afterthought at Ditmas Park–based Mimi's Hummus (which expanded to Manhattan this year): In the $14 shawarma bowl, the chicken is shredded and infused with curry — a bold flavor that's complemented by fragrant basmati rice, sheep's-milk yogurt, onion, cucumber, amba (like a mango chutney), and herbs. The same thick yogurt appears in a vegetarian Mujaddara bowl, which is the menu's most interesting selection: a mix of black lentils, fluffy bulgur wheat, plump raisins, scallions, and onions. And, at $17, the branzino bowl feels like a steal, with a base of basmati rice, a thick stew of herbed lentils, and a flaky, crisp-skinned fish filet.
3. Café Henrie
110 Forsyth St., nr. Broome St., no phone
Yes, Café Henrie is run by an international club owner and filled with beautiful people who drink tea out of $60 Peter Shire–designed mugs. It has all the trappings of yet another trendy restaurant that's mimicking L.A.'s Sqirl — a.k.a. Mecca for people searching out bowl-based cuisine — but despite all that, the colorful, Instagram-friendly $14 "Dragon Bowls" are fantastic. The base includes coconut-flavored grains, fresh greens, pickled vegetables, sprouts, herbs, and in-season vegetables — standard stuff. It's the variety of additional proteins that bumps Henrie ahead of its California-ish competitors (El Rey, Dimes): turmeric-poached eggs, Persian meatballs (power move), or ginger-poached chicken. To finish: beet tahini or carrot-harissa yogurt.