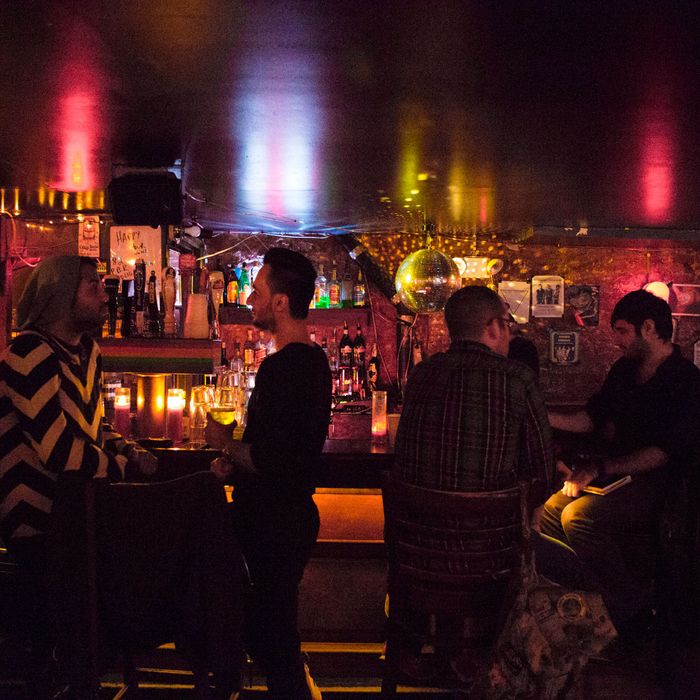 Bushwick genderqueers flirt with Chelsea gallerists at Nowhere.
Photo: Camilo Fuentealba
Gentrification and Grindr were said to have ruined nightlife, but the gay-bar scene in Manhattan is surprisingly vibrant and shows no signs of dwindling: You can't swing a murse these days without hitting a fun spot packed with go-go boys and a drag queen — even on a Tuesday. Below, the best gay bars in Manhattan.
1. Nowhere
322 E. 14th St., nr. Second Ave.; 212-477-4744
Part of the East Village gay-bar renaissance of the '90s and '00s, Nowhere has long been regarded as the less populated, forgotten sister to other joints like Eastern Bloc or the Cock — but the venerable basement bar has evolved to become the central watering hole of NYC's queer art, music, and performance scene. This is where artsy gay men, women, and anyone who doesn't care for labels converge (depending on the night — it's still a man-based bar) to listen to DJs who play music that doesn't sound like Rihanna choking on a Red Bull. The video screen blinks weird porn and video art, Bushwick genderqueers flirt with Chelsea gallerists, and the long, deep space has plenty of alcoves and seating if you're seeking a bit of quiet. This is also where the alternative Joe's Pub cabaret and comedy set come for postshow drinks, so bring your friend from Seattle or Berlin here first if they want to see the performance scene flirt and mingle without pretension. It also has an eclectic and dynamic roster of DJs and themed nights, including the long-running Double Headed Disco (last Saturday of the month), the ritualistic Witch Camp, and a night for ginger enthusiasts, Fire in the Hole.
2. The Cock
93 Second Ave., nr. 6th St.; no phone
This unashamedly punky, vital East Village gay bar relocated last summer, and the new address is a vast improvement. The Cock moved into the former Lit Lounge (where straight people used to make out like gays), so the sexy atmosphere is already built into the walls. Rough-edged, covered in band stickers, and carved with little weird nooks and dark corners, this place is like a filthy, seductive, alluring alleyway. Saturdays is Wack, with DJs Kindbud and Aaron Cobbett. The great Scott Ewalt DJs on Thursdays, and CVNT on Tuesday nights brings in a younger crowd.
3. The Monster
80 Grove St., at W. 4th St.; 212-924-3558
This fabulously decorated flatiron-shaped bar brings in a wonderfully diverse clientele. This is where you can find tourists and PATH train commuters mingling with theater queens who belt out songs at the upstairs piano bar. Best of all, older men feel comfortable here, because the bar crosses generations and color lines. It also has one of the best happy hours in town (serving mini-quiches, pigs in a blanket, and some kind of mystery tuna spread on Ritz crackers.) The dance floor downstairs is a hidden gem, including Sunday's Disco Classic Tea Dance with Lady Bunny, Johnny Dynell's Manster, and Sabor Latino.
4. Julius
159 W. 10th St., at Waverly Pl.; 877-746-0528
Covered with photos and vibrating with history, this bar — which opened in 1864 — is a living, breathing gay museum. This spring, the New York State Board for Historic Preservation nominated Julius to be placed on the National Register of Historic Places by the National Park Service, in part because of a 1966 civil-disobedience action by the Mattachine Society — a "sip in" by four gay men who declared they were gay and demanded a drink. But Julius isn't stuck in the past. It's had a rebirth of energy, in no small part due to Mattachine — a once-a-month dorky, fun, free-spirited dance bash DJed by John Cameron Mitchell, Angela DiCarlo, and Amber Martin on every third Thursday of the month. It also has food, including an unexpectedly delicious burger and fries.
5. Eagle Bar NYC
554 W. 28th St., nr. Eleventh Ave.; 646-473-1866
This multi-floored leather bar has seen its neighborhood transform over the past two years. Now it's surrounded by luxury condos and the wealthy people who live there. But still, the harness-wearing, boot-licking locale remains intact, keeping kink alive and making its existence even more subversive, even though the bar is more friendly and inclusive than you might think. Nights include Foot Fetish Monday, Hanky Tuesday, and the popular Sunday Beer Blast.
6. Hardware
697 Tenth Ave., nr. 48th St.; 212-924-9885
Spend one night out in Hell's Kitchen and you will not believe how many gay professionals in their 30s there are, all drinking and talking about their PR jobs. So it's difficult to choose among the gay bars because there are so many of them. But Hardware may be the best in the area. It's roomy, but on the smaller side, and it has an unforced, fun, friendly vibe. This is the place you take your female friends first before you part ways because it works as a central location to the myriad of options in this area: Flaming Saddles, Atlas Social Club, Boxers, Fairytail, Dive Bar Lounge, Bottoms Up, the Ritz, Therapy, and Barrage, to name a few. It also has a wickedly fun liquid brunch on Sundays, musical Mondays (this is musical-theater ground zero), and drag nights hosted by Shequida (Thursdays).