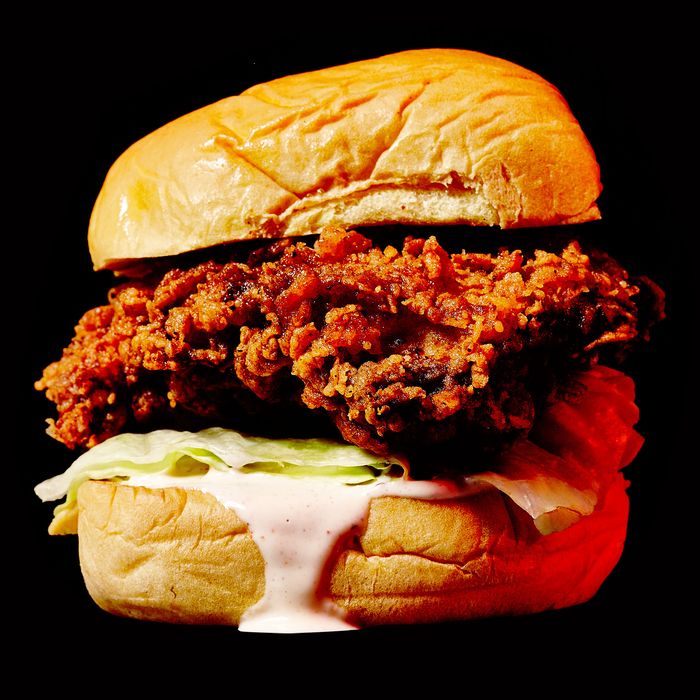 Wilma Jean's chicken sandwich is fried to order.
Photo: Bobby Doherty
During the course of the great comfort-food revolution, every unhealthy, fatso fast food (burgers, pizza, corn dogs, etc.) has had its proverbial five minutes of fame under the hot lights of the fickle, trend-conscious New York food scene, and now it's the lowly fried-chicken sandwich's turn. In our humble, dandified opinion, you will find the best of the current crop out in Brooklyn, at a classic old dining counter in the East Village, and on the menu of the city's favorite burger chain.

1. Wilma Jean
345 Smith St., at Carroll St., Carroll Gardens; 718-422-0444
The chef-owner of this great Smith Street comfort-food shack is Rob Newton, who, aside from having cooked in many of the great gourmet kitchens around New York, also happens to be from Arkansas. To construct this great sandwich he brings his expertise together from both worlds — the thigh meat comes from the Amish country in Pennsylvania; it's marinated in buttermilk, rolled in a special mix of flour and southern (mostly Cajun) spices, then fried to order in peanut oil, the way Newton does when he makes his fried chicken back home. Add the iceberg lettuce, a pickle or two, and the lightest scrim of buttermilk dressing (plus the $7 price), and this is as close as you're likely to get in this Yankee town to fried-chicken-sandwich nirvana.
2. Meat Hook Sandwich Shop
495 Lorimer St., nr. Powers St., Williamsburg; 718-302-4665
This superb homage to the great "hot" fried chicken of Nashville is not for the faint of heart (the pepper-bombed cutlet is bathed in something called a "hot-sauce bath"). But if you survive the first bite, we guarantee you'll have another.
3. Bobwhite Lunch & Supper Counter
94 Avenue C, nr. 6th St.; 212-228-2972
The puffy roll is toasted and buttered. The fried-to-order breast meat is mild and tender, and you can supplement it, in moderation, with a pure, vinegary slaw, and jars of honey, and Texas Pete hot sauce, served on the side. This professional Alphabet City standby is the perfect antidote to the fireworks described above.
4. Shake Shack
Various locations across New York
Industrially made FCS's are fraught with peril (if you don't believe us, just visit the new Chick-fil-A megastore below Times Square). But, like the burger at this popular chain, this deceptively simple, well-sourced sandwich (the chicken is crunchy and antibiotic-free, the bun is sesame, the dressing is buttermilk) stands up to repeated tasting.
5. Fuku
163 First Ave., nr. 10th St.; no phone
Thankfully for FCS loons, David Chang's chicken shack seems to have solved the early growing pains (wrinkly buns, cutlets as big as Frisbees, etc.). The key to his excellent "Koreano" sandwich is the trimmings — in particular, the pickled Korean cabbage, which adds an addictive, tangy crunch.