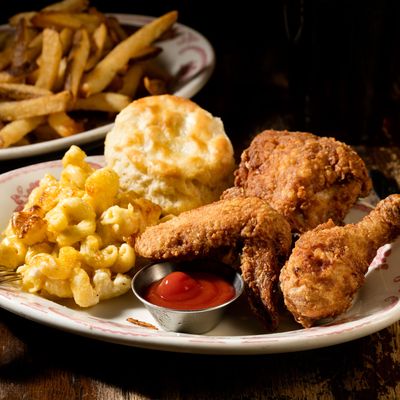 Bobwhite's fried-chicken plate is the best in town.
Photo: Melissa Hom
In his 2004 deep-fry dive, Fried Chicken: An American Story, food scholar John T. Edge makes convincing cases for Nashville, Kansas City, and Buffalo's inclusion in the "pantheon of fried-chicken capitals"; New York, on the other hand, is represented by a mere three destinations — one Tuscan, one Dominican, and one barbecue joint. Much has changed since then, including the arrival and spread of Asian chains specializing in the stuff, and the continuing glorification of populist foods by fine-dining chefs. If there's anything that defines the local style, it's the international flavor and the double-dipped, triple-fried quest for the crunchiest crust and the juiciest meat. Here, the absolute best fried chicken in New York.
1. Bobwhite Lunch & Supper Counter
94 Ave. C, nr. 6th St.; 212-228-2972
The dark-meat three-piece dunked in sweet tea, swiped through buttermilk, dredged, and pressure-fried continues to be the standard bearer for unpretentious, economical fried chicken. Pressure-frying, itself something of a bygone technique, imparts an almost cake-crust-like finish to the breading, while the tea does more to tenderize the meat than to add anything cloying. It's fried chicken that is crunchy, crackling, juicy, relatively greaseless, and full of flavor. Great buttermilk biscuits, too. —Hugh Merwin
2. The Beatrice Inn
285 W. 12th St., nr. W. 4th St.; 212-675-2808
Like a lot of the best things you find on menus these days, the fried chicken at the Beatrice Inn began as a "family" meal, one of those rustic, supposedly not-ready-for-prime-time snacks the line cooks hog for themselves. Someone up top, however, eventually deemed the stuff fit for public consumption, and that is good news for fried-chicken aficionados. These birds are salt-cured, double-dipped in seasoned flour, and by some advanced frying technique cooked until the crust is as crunchy as a Greenpeace sidewalk solicitor. The chicken comes glazed with spicy honey in a silver bowl or platter, and it's so fiendishly good it's restricted to the bar area — for fear, no doubt, that otherwise the kitchen would be up to its eyeballs in fried-chicken tickets. —Rob Patronite and Robin Raisfeld
3. Adda
3131 Thomson Ave., Long Island City; 718-433-3888
Boneless thigh meat from a halal butcher is chopped into pieces and soaked in Greek yogurt with ginger and garlic. Later, along with potatoes cut into wedges, it's rubbed down in a secret spice blend more closely guarded than the Colonel's, cloaked in cornstarch, and deep-fried to a fare-thee-well. The result is top-of-the-Scoville-charts hot, fairly juicy, and, at $10 a pop, all the rage among the LaGuardia Community College students across the street. Lunch only. —R.P. & R.R.
4. The Commodore
366 Metropolitan Ave., nr. Havemeyer St., Williamsburg; 718-218-7632
The general late-night vibe is vaguely waterlogged and "people yelling at each other" in a bar space not much larger than a storage container filled with 1960s cocktail kitsch, but who cares — that chicken is very good. The standard order, as always, is a plate of golden, shaggy, and enigmatically juicy thighs the approximate size and shape of pre-ice-sheet-melt Greenland. The chicken almost always arrives too hot to eat, but that stops exactly no one from digging in. —H.M.
5. Momofuku Noodle Bar
171 First Ave., nr. 11th St.; 212-777-7773
Two whole fried chickens cooked two ways: Old Bay-seasoned southern-style and spicy-glazed Korean, served with neither mac n' cheese nor pickled daikon but moo shoo pancakes, Bibb lettuce, a slew of sauces, and a basket of Greenmarket herbs. When David Chang unleashed his reservation-only, $100 fried-chicken feast back in 2009, some folks thought he was meshugenah. Ten years later, he looks like a genius pioneer in the chef-driven poultry category, and Momofuku Noodle Bar's fried-chicken dinners, though $50 more expensive and climbing ($500 buys you a caviar supplement!), remain the gold standard of the high-low large-format feed, the best way to demolish a couple birds with seven of your closest friends, and the ultimate inducer of order envy among the noodle-slurping hoi polloi. It's not just dinner — it's an event, to be washed down with a round of Tiger Lagers or, if you like, a bottle of Champagne. —R.P. & R.R.
6. Atoboy
43 E. 28th St., nr. Park Ave. S.; 646-476-7217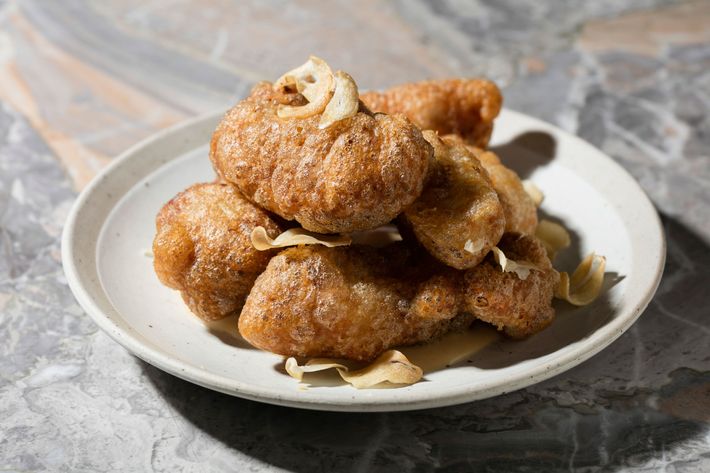 The plump and puffy goujonettes of thigh meat, encased in a tempura-like shell and served with squeeze bottles of spicy peanut butter and gochujang sauces, might look like a monochrome mess — all beige and brown and tan on the plate. But the deboned, brined, and all around weirdly deceptive masterpiece picks up depth from time in an enzymatic-heavy marinade of pineapple and fermented jalapeño, and extra oomph from a shower of fried garlic slivers that are candied, caramelized, and nutty, like the coating of a garlic bagel. The dish has become so popular that chef Junghyun Park retired it from his modern-Korean prix-fixe menu, offering it now only as a large-format, add-on option–presumably to make sure there's enough to go around. —H.M.
7. Mister Paradise
105 First Ave., nr. 6th St.; no phone
Jeremy Spector is best known for his dry-aged Brindle Room cheeseburgers, but he's also an under-the-radar fried-chicken savant. His craggy-crusted Mister Paradise bird is as juicy as an August peach. Credit a lengthy brine, followed by a leisurely soak in a buttermilk bath, a seasoned-flour massage, and a plunge into a vat of hot oil. On the side you get two types of flavored honey: truffle and habanero. —R.P. & R.R.
8. Charles' Country Pan-Fried Chicken
2461 Eighth Ave., nr. 132nd St.; 212-281-1800
Workers painstakingly fry two dozen pieces of chicken at a time in Charles Gabriel's famed chosen medium, cast-iron pans the size of trash-can lids. Spice-rubbed chicken is dipped in egg wash, and one side of each cut-up thigh or wing vents in the open air, as opposed to a fully submerged deep-fry. These steps set Gabriel's chicken apart from the competition, and even pieces languishing under the heat lamp are terrific. —H.M.
9. Momofuku Ko Bar
8 Extra Pl., nr. 1st St.; 212-203-8095
Channeling his inner Harold McGee, chef Sean Gray, an admitted "cold-pizza person," notes that piping-hot or even moderately hot food inhibits flavor, though food scientists have yet to figure out exactly why. That thinking inspired this superb one-piece small plate (it's either a thigh or a drumstick), which is listed on the handwritten menu variously as "Fried Chicken But Cold" or "Fried Chicken Not Hot." There's beer and vodka in the batter; green Tabasco, mirin, and yuzu juice in the glaze; and, when you take a bite, the telltale sign of a good triple-frying technique in the resounding crunch. —R.P. & R.R.
10. Her Name is Han
17 E. 31st St., nr. Madison Ave; 212-779-9990
When all is said and done, the whole point of fried chicken is the crust. Fortunately, Korean soul-food spot Her Name is Han treats this maxim as sacrosanct. Whole birds are broken down into chopstick-friendly morsels that arrive sealed in a slightly sweet, golden-brown, and buttery batter that evokes Korean streusel-capped soboro bread. The brined meat is tender, aromatic, and full of flavor on its own, but nonetheless benefits from a dip into the accompanying salt-and-pepper blend as well as a sweet-and-sour sauce composed of garlic, Korean chile, cinnamon, and ketchup that further elevates each bite. —Matthew Sedacca
11. Pies 'n' Thighs
166 S. 4th St., at Driggs Ave., Williamsburg; 347-529-6090
Pies 'n' Thighs dates to 2006, when its talented cooks famously joined forces in the back of a scrappy bar and intuitively split the difference between hipster diner food and matter-of-fact Southern bona fides. At the more conventional space to which it relocated several years ago, the overall aesthetic is practically grandfathered in among the neighborhood's glass-towered hypergentrification, and has elevated the fried-chicken box — spiced with little more than cayenne, paprika, and salt — into something of a new classic. The ratio of well-seasoned, steamy meat to craggy crust has remained the same, along with the generous portions. —H.M.
12. Perry St.
176 Perry St., at West St.; 212-352-1900
The most refined fried chicken on this list and maybe the planet takes a food-nerd approach involving a pan, a deep fryer, and a whipped-cream siphon that results in some supremely juicy flesh and a crust that's bafflingly tender and super-crisp all at once. There are many exotic spices involved, but the contrast of textures is the thing, and it's astounding. —R.P. & R.R.
13. Peaches Hothouse
415 Tompkins Ave., nr. Hancock St., Bedford-Stuyvesant; 718-483-9111
"Why does this hurt so much, and why do I keep eating it?" Stick around the lively and cramped dining room at Peaches and you'll no doubt hear one or more dazed customers ask some variation of this theme. The long-rumored double-team of full-strength cayenne and ghost pepper may not quite reach the corporal-punishment register of Nashville hot chicken, but it comes close. —H.M.
14. Freakin Rican
4306 34th Ave., Astoria; 929-349-1080
At this tropical-themed destination for Boricua staples from alcapurrias to sorullitos, five bucks gets you a basket of chicharrones de pollo: deep-fried pieces of boneless thigh meat with a garlicky, acidic tang that have been brined in apple-cider vinegar and coated in a heavily seasoned batter. It's a recipe that chef-owner Derick López has had time to perfect over years on the catering, street vending, and YouTube cooking channel circuits, and manages to appeal to Puerto Rican expats and Southern-fried-chicken fans alike. —M.S.
15. Buttermilk Channel
524 Court St., at Huntington St., Carroll Gardens; 718-852-8490
Buttermilk Channel's take on chicken and waffles includes a toothsome Cheddar-cheesed waffle and a cup of balsamic-maple-syrup reduction to pour over the plate both of which might distract you from noticing how good the peppery buttermilk-battered fried chicken itself is. —R.P. & R.R.
16. Bagock Fried Chicken & Doughnuts
173 Montrose Ave., nr. Humboldt St., East Williamsburg; 347-529-4596
After years of making noise among fried-chicken fanatics in the D.C. metro area, Gillian Clark has returned home to open a restaurant named after the onomatopoeic clucking of the featured ingredient. Following a Craig Claiborne-inspired overnight buttermilk brine and a subsequent dredging in seasoned flour, the birds are pan-fried to develop an impressively craggy crust that Clark likens to "hair on the chicken." And a side of fresh buttermilk doughnuts might make you wonder what anyone ever saw in waffles or biscuits. —M.S.
17. The Dutch
131 Sullivan St., at Prince St.; 212-677-6200
The hot fried chicken is one of those rare dishes that delivers in real life as much as it does in Instagram glam shots, and while the dusting of dry chile ends up more Soho brunch genteel than low-key Nashville thermonuclear, fewer biscuits in Manhattan are flakier than those served on the side. Draped with honey butter, none are sheenier. —H.M.
18. Mitchell's Soul Food
617 Vanderbilt Ave., nr. St. Marks Ave., Prospect Heights; 718-789-3212
The thin peppery crust buckles at the daintiest bite. The meat underneath is remarkably tender. And the price — $10 for dark meat and two sides with bread, $11 for white, and $13.50 for half a bird — makes it seem almost wasteful to walk by Johnsie Mitchell's Southern-cooking institution without stopping in. Besides the main event, platefuls of deep-fried comfort here include warm cornbread that melts on the tongue, and sides like mustard-flecked mac n' cheese and candied yams that could pass for dessert. —M.S.
19. Bessou
5 Bleecker St., nr. Bowery; 212-228-8502
Owner Maiko Kyogoku and chef Emily Yuen take a traditional approach to karaage (Japanese fried chicken). Soy-brined thighs are tumbled in a mix of wheat flour and potato starch, which, along with a double-dip in high-temp oil, fortifies the chicken with extra crunch. The hot bird gets an ample sprinkling of warming spices — including kochugaru (Korean chile powder), cayenne, cumin, and cinnamon — and on the side, there's a dish of soothing tzatziki, with shredded shiso mixed in with the dill, mint, garlic, and cucumber. —H.M.
20. BLVD Bistro
2149 Frederick Douglass Blvd., at 116th St.; 212-678-6200
Between Sylvia's, Amy Ruth's, and Red Rooster, there's no shortage of solid drumsticks in the general Harlem vicinity. The three-piece chicken dinner here is diligently pan-fried to order, producing a uniform, thickly textured crust. —H.M.
*This post has been updated.