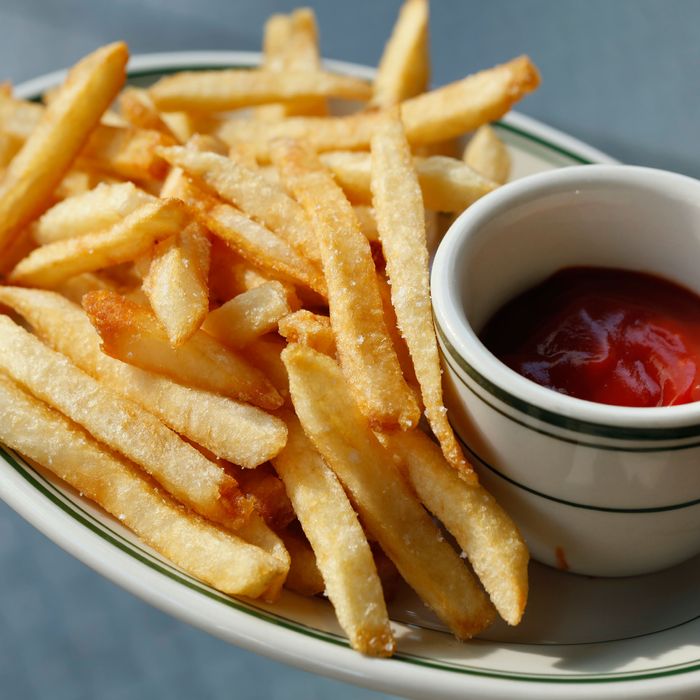 Houseman's French fries have a thin, delicate crust on the outside and are pure cream on the inside.
Photo: Melissa Hom
When it comes to French fries, the best always tend to be the ones that come through at clutch moments: long golden numbers at Tibbett Diner after a long shift, or stubby crinkle cuts from Nathan's Famous on a dark February afternoon. Sometimes they're frozen, poured straight from a food-service bag into a deep-fat fryer basket, but it turns out they're just the thing to go with that mid-rare burger. And yet there are still fries that rise above any occasion to reach objective excellence. Here are the city's most consistently delicious versions.
1. Houseman
508 Greenwich St., nr. Spring St.; 212-641-0654
The continuum of great French fries probably starts at some anonymous luncheonette and moves on to McDonald's famed shoestrings before it settles on the versions found at white-tablecloth places, where fries simmer in boutique fats. It ends here, where Ned Baldwin's fries do not involve beef fat, boutique or otherwise (though they are the ideal vehicle for catching all the drippings from the Houseman burger). The crunchiest ones on the plate are just potato-y exoskeletions, with a scant, atomized trace of Idaho russet pulp inside. All the rest have a thin, delicate crust on the outside and are pure cream on the inside. Baldwin's technique involves a 24-hour soak, followed by a boil in vinegar-spiked water that is halted before the potatoes start to fall apart. They are cooled and fried once, then fried again, until they are a saturated shade of amber. A generous pinch of Diamond Crystal kosher salt goes on at the end. Baldwin's painstaking process yields superior results, even if it sounds like a complicated feat of prep. "It's a long-winded way of saying that you have to know when to cook them a lot, when to cook them a little, and when to cook them just right," he says.
2. Pommes Frites
128 Macdougal St., nr. E. 3rd St., 212-674-1234
The venerated East Village original, which was destroyed in the 2015 gas explosion that killed two people, has now reopened in the West Village. The lineup of 30 dipping sauces, most of which are built on the sturdy chassis of Hellmann's, are back, along with expanded seating and tabletops with precut holes to keep those cones of hot fries aloft. Beer and wine are available for the first time, and the fries are just the way they used to be. Several batches roil continuously in hot oil, and they emerge from the fryer textured and shaggy, deeper-hued than Ponyboy gold but not quite Trump orange. Bring on the Vietnamese pineapple mayo.
3. North End Grill
104 North End Ave., nr. Vesey St.; 646-747-1600
In Battery Park City, North End Grill predates the Philadelphia imports (El Vez, Amada) and the all-out Gallic sprawl (Le District). Its duck-fat fries cost three times as much as those available pretty much everywhere else (especially because Danny Meyer's restaurant now builds the service into the menu prices). But North End Grill's fries are spectacular. The first crunch is the product of a vegetable-oil blanch and a final fry at a higher-than-normal temperature, with the follow-up crunch coming from a sprinkle of flaky salt. The fries are greaseless, molten on the inside, and just about perfect. (The sheen of duck fat comes in only at the end, as a kind of dressing.) A cup of rich house mayo, made with Arbequina olive oil, is served on the side along with ketchup.
4. Long Island Bar
110 Atlantic Ave., at Henry St., Cobble Hill; 718-625-8908
Gabriel Martinez set out to re-create the gnarled look and rococo flavor of Arby's spiced curly varietal. Martinez cooked at Uchi and Alinea before commandeering the tiny Brooklyn kitchen. His fries are not spiralized but are heavy on period detail and look downright wizened. The process involves a bay-leaf blanch and a starchy batter larded with smoked paprika, cayenne, and a good amount of salt. A hint of MSG — just like the pros use! — also goes into the mix, and the finished product makes for an ideal bar snack.
5. Little Pepper 
18-24 College Point Blvd., nr. 18th Ave., College Point 718-939-7788
The signature dish that has left food critics flummoxed and smitten — usually at the same time — goes by a modest name: "fried potato in hot sauce." You might skim right over it in the placid-seeming "Vegetable & Tofu" section of the Sichuan restaurant's menu, which would be a mistake. The cooks let ordinary crinkle cuts languish in hot oil until they bronze, and then toss them in enough cumin and pulverized Sichuan peppercorns until the fries resemble rusty old saw blades. Cilantro, green onion, and even a generous fallout of chile seeds, shaken loose from the dry stems, provide the only respite from the encroaching, addictive, numbing heat. It's not unusual for diners to get a second order, to go, on their way out.
6. The Clocktower
5 Madison Ave., nr. 23rd St., 212-413-4300
Chef Jason Atherton's fries are technically chips, as in the very British kind that are paired off with battered cod fillets and mushy peas. They arrive blotted and buttoned up, almost debonair in a silver cup, and the caddy of condiments on the side augments the properness of it all, down to the lemon wrapped in muslin. Three rounds in the fryer give the potatoes a nice crunchy exterior and a buttery mashlike texture inside.