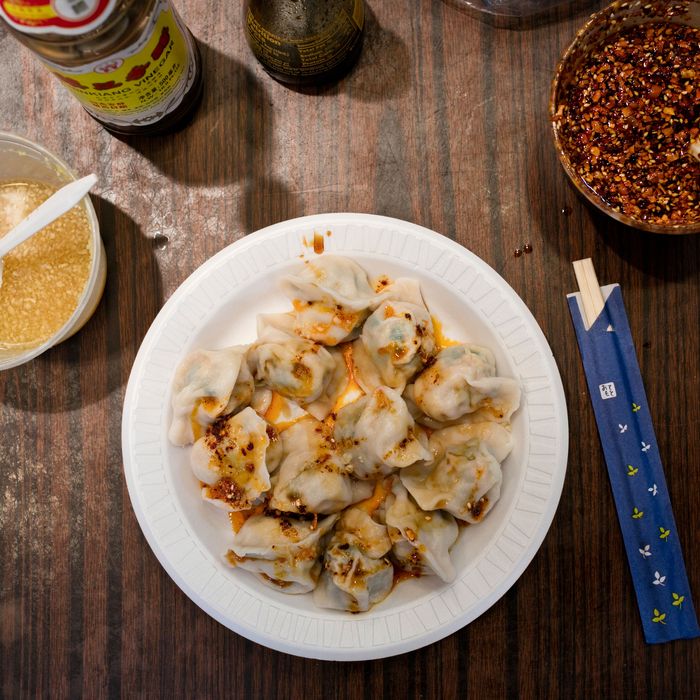 The goods at Tianjin Dumpling House.
Photo: Melissa Hom
Here are the best food-court stalls in Flushing, Queens. It's been a long time since Flushing was just a satellite to Manhattan's Chinatown. It's now the largest in the city, and one of the largest Chinese communities outside Asia; it's also, of course, a destination for great eating. While the neighborhood has plenty of restaurants worth the visit, it is home to an unparalleled food-court scene that makes it easy to eat a spread of foods from across China. Some markets have closed (and condos have moved in), but new courts have taken their place, and there's a wealth of affordable food to be had. Here, the six best stalls in Flushing's food courts.
1. Tianjin Dumpling House
41-28 Main St. St, nr. 41st Rd., Flushing, NY 11355; 212-518-1952
Helen You dreams of dumplings. The chef-restaurateur generated a lot of buzz when she opened a full-service restaurant, Dumpling Galaxy, with a menu of 100 different dumplings, but her original stall in the cramped basement of the Golden Shopping Mall still brings it home. This is where she developed her reputation as a shui jiao master, inventing unorthodox fillings to accommodate customers' tastes and serving dumplings unlike any others in town. The menu is more tightly edited here, and the best of You's creations easily contend for Flushing's dumpling crown. A couple of years back she introduced customizable dumplings, allowing customers to choose 3 out of 24 available ingredients. You could go hog wild with that, but it'd be a shame to neglect the house dumplings, with skins that are substantial but never too thick and fillings that go well beyond pork and chives. There's the incredibly juicy, meaty lamb and green squash; pork with invigorating pickled vegetables or celery; and a thoughtful vegetable dumpling that's stuffed with vermicelli, egg, and chives. It puts to shame the pedestrian alternatives peddled around the city. You'll also find dumplings made with tender sea bass, as well as a pumpkin-flavored tang yuan dessert dumpling made with chewy glutinous rice flour. Of course, the focus here is narrow (skip the deli case of cold appetizers), but what you get is truly excellent, and You's originality is further proof that the shabby Golden Shopping Mall deserves enormous credit for its contributions to New York's culinary scene.

2. Peng Shun Spicy Pot
133-35 Roosevelt Ave. #12, nr. Prince St., Flushing, NY 11345; 646-250-1118
Located in the New York Food Court, Peng Shun is an overachiever that you'd be happy to see graduate to full-service-restaurant status. (There's already another location in Sunset Park's Fei Long Market.) The front counter is decked out with a display of raw items for its dry pot, the saucy stir-fry that takes hot pot's customizability — meat and veggie bases and several levels of spiciness — and subtracts the bubbling broth. But the stall's crown jewel is its extravagant, crispy-skinned Muslim lamb chop, decked out with an obscenity of cumin and served in a tin-foil pan that doesn't exactly translate the dish's magnificence. Lamb is a notable strength. Take the big-plate lamb, one of several variations on the big-plate dish; it's traditionally made with chicken, but it also comes with beef and fish here. The gamey meat is served with soft potatoes and chewy noodles or rice in an addictively zingy, thick sauce punctuated by Sichuanese chili-bean paste. Serving sizes are gargantuan, and one plate can feed several people. For those wanting funkier thrills, a more obscure dish for New York is mao xue wang, a bubbling bowl of spicy blood soup packed with offal and bean sprouts. If that doesn't get your own blood going, there's a supremely edible sauerkraut fish, or suan cai you. Tender poached fish comes with warm, pickled mustard greens and a deliciously tangy, ample broth, showing off a gentler side of Sichuan cookery.
3. Xi'an Famous Foods
41-28 Main St., nr. 41st Rd.; 212-786-2068
Including Xi'an on this list requires a qualification. The burgeoning chainlet has locations in two other boroughs, so you don't need to head to Flushing for your fix, and even if you do there's a stand-alone location in the neighborhood. However, before Xi'an became a fairy-tale success story, there was just one stall here in the cramped, undistinguished basement of the Golden Shopping Mall. It's where David Shi started peddling hand-pulled noodles and unleashed his dangerously delicious mother sauce — made with oil, lots of lamb broth, and a proprietary spice blend — before his son Jason Wang leveraged it into a fledgling empire and New York icon. Xi'an introduced the flavors of the Xi'an sect of Flushing's sizable northern Chinese population to the broader New York population, and it sparked a trend that hasn't quite yet abated. So there's something to be said for scarfing down a stewed pork or cumin lamb burger, recharging with a refreshing tiger salad, or ravaging a plate of liang pi noodles, with its spongy seitan and plump noodles, at the place that started it all. Plus, it's only the one where you can eat your lamb paomo soup with Spam malatang, Fujianese wonton soup, and lamb-and-squash dumplings at the same time.
4. Chinese-Korean Dumplings and Noodles
136-20 Roosevelt Ave., at Main St., Flushing, NY 11354; 718-858-1478
Everything at this New World Mall stall comes with a side of a kimcheelike slaw, a spicy but drier mix of cabbage and carrot. The owners hail from the Shandong, a northeastern province situated across the sea from the Korean peninsula. A holdover from the former Flushing Mall, its front counter is occupied, like a live-action billboard, with a line of ladies stuffing, crimping, and folding northern-style dumplings at rapid speed. The skins are thicker but not at all doughy, with compelling fillings like pork with sauerkraut, as well as a maximalist pork, shrimp, sea cucumber, cabbage, and crab meat variation. The dumplings here are some of the finer ones in town, in Flushing or anywhere else, especially when punched up by the stall's spicy dipping sauce. Also order the Korean cold noodles, udon served with slices of beef in a vinegary soup accented with sesame seeds and chili; a revitalizing spicy tofu stew served in stoneware, its red broth bubbling and packed with assorted seafood; and, perhaps best of all, an extremely comforting duk mandu gook, or rice cake and dumpling soup. The beef broth is almost nutty and fortified by starch cast off by the dumplings, which maintain their integrity thanks to those thick skins and thinly sliced rice cakes cooked in it.
5. Express Tea Shop
41-28 Main St., nr. 41st Rd., Flushing, NY 11355; 646-881-5386
It's well documented that New York has, for years, been pining for a jian bing master. A savory crêpe sold by street vendors in northeastern China locales like Beijing, Tianjin, the Hebei, and Shandong, jian bing is one of China's most captivating snacks. Even watching the batter being spread on the circular cast-iron grill is entrancing. Depending on the location, it can be made from wheat, green mung bean, or other beans and grains; typically, egg is added, then cilantro, scallions, condiments like hoisin and chili sauce, and either an exceedingly thin cracker called baocui or, in Tianjin, a savory crueller. It's all then folded several times for maximum portability. Recently, New York has (finally) seen an upswell in jian bing beyond Flushing, peddled by the likes of a truck that roves places like Columbia's Morningside Heights campus and midtown, a Smorgasburg vendor, and at Peng Shun's location in Sunset Park. But the best of the bunch may be the sturdy one served by this stall — don't let the bubble tea trick you — in the back of the Golden Mall, available for a reasonable $3.50. It's hefty and appropriately greasy, with a crêpe that's soft and elastic, a cracker that maintains its essential crispness, egg that's soft and not thick, and a sauce that perfectly straddles the line between sweet and spicy. There's a variation with Chinese sausage available, which is certainly good, but the basic chemistry of the meat-free original needs no improvement.