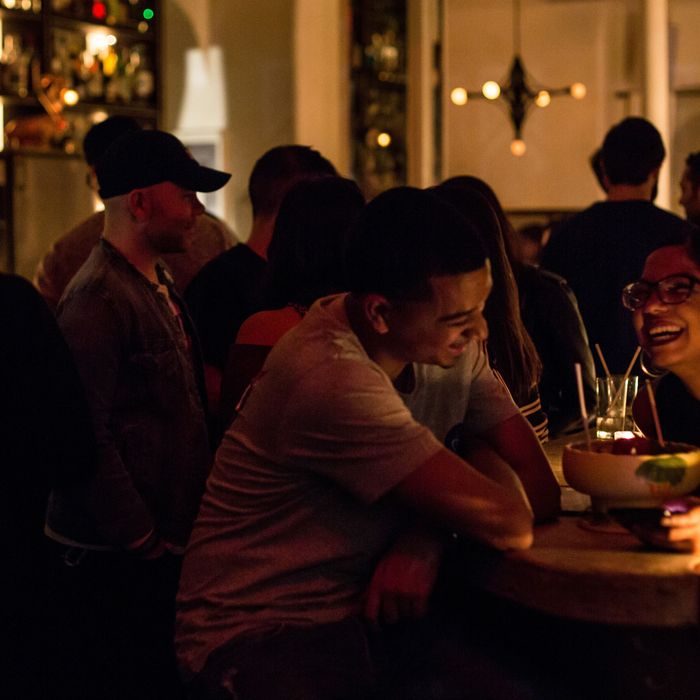 Donna in South Williamsburg.
Photo: Scott Heins
Choosing a bar for a first date is difficult! You're looking for something that's not too new, obvious, and trendy. Not loud but not dead, so you can hear each other and it's generally easy to find seats—maybe somewhere with quieter areas like back rooms or little nooks to avoid bar mayhem. You want a place casual enough where you can have a quick one but also linger for hours, without pressure to surrender a table, should things go that way (and in that case, you'll also want the option for snacks). And the best service is attentive but will happily leave you alone. Here, our favorite first-date spots.
1. Donna
27 Broadway, at Dunham Pl., Williamsburg; 646-568-6622
The star bartenders know their way around a blender, a skill shown off at especially low prices on Tuesday nights, when happy hour runs till 11 p.m. and frozens cost just $9 (try the Brancolada). Or for a cute moment, get an extra-large cocktail to share, like the Lions on the Beach, which blends gin, cachaça, and coconut and lemon. We love the relaxed atmosphere and design, too: There's plenty of bar stools plus lots of bench seating, great for couples. And the food — two-for-$6 tacos, guacamole, churros — is way better than any bar's needs to be. Note that there's sometimes DJs (the schedule is listed on the bar's Facebook) and plan accordingly.
2. The Immigrant
341 E. 9th St., nr. First Ave.; 212-677-2545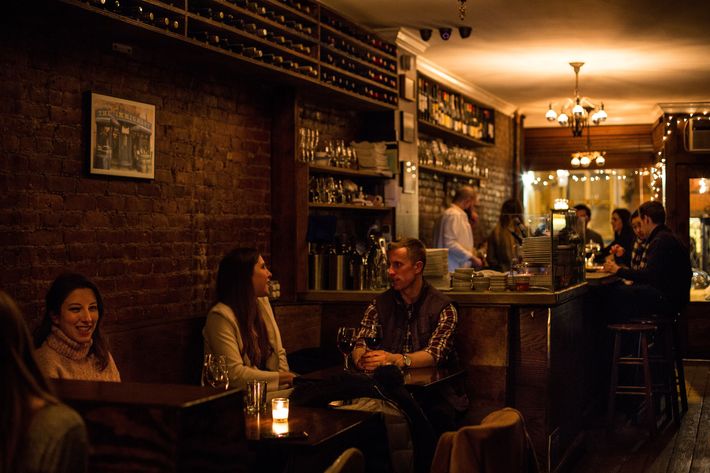 This modest wine bar is small but not too crowded or noisy; instead its size is inviting and cozy. There's a number of tables great for couples, like the little two-top in the back that provides ample privacy and the corner tables by the bar at which it's easy to move closer to your date until you're resting your head on their shoulder. (And it won't be out of the ordinary for the Immigrant if you happen to kiss.) The wine's affordable, with 18 glasses at $12 or under, as are snacks like a meat-and-cheese plate and skewered bites of mozzarella with pepperoni. Table service is relaxed, quick, and accommodating, and the soundtrack is perfectly suited for your average born-in-the-'80s Tinderer: the Pixies, the Postal Service, etc.
3. Alta Calidad
552 Vanderbilt Ave., at Dean St., Prospect Heights; 718-622-1111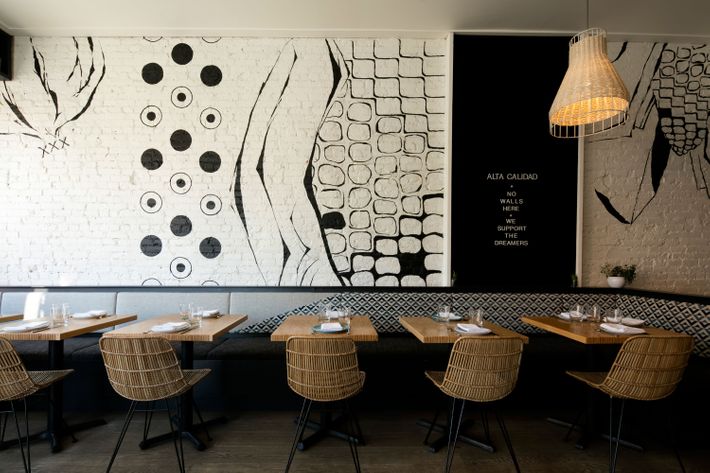 A restaurant isn't necessarily a bad idea on a blind date — especially if it's casual like Alta Calidad, with a bar occupying much of the space. Plus the food is excellent, and lends itself to snacking and sharing: We especially love the queso fundido with honey and pumpkin seeds and garden-pepper margarita. And the options for continuing the date less than a block away are myriad: Weather Up for cocktails, Four & Twenty Blackbirds for cider and salty-honey pie, Ample Hills for a scoop of ice cream, etc.
4. Dardy Bar
245 S. 1st St., nr. Roebling St., Williamsburg; 718-599-2455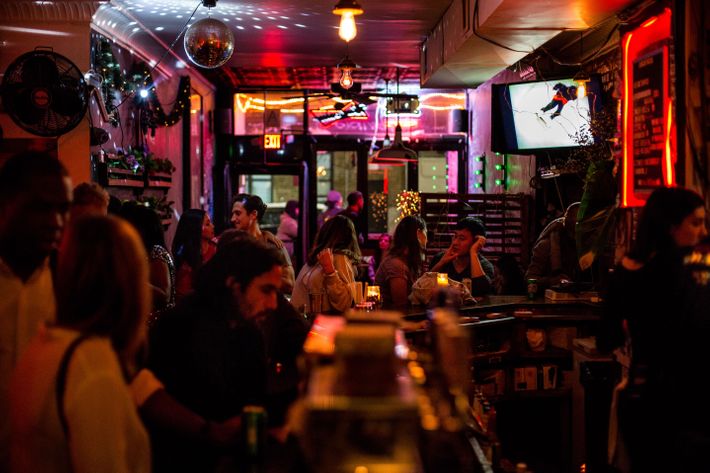 Divey, for sure; fun, absolutely. Quiet South 1st Street tends to be safe from the boisterous crowds in the area, and Dardy Bar caters to drinkers who appreciate a low-key vibe. There's $10 cocktails and $6 beer-shot specials, so it's easy to keep the date going into the wee hours, fueled by chili-topped nachos. Last but not least, there's a shuffleboard table — and if your playful-trash-talk flirting is good enough, you can take pictures in the photo booth next.
5. Big Bar
75 E. 7th St., nr. First Ave.; 212-777-6969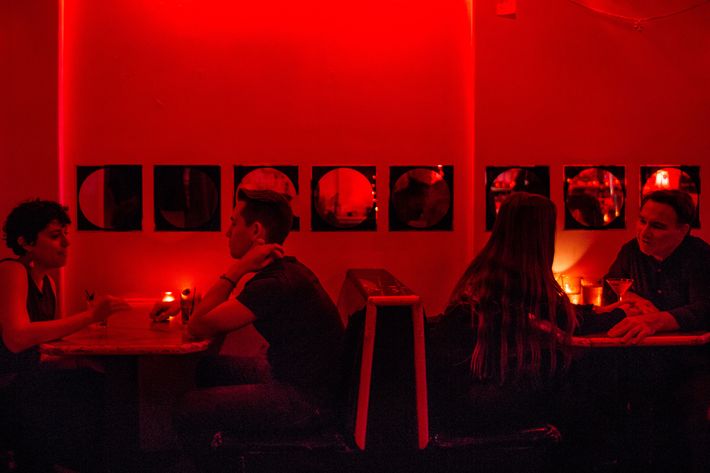 The 27-year-old Big Bar is, as any East Villager worth her dive-bar grit knows, actually tiny, but in the snug, homey sense. It's sexy, too, with red lighting and little booths suitable for two — a great place to relax while actually being able to hear your date. There's no food, but you're near plenty of other bars if you want to continue at a second location (and it's a happy three-minute stroll to Crif Dogs if you're hungry).
Honorable Mentions
Adirondack
1241 Prospect Ave., at Reeve Pl., Windsor Terrace; 718-871-0100
If you're looking for an "activity date" but still want to drink, here's one we tested — and liked a lot — recently. Pick up "containers" of beer at Farrell's, then head for a stroll through Prospect Park, entering at Bartel-Pritchard Square, passing by the lake (you can even add in ice-skating at Lakeside if things are going really well), and ending up by the park's tennis center. After that, you can suggest a drink at this intimate, upstate–New York–themed spot, where the bartenders make good hot toddies and the food menu includes to-share options — e.g. beer cheese with Ritz crackers — that aren't embarrassing to eat (like, say, a burger can be).
Bacaro
136 Division St., nr. Ludlow St.; 212-941-5060
A low-key, below-Canal option that's romantic and well-lit. You can make dinner reservations and head downstairs to the tapered-candle-lit, brick-walled basement for a full meal of Italian wine, garlic shrimp over polenta, and tiramisu. Or stay upstairs in the more casual bar area for a "dinner" of Negronis and crostini ($1 each at happy hour).
Bar Goto
245 Eldridge St., nr. Houston St.; 212-475-4411
A top-notch bar to impress a first date with some of the city's best cocktails, but keep in mind that lots of people know so: You'll be out with a lot of other online daters. It's great for a drink after a movie at the Sunshine (just hurry and go before the theater is demolished).
Bearded Lady
686A Washington Ave., at St. Marks Ave., Prospect Heights; 718-230-7600
A popular date spot, with good reason: It's darkly lit without being too dark (i.e., bordering-on-creepy, can't-see-your-drink dark). There's bar seating, perfect tables for two in the window-walled front area, one table outside for that fifth-drink-date-is-going-too-well cigarette, and a few banquettes tucked into nooks in the back space, where there's also a pool table. The drinks are nice but not overly fancy — like the Celery Man, with vodka, Pear Williams, celery and apple juices, and a fruit shrub — and no one will judge you for asking for one of the cheap beers. Finally: There's food! Nachos with "upscale cheez," Chicago dogs, even radish crudité, served on ice with a side of horseradish dip.
B Side
204 Ave. B, nr. 12th St.; 212-475-4600
One of our favorite dives in the city has a cheap beer-shot special, a low-key vibe and a quiet back room, a jukebox, and a fun community of regulars who are always down to chat if the date goes south and you need an escape route.
Canal Bar
270 Third Ave., nr. President St., Gowanus; 718-246-0011
A great dive that's usually not crowded. The drinks are cheap, and there's a fun backyard. You could go before or after a game of shuffleboard at Royal Palms. Or stay the whole night at Canal Bar: Attend one of its events, like Tuesday drink-and-draw nights, to show off creative skills to your date.
International Bar
102 First Ave., nr. Sixth St.; 212-677-4595
When International Bar closed in its original location last month, the operation was moved to its sister bar down the block, the Coal Yard. Don't worry: It's still the same grungy place (taped-up banquettes, graffiti, etc.) and still rewards its admirers with very affordable booze, a lovely backyard, and a sense of old-school East Village community. Also, there's a little nook in back with a booth and a table or two, perfect for a little more privacy.
The Gatehouses at Kings County Distillery
299 Sands St., at Navy St., Building 21, Brooklyn Navy Yard; 347-689-4180
Take a tour of the distillery (which, full disclosure, is part-owned by a New York editor), then go taste the liquor you just learned about in cocktails like a KCD Margarita with grapefruit-jalapeño moonshine. (Reserve for the tour in advance.) There's snacks like almonds and Zapps chips if all the whiskey goes straight to your head.
Hot Bird
546 Clinton Ave., at Atlantic Ave, Clinton Hill.; 718-230-5800
Hot Bird's been a scene for years, and it still is: On a recent Tuesday when we went to check up on the casual, indoor-outdoor, cash-only bar, every other table in the bar seemed to be occupied by a couple on a date. (The bartender confirmed.) There's a fire pit outside — a cinematic scene for a kiss — plus a taco truck where you can get snacks to share.
Keens Steakhouse
72 W. 36th St., nr. Sixth Ave.; 212-947-3636
If you both work in Midtown offices, it can be fun to slip into Keens's bar room for a martini and fries. It's old-school but the service is on-point and practiced, and it's interesting — if conversation lags, there's always some aspect of the décor to point to and talk about.
Lois
98 Ave. C, nr. 6th St.; 212-475-1400
A beautiful place for a brunch date because the space is so gorgeous during the day, when the sun shines through the big front windows. The wine list can be educational — so if things are dragging, you can at least learn about what's on tap — and there's no tipping, eliminating that potential awkwardness/judging of your date's undertipping habits.
New Leaf
1 Margaret Corbin Dr., nr. Arden St.; 212-568-5323
Activity date: Spend an hour or two at the Cloisters, then have prix-fixe brunch or drinks at New Leaf, the Fort Tryon Park restaurant housed in a Rockefeller-built cobblestoned cottage. (Note that it closes at 4 p.m. on weekends.)
Nitecap
151 Rivington St., nr. Suffolk St.; 212-466-3361
Good-date-bar attributes Nitecap possesses: low-lit (candles, banker's lamps) with a Beatrice-like ceiling to match; pretty, kitschy faux flowers, adorning the back bar and displayed in St. Germain bottles along the bar itself; small booths for two where couples can sit bathed in red lights about their tables, the reflections of their watches bouncing off the disco ball spinning above; funk and soul music on the speakers. And in addition to traditional cocktails, there's a list of intricate virgin ones, too, making Nitecap an option for teetotalers who still want to date at bars. Your check comes with a Hershey's kiss, as if the rest of the scene weren't suggestive enough already.
169 Bar
169 E. Broadway, nr. Rutgers St.; 646-833-7199
169 is a dive if there ever was one, and if you're the type of person who adores those places, it's a good way to test the waters with potential dates. If they can't appreciate the ultra-grimy bathrooms and $3 beer-shot specials, maybe you should pass on a second date. Don't try to go on weekends, but tables are relatively easy to come by early in the week.
ROKC
3452 Broadway, nr. W. 141st St.; no phone
Activity date: Ice-skating at Riverbank State Park, then head to this little ramen-and-cocktail spot and settle at the bar, where you can order pretty cocktails that will give you something to talk about — ROKC's list is among the city's most interesting, with drinks like the Sweet Potato mixing butterscotch, the eponymous tuber, and vanilla soy milk.
Rose's
295 Flatbush Ave., nr. Prospect Pl., Prospect Heights; 718-230-0427
The room is relaxed enough to come just for drinks but also well-suited to staying for a dinner. If you're looking for an event that can help you avoid awkward conversation pauses, there's fun trivia on Monday nights (you could even win a bar tab).
Sid Gold's Request Room
165 W. 26th St., nr. Seventh Ave.; 212-229-1948
If you're feeling bold, take your date to Sid Gold's. Up front at Joe McGinty's piano bar, you can sip cocktails peacefully, but in back, things are raucous, and magical: There's nightly fun at the piano as cheerful hosts lead brave singers in sing-alongs. You have to be a certain, outgoing kind of person to come here as a first date, but it's a great way to dive in to getting to know someone (and some famous fans have been known to drop by).
Wallflower
235 W. 12th St., nr. Greenwich Ave.; 646-682-9842
Wallflower is tiny, but you can make reservations (why not show your commitment and interest in your date?). The cocktails are top-notch — we're big fans of the hot toddy — and there's a dinner menu, too, if you're feeling peckish.
WXOU Radio Bar
558 Hudson St., at Perry St.; 212-206-0381
The cash-only thing can be a pain, but it's sometimes nice on dates if you want to pay for drinks as you go and avoid the awkward who-pays-the-tab question at the end of the night. There's also a terrific CD jukebox, providing a good excuse to stand close to your date as you swipe through the albums.