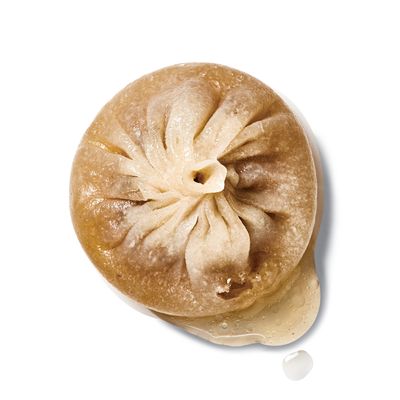 Dumpling Galaxy's lamb soup dumplings.
Photo: Bobby Doherty/New York Magazine
New York has always been a great dumpling town. But recent developments have thrust the dough balls further into the spotlight: In September, a giant Shanghai soup dumpling made its debut in the East Village, historically a dumpling hot zone that's gradually transitioned from pierogi and varenyky to gyoza and xiao long bao, while DIY-ers await the January publication of The Dumpling Galaxy Cookbook, Flushing jiaozi master Helen You's guide to what many consider the best shuijiao (or boiled Chinese dumplings) in town. There's also been an influx of particularly good Italian restaurants in recent months, and with good Italian restaurants come good filled pastas.
In light of all this activity, we decided the time was right to survey New York's dumpling landscape. But first, we needed to define our terms: What, exactly, is a dumpling? The origin story is a morass of migratory patterns and etymology in which all roads (especially the Silk Road) lead back to China, with Marco Polo and Genghis Khan playing supporting roles. The word dumpling itself is deficient, a clunky catchall used to describe diverse foodstuffs invented long before its coinage. General truths emerge: Dumplings are usually roundish (but not always), usually stuffed (but not always), and usually cooked with wet heat (but not always). So many foods can be categorized as dumplings — samosas, tamales, empanadas, Cornish pasties, sticky toffee pudding! — that it's almost easier to say what isn't a dumpling than what is. In pursuit of the absolute best dumplings in New York, we excluded anything that struck us spiritually as a pastry or pie, or required unwrapping, or was tossed into the deep fryer (except for Sarge's kreplach, for which we made a sentimental exception). The hardest part was stopping at 50 — an infinitesimal drop in the dumpling bucket. At the end of our odyssey, we weren't much closer to unraveling the mystery of the dumpling, other than to say we know it when we eat it. (And for more on New York's excellent dumpling landscape, click here.)

1. Dumpling Galaxy's Lamb Soup Dumplings
42-35 Main St., Flushing; $8.95
Before Ferran Adrià's olive sphere, before Wylie Dufresne's deep-fried mayo cube, before Willy Wonka's three-course meal in a stick of gum, there was the xiao long bao, a.k.a. the Shanghai soup dumpling — gelatinized broth that goes in solid and emerges as savory, steamy liquid contained, along with a meatball, inside a delicate dough wrapper. It's as tasty as it is technically advanced, and it makes other dumplings seem dull and lazy by comparison—though you could certainly argue that it's a pain in the ass and potentially dangerous to eat. Some say the thinnest skins containing the greatest amount of soup make the best xiao long bao. We dispute this. We want thin, but not too thin. Wheaty flavor and a little oomph is what we expect in our dough wrappers, not invisibility. After all, a soup dumpling is still a dumpling and not just soup. Balance is paramount, and the semi-secret off-the-menu lamb XLBs that Helen You serves at Dumpling Galaxy are as intricately balanced as a yogi in the wounded peacock pose. Plus, while most XLBs have fillings made from pork, these, as mentioned, are atypically filled with lamb, and delicious lamb at that. Their skins may be slightly thicker than others around town, and they may contain less soup. But they're also perfectly proportioned with a brash, in-your-face depth of flavor and juicy richness transforming what some might consider flaws into canny architectural choices. And doesn't the thrill that comes from finding something surprising or unexpected, like well-seasoned lamb in an XLB, fairly describe the universal appeal of the dumpling itself?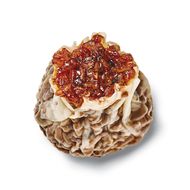 401 Sixth Ave.; $6
Starch on starch: glutinous rice, shiitake, and bacon, cinched in a round of dough and steamed until filling and wrapper become one, effecting an almost mochilike texture. If your experience with siu mai is limited to Cantonese dim sum, the Zen perfection of this Jiangnan version will be a revelation.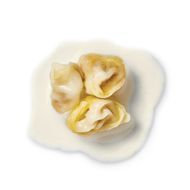 126 W. 13th St.; $27
Owner Massimo Galeano flies in his septuagenarian mother, Caterina Schenardi, from Bologna make tortellini. She commandeers a table near the entrance, dons a white bonnet, rolls up her sleeves, and puts on a show. It's no gimmick: Her tortellini — stuffed with veal and pork that's larded with prosciutto and Parmigiano-Reggiano — are rich, firm, and authentically tiny. As with Turkish manti-makers, the sign of a great tortellini shaper is how small they can go, and those Japanese dumpling miniaturists you see online have nothing on Caterina Schenardi.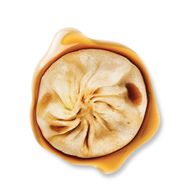 4. The Bao's Xiao Long Bao
13 St. Marks Pl.; $7.95
This East Village soup-dumpling kitchen is as much traditionalist as innovator: Its standard XLB consistently exhibit masterful technique, with thin but sturdy skins, clean-tasting soup, and tender meat, while more-daring menu options conceal flavor bombs like hot chile, or a bracing blast of wasabi that penetrates the porkiness.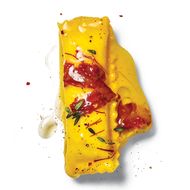 5. Lilia's Agnolotti
567 Union Ave., Williamsburg; $23
Missy Robbins's elegant dough packets are loosely inspired by Sardinia, land of sheep and saffron pasta. She fills them with ricotta and feta and coats them in a saffron-infused sauce finished with honey and chiles, yielding a perfumed sweetness that's both cut and amplified by snippets of sun-dried tomato.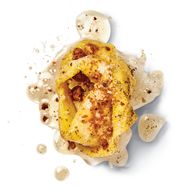 85 Tenth Ave.; $39
Mark Ladner stuffs his cappellacci in the traditional Emilia-Romagnan manner, with nutmeg-laced winter squash, but goes off script, adding sweet potato, mascarpone, ginger, and his beloved Parmigiano-Reggiano to the mix. Then these jaunty little hats are bathed in brown butter and showered with amaretti crumbs. Have them as part of a $149 five-course prix fixe menu, or order the dish à la carte. Pastavores could even make an argument for eating these cappellacci as dessert.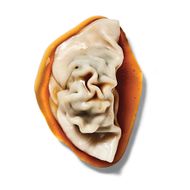 26 Eldridge St.; $3.95
Super Taste's raison d'être is Lanzhou-style hand-pulled noodles, but it also offers the best dumpling deal in town — ten hot and hefty zheng jiao (steamed dumplings) as wrinkled as prunes and served on a Styrofoam plate that emits a cartoon trail of steam as they're portaged from kitchen to table.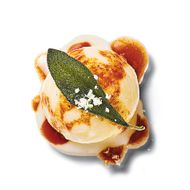 314 W. 11th St.; $20
Gnudi are called naked ravioli because they're just fillings shaped into balls, rolled in flour, but uncloaked by any dough. April Bloomfield's gnudi — little lumps of sheep's-milk ricotta barely but adequately contained by a dusting of semolina — are boiled, sautéed in butter, finished with a fiendish drizzle of brown-butter cream, and almost as impressive from a how-can-that-possibly-work? perspective as a Shanghai soup dumpling.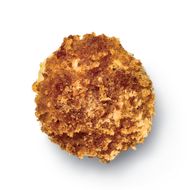 140 Second Ave.; $9
Here's how Central and Eastern European dumpling obsessives do dessert: with thick orbs of boiled potato dough the size of billiard balls filled with plums or soft farmer's cheese, rolled in melted butter, and sprinkled with fried bread crumbs. This great old Ukrainian restaurant calls them German dumplings, but Czechs know them as svestkove knedliky. They come six to an order and are unequivocally worth saving room for.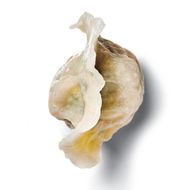 10. Tianjin Dumpling House's Bespoke Dumplings
41-28 Main St., Flushing; $6
Calling yourself a house when you're merely a stall — not to mention a stall located in the tumbledown basement of the Golden Shopping Mall — may be overstating the facts. But Tianjin's juicy, substantial dumplings would make an impression no matter where they were served. Everyone loves the lamb-and-squash variety, and so do we, but it's more fun to customize your order (up to three fillings from a choice of 24). Choose garlicky pork sausage, soft scrambled egg, and cilantro, and call it breakfast.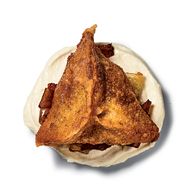 548 Third Ave.; $8.95
In an alternate universe, cold and flu sufferers would favor kreplach soup over matzo ball, and pasta lovers would define ravioli as "Italian kreplach" instead of the other way around. But modern times haven't been kind to these so-called Jewish ravioli, vestigial pockets of finely minced beef riddled with sweet caramelized onions, a defining flavor of the Ashkenazi kitchen. Get 'em while you can — either boiled in chicken broth or, better yet, fried to a somewhat puffy-skinned crisp and showered with more fried onions.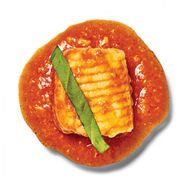 12. Esca's Gnocchi
402 W. 43rd St.; $27
Gnocchi are usually made from potato and flour and properly called gnocchi di patate. But New York's best are made from sheep's-milk ricotta — lumps of dough neatly shaped like corks, simply sauced with tomato, mingled with cubes of buffalo mozzarella, and possessing a texture that walks the tricky line between fluffy and firm. That it's typically the only frutti-di-mare-free pasta dish on the menu at seafood shrine Esca (and presumably a sop for people who don't like seafood) must be why it's not as celebrated as it should be.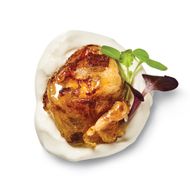 2818 Coney Island Ave., Sheepshead Bay; $9.50
A nice bowl of clear soup is the natural habitat of chuchvara, the small ring-shaped Central Asian lamb dumplings often compared to Russian pelmeni or Italian tortellini. But you'd be wise to follow the advice of this Uzbeki hot spot's Russian bartender and order them pan-fried until chewy-crisp, then showered with dill and caramelized onions.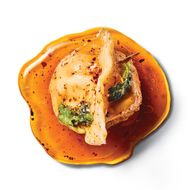 Locations citywide; $7.50
These chunky shuijiao (boiled dumplings) are made with the same tender-chewy dough (and expert technique) that this Shanxi-street-food specialist uses in its signature hand-ripped noodles. They're bigger than most, about the size of small lemons, stuffed with spicy lamb meatballs, and served in a chile-oil-forward secret sauce that's as invigorating as a post-sauna roll in the snow.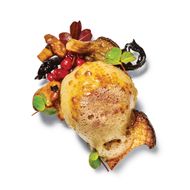 15. Aquavit's Kroppkakor
65 E. 55th St.; $26
In their most rudimentary form, kroppkakor are Swedish boiled potato dumplings stuffed with pork and onions. Chef Emma Bengtsson channeled school-lunch memories into a refined lunch-only vegetarian version filled with mushroom duxelles, pan-fried, and anointed with chanterelles, lingonberries, and brown–butter foam.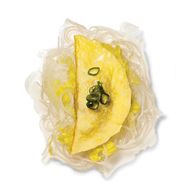 401 Sixth Ave.; $12
The skins of these dumplings called dan jiao are made not with but from egg, cooked like miniature omelets in a pan, filled with a mixture of minced pork and water chestnut, then steamed. In China, they're special-occasion dumplings, but you can get them at Hao Noodle anytime, fanned out in a clay pot above a cache of noodles submerged in a rich chicken broth.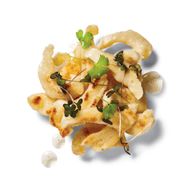 139 Duane St.; $7
Chubby squiggles of egg dough shoved through a colander straight into the boiling pot, spaetzle is Austria and Germany's loose interpretation of Italy's gnocchi. New York's No. 1 spaetzle-maker, Kurt Gutenbrunner, enhances his with quark (think tangy, curdless cottage cheese) and serves it throughout his Austrian-restaurant empire in various meat-and-vegetable mingled permutations. We like it best, though, as a simple side dish, sautéed in butter, sprinkled with chives, and tasting like some ethereal form of mac 'n' cheese.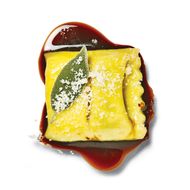 218 Lafayette St.; $24
This is ravioli for indecisive people: two distinct packets of egg pasta fused together so that one side houses a gamy mince of rabbit meat, the other the soft white cheese from Emilia-Romagna called squacquerone. In keeping with the waggish Italian practice of naming pasta shapes by seemingly blurting out the first thing that springs to mind, they're called spallina (epaulette), but remind us more of miniature Cadbury Caramello bars than military shoulder straps.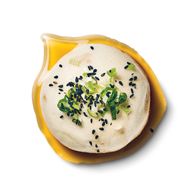 19. Yaso Tangbao's Pan-Fried Pork Baos
148 Lawrence St., Downtown Brooklyn; $5.65
Known in Shanghai as sheng jian, these baos, made from yeasted dough, are filled with pork and a little jellied stock. They're fried until their bottoms turn golden brown, then steamed until the jelly liquefies — like a soup dumpling, pot sticker, and steamed bun all rolled into one.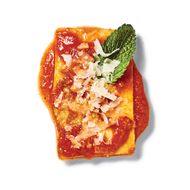 20. Babbo's Mint Love Letters
110 Waverly Pl.; $21
Mario Batali's masterwork: delicate parcels of dough wrapped around a paste of mint and peas thickened with cream and Parmesan, judiciously sauced with crumbled merguez and tomato. The beef-cheek ravioli receives more accolades, but it's the mint love letters we crave whenever our thoughts turn to Babbo pasta packets.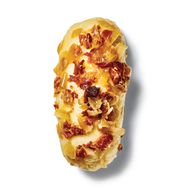 177 Kent St., Greenpoint; $9
Pyzy is Polish for dumpling, miesem is meat, but that doesn't prepare you for what's to come when you place your order at Greenpoint's Polish & Slavic Center cafeteria: two dense and spongy potato torpedoes about the size of small salamis. They come filled with minced pork drizzled with oil, and topped with bacon and fried onion. One PSC pyzy e miesem could incapacitate a Polish lumberjack; two is the dumpling version of a large-format feast.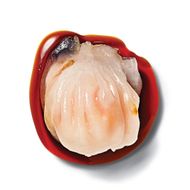 98 Mott St.; $3.25
If the litmus test of a dim sum house is its har gow, then Joy Luck Palace establishes its bona fides with pearly, translucent wheat-and-tapioca-starch skin as elegantly pleated as an Issey Miyake scarf, through which one can glimpse the rosy glow of the bouncy shrimp filling. This is a dumpling that defines al dente.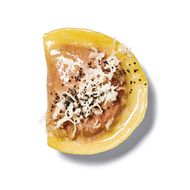 248 Fifth Ave., Park Slope; $12
A specialty of the Veneto dating back to the 14th century, these fat half-moons are stuffed with roasted beets and ricotta, sautéed in brown butter, and sprinkled like pastry with poppy seeds. Al di Là introduced the dish to New Yorkers in 1989 — what took so long? — and for fear of customer revolt hasn't taken it off the menu since.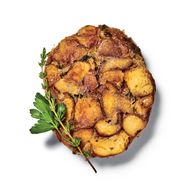 1578 First Ave.; $8
Cubes of housemade pretzels get soaked in milk with egg yolk, sour cream, and a little flour. Later the mixture is shaped into a log, wrapped in cloth (why they're also called napkin dumplings), and simmered before it's cut into thick slices that get sautéed in butter. Essentially, it's stuffing by way of French toast disguised as dumplings.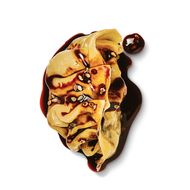 25. The Good Fork's Pork-and-Chive Dumplings
391 Van Brunt St., Red Hook; $10
Sohui Kim's pan-fried dumplings borrow wrappers from Japanese gyoza, tofu in the filling from Korean mandu, and hoisin and dark soy sauce from China. They're like her Brooklyn restaurant: homespun, inspired by multiple cuisines, irresistible.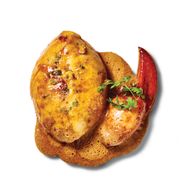 26. Le Coucou's Pike Quenelle
138 Lafayette St.; $33
If there were ever a dish ripe for revival, it's quenelles de brochet, relic of yesteryear's bastions of French fine dining. The poached dumpling of puréed fish hails from Lyon but eats like gefilte soufflé (in a good way) and might be even more buoyant than its frothy lobster sauce l'americaine.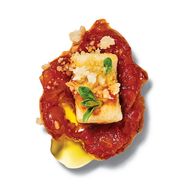 27. Tekoá's Gnocchi al Tuco
264 Clinton St., Cobble Hill; $18
From their tomato-sauced, Parm-dusted surface, chef Alex Raij's gnocchi don't look like the sort of thing that might piss off a cuisine-proud Italian. But rather than use the sanctioned bases of potato, ricotta, or even semolina, Raij fashions her yielding nubbins from corn masa, a Mexican incursion that makes for a delectable tamalelike effect.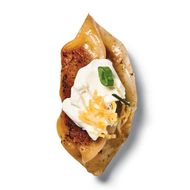 28. Mimi Cheng's Monthly Special
179 Second Ave.; $9.25
How do you stay relevant — and Instagrammable — in this street-food-saturated age? Debut a new special dumpling each month, using dough wrapper as blank canvas for celebrity–chef collaborations, seasonal themes, and comfort-food crowd-pleasers like December's beef-chili dumpling with beans and shredded cheese.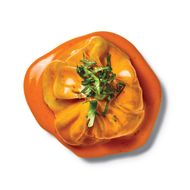 64-23 Broadway, Woodside; $8.95
Three words: Momo alla vodka. This Queens Nepalese restaurant doesn't call it that, but maybe it should. The Kathmandu-born chef did time at the Italian restaurant Sotto Cinque on the Upper East Side, which is why you can get your beef or chicken momos drenched in a creamy orange tomato sauce. Inter-borough fusion cuisine at its finest.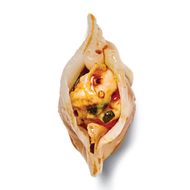 30. Nom Wah Tea Parlor's Shrimp-and-Snow-Pea-Leaf Dumplings
13 Doyers St.; $4.75
In four years, Nom Wah will turn 100, and its mere longevity merits gratitude. So does its signature steamed dumpling, a chubby canoe filled with greens-speckled shrimp so fresh it crunches. It can be found at the parlor's proliferating outposts, but nostalgists prefer to go to the source.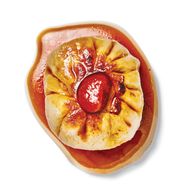 471 16th St., Windsor Terrace; $7
If anything can improve a freshly made, piping-hot pot sticker, it's the 28-day-dry-aged beef this cheerful Chinese canteen stuffs into its plump little pouches. The meat is tender with a perceptible funk, and the housemade wrappers burnished to a golden crisp on both sides.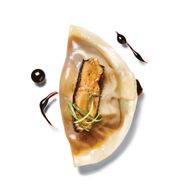 32. Annisa's Foie Gras Soup Dumplings
13 Barrow St.; $9
Anita Lo's fine-dining riff on the xiao long bao: half-moon dumplings with jicama, foie gras mousse, and a broth aficionados might associate with the simmering of gelatin-rich delicacies like calf's knuckles and pig's feet. They're steamed, topped with more foie (this time seared), then served over a squirt-bottle swirl of black-vinegar–balsamic reduction. Order them at the bar and by the piece like sushi.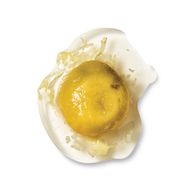 33. Dumpling Galaxy's Pumpkin With Black Sesame Tang Yuan
42-35 Main St., Flushing; $6.95
Chinese tang yuan might make the world's best case for soup as dessert: soft and chewy orbs formed from glutinous rice flour, the dough enriched here with milk and flavored with pumpkin, then stuffed with nutty black-sesame paste and set adrift in a sort of sweet egg-drop soup.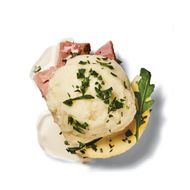 135 N. 5th St., Williamsburg; $14
It might sound more exotic than chicken and dumplings, but this old Pennsylvania Dutch specialty is just as comforting as its southern sibling. Schnitz means slices (dried apples, in this case); Gnepp is a pinch, which refers to pinching small pieces off a ball of dough to make plain flour dumplings. There's country ham, too, for a dose of salt and smoke.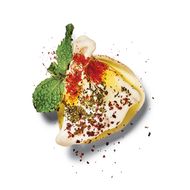 928 Second Ave.; $18
To prove their readiness for marriage, young Turkish women would fold manti so small that 40 would fit in a single soup spoon. Sip Sak's Orhan Yegen doesn't take it that far, but his everyday micro-meatball-stuffed manti are impressive enough, delicate and tender, dressed with garlicky yogurt sauce, embellished with dried mint sauteéd in butter, and speckled with sumac and paprika.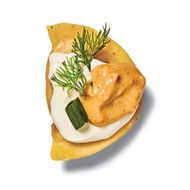 36. Anton's Russian Dumplings Potato Dumplings With Smoked Gouda
Sixth Ave. nr. 3rd St.; $6
Here's why Anton's cart does brisk business with the after-hours bar crowd: a dozen potato pelmeni, boiled, then seared, covered by a Velveeta-thick blanket of melted smoked Gouda, and served in a paper boat. Get them with the works (sour cream, chives, dill, Sriracha, soy sauce, pickle on top), and a plate of loaded nachos, by comparison, will seem like spa food.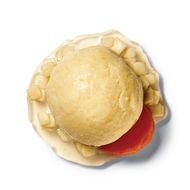 162 E. 33rd St.; $8.95 a pint of soup
Some swear by seltzer; others, whipped egg whites. 2nd Ave, whose chicken soup is as vital to public health as the flu shot, relies on the controversial but time-tested inclusion of baking powder to leaven its matzo balls. A liberal dose of schmaltz ensures they don't float away.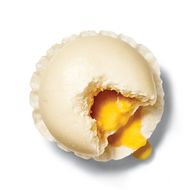 38. Joy Luck Palace's Salted-Duck-Yolk-Custard Steamed Bun
98 Mott St.; $3.25
Can a cupcake be a dumpling? If it's actually a steamed bun served at one of Chinatown's most thronged dim sum parlors and stuffed with an uni-colored custard of salted duck-egg yolk, butter, and sugar that spurts out upon contact, why not? Consider it the soup dumpling of the pudding world.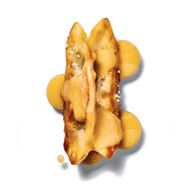 39. Talde's Pretzel, Pork, and Chive Dumplings
369 Seventh Ave., Park Slope; $10
Dale Talde's love letter to New York: pot stickers "pretzel-ized." They're boiled in alkalized water, given an egg-yolk massage, pan-fried to a blistery brown, and sprinkled with salt. The clincher: hot Chinese mustard cut with tahini for dipping because "dumplings are Asian and New York's pretzel vendors are almost always Middle Eastern," according to Talde.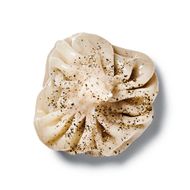 40. Apani's Khinkali
1520 Sheepshead Bay Rd., Sheepshead Bay; $1 each
The Republic of Georgia's answer to Shanghai soup dumplings is a pleated, outsize, somewhat droopy sack filled with a sturdy meatball and just enough juice that you really ought to mind your shoes if you gobble one down in this standing-room-only Georgian bakery and takeout shop. Ask for a blast of cracked pepper and grab 'em by the topknots.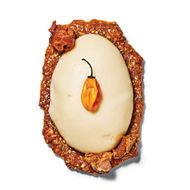 41. La Savane's Foutou
239 W. 116th St.; $13 with stew
Part food, part utensil, the national dish of the Côte d'Ivoire is made from plantain or other starch that's boiled, pounded, then shaped into a smooth, supple orb. The texture resembles raw-dough and the flavor is soothingly bland — traits that seem negative in isolation but make perfect sense in the context of a traditional meal, in which you rip off small chunks to swab up morsels of the daily stew, which might be tangy eggplant with bone-in lamb or gelatinous okra and cow's foot.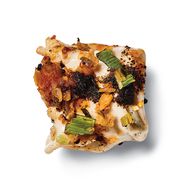 42. White Bear's Wontons With Hot Sauce
135-02 Roosevelt Ave., Flushing; $5.50
It's not that everyone's favorite Flushing wonton, White Bear's No. 6, isn't everything you could ask for in a dumpling — silky and tender with a springy nugget of pork inside. It's just that the signature condiment treatment, a barrage of chile oil, ground chile, chives, and pickled mustard greens, is so good you begin to wonder whether sluicing this exceptional stuff over anything, even an old shoe, would make it taste great.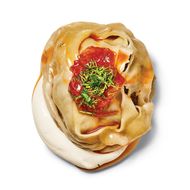 43. Uma's Butternut-Squash Manti
92-07 Rockaway Beach Blvd., Seaside; $10
Lamb is not the only Central Asian dumpling filling. There's also pumpkin — or, as at the Rockaways' premier post-surf Uzbeki destination, butternut squash. The effect is much more savory than sweet, thanks to onion sauce, herbs, and potent dill-garlic yogurt.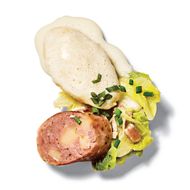 44. Cafe Katja's Quark Dumplings


79 Orchard St.; $14
Only three dumplings appear on this Austrian café's plate of Emmentaler sausage and Savoy cabbage, but three's plenty: Quark, the Central European fresh cheese that's comparable to farmer's, makes the mini-torpedoes quite substantial — soft, rich, and slightly tangy, dotted with snipped chives and anchored in cream sauce.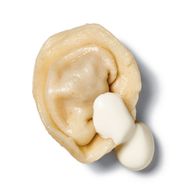 1655 Sheepshead Bay Rd., Sheepshead Bay; $6
Some say pelmeni originated in China, then spread through Siberia by Mongol invaders. Others say they're probably Persian. Our Ukrainian server at this Russian-Ukrainian restaurant could shed no light on the debate. "Just eat," she said. Wherever they're from, these tortelloni-shaped dumplings are smooth and supple, more tender than chewy. The filling is beef and pork, unstintingly seasoned with garlic and onion.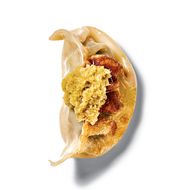 342 Lexington Ave.; $10
Where there is ramen, there are usually the pan-fried and steamed Japanese pot stickers called gyoza. Masaharu Morimoto crams his with juicy pork and fragrant chives and serves them in the iron pan they're cooked in, tetsunabe style, under a cloak of untraditional but tonic ginger–scallion sauce.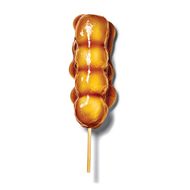 47. Domo's Mitarashi Dango
359 Manhattan Ave., Williamsburg; $3
Ice-cream-stuffed mochi might be the gateway Japanese rice-based dessert, but dango is making inroads in Brooklyn, where the traditional skewer of rice-flour balls painted with a sweet-and-salty soy-sauce glaze is the featured attraction of this new Japanese deli and tea shop. A sheet of nori adds extra salinity, but the snack is defined as much by its chewy texture as by its unusual flavor.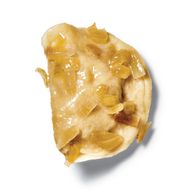 140 Second Ave.; $8
With the East Village and Greenpoint, those twin centers of unadulterated Eastern European soul food, New York does not lack for good pierogi. The best, though, are the lumpy handmade Ukrainian version called varenyky at this restaurant inside the Ukrainian National Home (located approximately 20 feet away from pierogi mecca Veselka should you care to conduct a taste test of your own). Get them boiled and stuffed like Christmas geese with seasoned potato, or with a mix of sauerkraut and mushroom.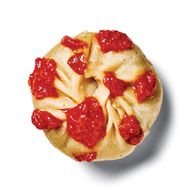 49. Lhasa Fast Food's Momo
37-50 74th St., Jackson Heights; $5
Finding this vaguely illicit momo shack is half the fun. Look for a makeshift arcade of sorts, home to the You and Me mobile-phone shop, and follow a twisty route that would make for a good Martin Scorsese tracking shot. The satchel-shaped momos (get the beef-and-chive) fall somewhere in size between xiao long bao and Georgian khinkali and are delicious doused in the high-octane Tibetan chile sauce called sepen.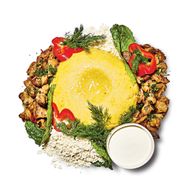 50. Moldova's Mamaliga Trapeza
1827 Coney Island Ave., Midwood; $13
The South has its grits, Italy its polenta, and Moldova the dense cornmeal porridge called mamaliga. At this quaintly decorated ode to the old country, it's formed into fluffy, flat–bottomed, dill-dusted balls with a slightly grainy texture and a fleeting blandness that vanishes once they're mixed with the accompanying sour cream, scrambled egg, Romanian feta, and chewy nuggets of roast pork.
*A version of this article appears in the December 12, 2016, issue of New York Magazine.