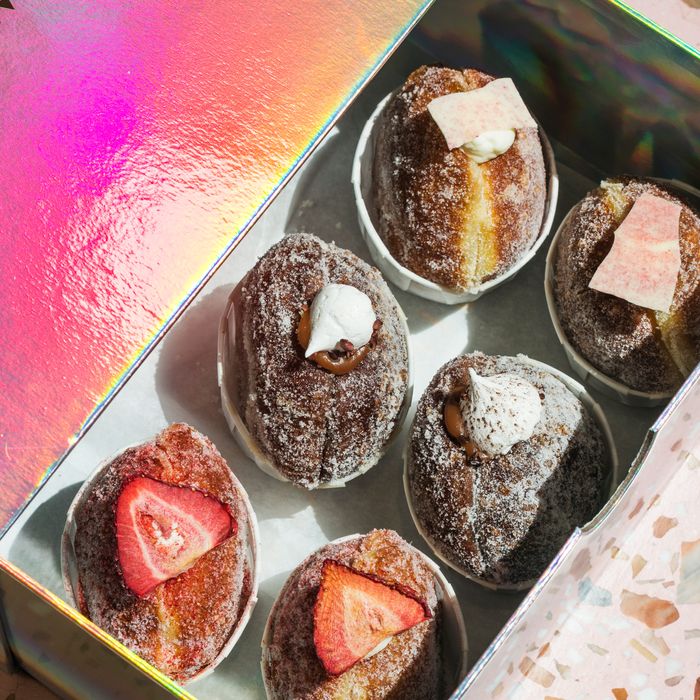 A box of doughnuts from Supermoon Bakehouse.
Photo: Melissa Hom
This list is all about doughnuts: glazed, filled, round, square, traditional, and otherwise. Entries below span the exceptional to pretty great, raised and cake, crullers and bow ties, and picks from all five boroughs. Here, the absolute best doughnuts in New York.
1. Supermoon Bakehouse
120 Rivington St., nr. Essex St.; no phone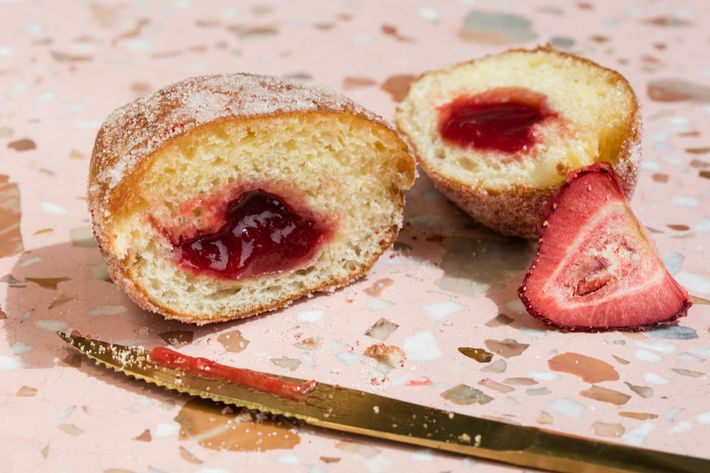 The pink-neon "BITE ME NYC" sign may be so alluring that all who pass are compelled to take a selfie with it, but it turns out the only thing superior to Supermoon's marketing strategy is its pastry technique. Orblike and delightfully overinflated doughnuts are offered in three well-devised flavors at a time; if the improbably good goth doughnut with squid ink, black-sesame crème pâtissière, and a coating of activated-charcoal sugar doesn't entice, try the lychee and raspberry jelly, which abounds with both of those flavors, and even includes a natty dehydrated strawberry chip. The chocolate brioche doughnut sports a properly cooked, Bootsy Collins–thick funk of caramel, as well as a show-offy cacao-nib meringue. Sour cherry is tart, peanut-butter crème pât accordingly rich, and sugar is restrained all around. The elegantly inventive flavors change every week.
2. Underwest Donuts
Multiple locations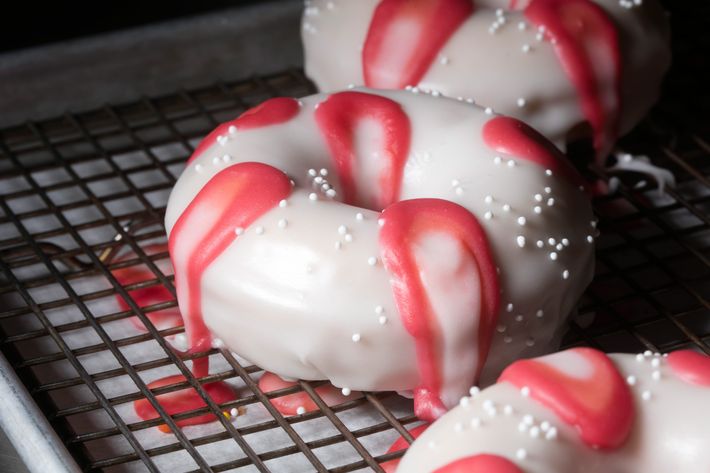 Though their maple-waffle and supremely toasty brown-butter-almond flavors are now abundant in cafés and coffee shops, it's worth seeking out the quirky Underwest mother ship in a glorified hallway at a 12th Avenue car wash, across from where the USS Intrepid parks in the Hudson, to score warm doughnuts fresh off the production line. These have the most caramelized crunch and fluffy, cakelike crumb, and it's fun to time taking bites of the colorful streaks on the vanilla-lavender-scented "car wash" while the brushes do their sudsy thing behind the glass panels.
3. Doughnut Plant
Multiple locations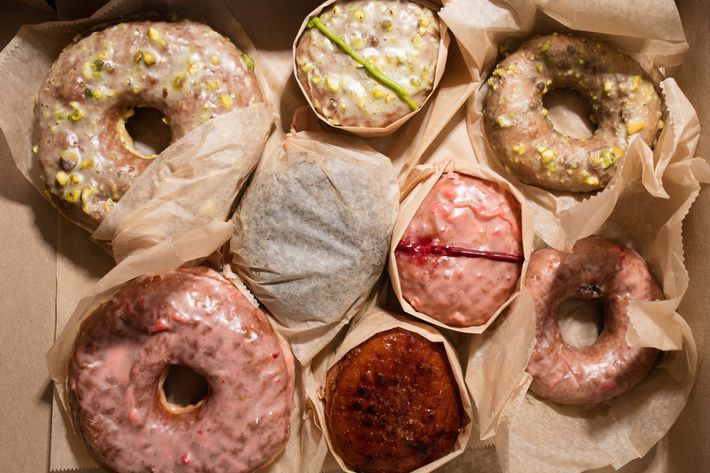 On a matrix labeled with Nostalgic, Newfangled, Cake, and Yeasted axes, Doughnut Plant would have a surplus of options land in all four quadrants. Consider the stellar rose doughnut's nest of canelélike ridges, or the irresistible, two-tone icing schematic of one modeled on the iconic black-and-white cookie. The best flavors are often hyperseasonal: A limited-edition, purple-concord-grape doughnut served for a minute or so last fall nailed the jammy archetype so perfectly that the only thing left to do was chase it with a peanut-butter-and-banana-cream-filled doughnut.
4. Dun-Well Doughnuts
Multiple locations
The entire roster is vegan, from lemon glazed to the Boston cream, and anyone who doesn't care about that should know that these doughnuts mimic the lightweight texture of good Krispy Kremes. Best of all, flavors are distinct, a rarity in a world gone mad with kitchen-sink doughnuts. Fancy a root-beer glaze? Dun-Well has it. Creamsicle? Yes, and it's flawless. Fruit glazes are flecked with discernibly plummy blueberry or raspberry bits, and in a deft show of craftsmanship, a nicely bitter touch of espresso edges out from the layer of chocolate sprinkles in the mocha doughnuts.
5. Du's Donuts and Coffee
111 N. 12th St., at Wythe Ave., Williamsburg; 718-215-8770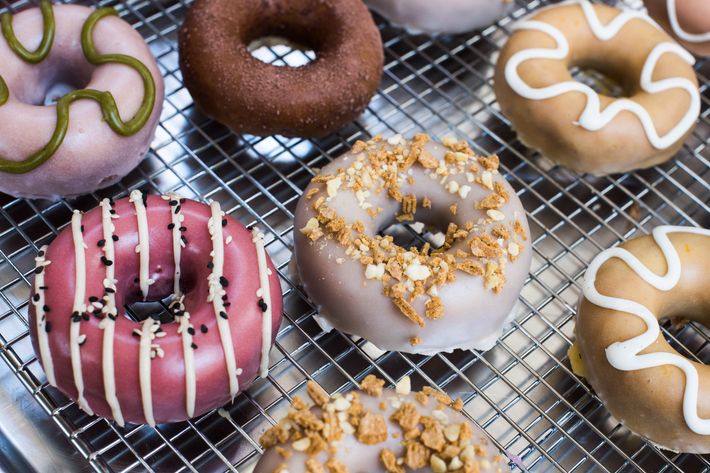 Though it opened in 2017, the vague feel of an ambitious experiment still lingers in the otherwise efficient air at Du's, perhaps because namesake proprietor Wylie Dufresne tinkers with cake-doughnut formulas, of the highly personalized, Wylie-fied style of "inner tubes" in an open kitchen format. Petite doughnuts have the finesse of a fancy patisserie, and often loopy glazes that appear in the color schematic of a psychedelic children's show. Makrut lime and passion fruit represent the tropics, but candied; brown-butter grounds Key lime; and plain vanilla invokes nothing less than the sanctity of Hostess cakes of yore.
6. Black Label Donuts
Multiple locations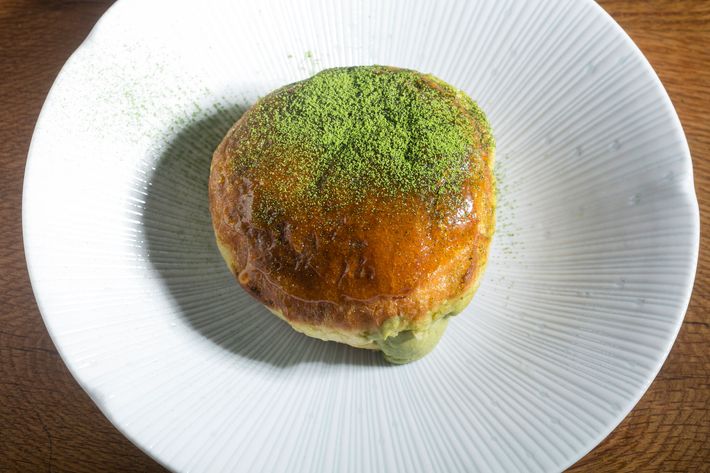 The only entry on this list without a permanent home is a weekends-only operation founded by Richard Eng, a Queens native and credentialed fine-dining veteran who now constantly refines the recipes for his innovative doughnuts, which are crafted and (usually) sold Sundays at Nippon Cha in Bayside, Queens. Most start with cold-ferment brioche, and pressure cookers, a Thermomix, and other high-tech gadgetry are used in the service of creating fillings like peanut-butter-banana custard for the curry sugar-sprinkled "funky monkey," and cajetalike salted-espresso milk jam for another. Anyone who cares about doughnuts should show up, and early at that, for these exceptional ones.
7. Doughnut Project
Multiple locations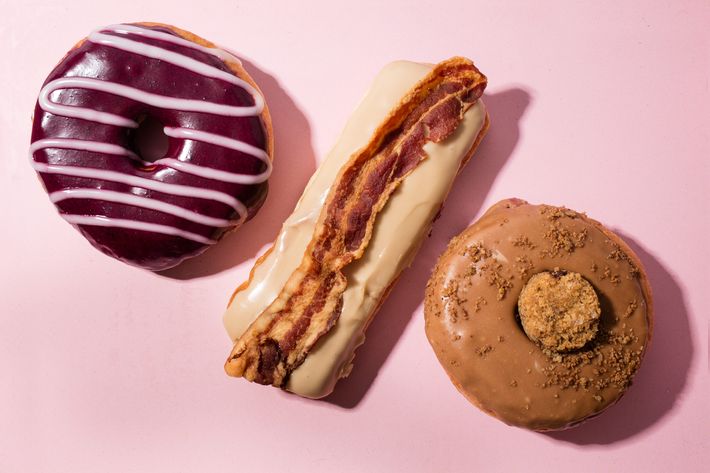 Creative limited-edition collaboration doughnuts can be hit or miss, but for every social-media-friendly apple-cherry topped with caramel-Gruyère frico here (nice!), or chocolate-bone marrow (maybe?), a stable of regular flavors riff on the classics with a microdose of welcome dream logic. As such, the blue-ribbon-worthy blueberry flavor in one glazed doughnut is streaked with unruly yuzu, while the ricotta-filled and peppy red beet looks like something you'd get at a coffee truck, but tastes like it came from a Michelin-starred kitchen in Emilia.
8. Peter Pan Donut and Pastry Shop
727 Manhattan Ave., nr. Norman Ave, Greenpoint; 718-389-3676
The venerable Greenpoint bakery is the best place in all of New York to get a mean cruller or excellent crumb cream at 4:30 a.m., its opening time on weekdays. The unflappable, uniformed, black-coffee-dealing waitresses recall a dreamier Brooklyn, an age before trans fats, when plumbers and EMTs and all sorts of glam creatures took comfort in craggy sour-cream cake doughnuts, or greaseless raised versions with dark, almost rosy jelly.
9. Mike's Doughnuts
6822 Fifth Ave., nr. Bay Ridge Ave., Bay Ridge; 718-745-6980
Similar to Peter Pan's early-bird routine, this righteous old-timer is up and running at 4 a.m. and buzzing by 5. Grab a stool at the malt-shop-style counter and choose from any number of staggeringly large sourdough crullers, immaculately frosted ring doughnuts and others with a shaggy coat of coconut flakes, plus behemoth marble sticks and vast bins of inexpensive, wonderful doughnut holes.
10. Dough
Multiple locations
At the core of the mini-chain are yeasted doughnuts, inflated to Macy's Thanksgiving Day–balloon proportions this shy of over-proofing, then sprinkled and glazed with toppers like cocoa nibs and passion fruit while cooling to room temp. Dough's beautifully glossy magenta-pink hibiscus doughnuts are one of the city's iconic foods, and because they are found at any number of coffee shops, they're instantly recognizable. Despite the availability, it's worth a trip to Chelsea, where staff set out cauldrons of warm doughnut holes throughout the day.
11. Mah-Ze-Dahr Bakery
28 Greenwich Ave., nr. W. 10th St.; 212-498-9810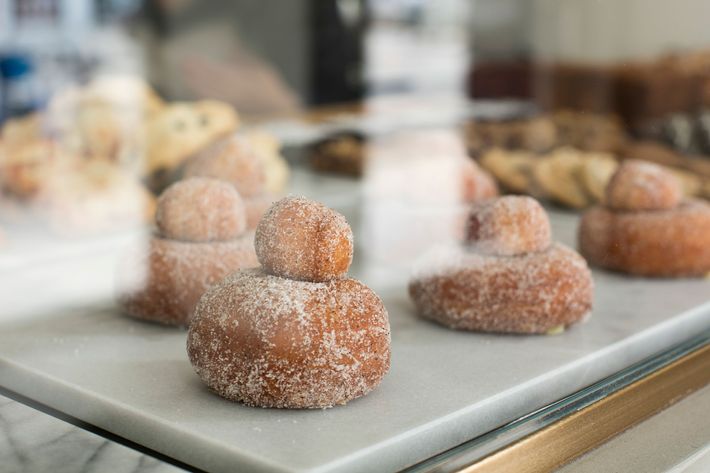 Dapper brioche doughnuts have textbook-buttery brioche crumb and a cool pastry cream center that smacks of genuine vanilla, and as a bonus, each spherical "hole" is included with each order, perched on top like a pearl. After joining the team in 2017, executive pastry chef Erin Kanagy-Loux debuted a buttermilk cake doughnut, with prescored outer edges, that Kanagy-Loux modeled on an old-school hopper shape. It also makes the pastry easier to dismantle, and the extra nooks boost surface area for the glaze.
12. Moe's Doughs
126 Nassau Avenue, nr. McGuinness Blvd., Greenpoint; 718-349-1216
The raspberry-filled doughnut, served without the standard deluge of powdered sugar, is a delight. With its pale-green crumb and pulverized nut crust, the craggy pistachio cake doughnut looks dried out, but is anything but. Most flavors wink at a kind of greatness no one expects at a coffee shop that also sells egg-white sandwiches and bland coffee, but there's a mind-boggling amount of skill on display here, plus the closest thing anyone's getting to a Lard Lad special outside of New South Wales.
13. Shaikh's Place
1503 Ave. U, nr. E. 15th St., Sheepshead Bay; 718-375-2572
This 24-hour greasy spoon in the depths of lower Brooklyn is the Sigma Octantis to Greenpoint's Peter Pan Donut Shop: It may not be quite as visible, but it's still a star. Founded more than a half-century ago, and run for the last 30-something by a guy who wanted to be an electrical engineer before he fell in with icing sugar, Shaikh's excels at jam-filled masterpieces, pastel-pink glazed varieties fringed with rainbow sprinkles, and crullers galore. The plain-glazed, light and sweet, deserves its own spot in MoMA. There are 48 varieties; maybe half will be available. Regardless, get a dozen for less than $8.
14. Orwashers
308 E. 78th St., nr. Second Ave.; 212-288-6569
Here's the giddy epitome of a jelly doughnut, overstuffed with dark and quivery fruit, never to be approached without a requisite handful of precautionary napkins. Orwashers makes theirs New York–ish by using local preserves, in flavors like sour cherry and black raspberry, which diligent employees fill to order with their arsenal of fantastic caulking tubes. It's even possible to get a chocolate glazed jelly, which evokes classic Joyva Jell Ring in the best possible way.
15. The Donut Pub
203 W. 14th St., at Seventh Ave.; 212-929-0126
Subway tiled and generally indefatigable since 1964, not to mention open 24 hours a day, Donut Pub has long been an oasis for Koch-era insomniacs who hanker for old-school crullers clobbered with flaky icing. In the last few years, the shop's popular Cronut knockoffs, a hybrid-hybrid, have dominated the racks; for a cheap thrill, opt for the one that sports a halo of salted caramel atop its chocolate glaze.
16. Sullivan Street Bakery
Multiple locations
There are no better bomboloni than Jim Lahey's bomboloni, which are typically set out early in cases with their vesuvian dollops of vanilla-bean pastry cream all aligned. They make the case that skilled professionals with a preternatural knack for gluten mechanics can pull off tricks that add-ons of breakfast cereal and candy coatings cannot.
17. Rockaway Beach Bakery
87-10 Rockaway Beach Blvd., Rockaway Beach; 347-727-7680
In the lower reaches of Queens, where Tracy Obolsky broke away from the confines of plated pastry to open a stellar bakery, creamed butter in the batter gives the outfit's fragrant, coarse, sugarcoated cider doughnuts a soft, whipped, and winning edge over those found at farm stands. A lemon cruller is in the works for the warmer months.
18. Caffe Marchio
30 E. 30th St., nr. Madison Ave.; no phone
Jessica Weiss makes yeasted ring doughnuts in intriguing flavors like chai sugar and chocolate-dipped strawberry, as well as fritters. Yes, fritters, albeit well-devised fritters modeled after cream-cheese apple-crumb cake, with swirls of soft crumb dough and perfect apple compote. Weiss adds sour cream and tangy cream cheese, which combine to create something richer and closer in texture to oozy marshmallow than traditional icing sugar glaze.
19. Pies 'n' Thighs
166 S. 4th St., at Driggs Ave., Williamsburg; 347-529-6090
Flavors rotate, but the malted cream-filled one at the fried-chicken destination gets points for the truck-stop-chic vibe telegraphed by smashed candy, while the chocolate cake doughnut's layer of soaked-in glazed turns the already dark crumb into something inky with a deeply fudgy intensity. The old-fashioned is a paragon of the form, and the raised butter-pecan crunch is sticky fun.
20. Honey Pig Donuts
14-31 150th St., nr. 14th Rd., Whitestone; 718-563-5253
A batter-dispensing robot produces browned, greaseless doughnuts that go on to assume all sorts of outré identities. Maple-bacon is usually served as a stunt doughnut, but the Queens shop redeems the once apocryphally obscure flavor with fine-tuned measures of smoke, salt, and sugar.
21. Daily Provisions
103 E. 19th St., nr. Park Ave. S.; 212-488-1505
In 2017, Union Square Cafe's offshoot café and bakery quickly realized that its signature pastry had gone boffo on social media. The Little Cruller That Could is wonderfully lustrous in its glazed and maple-glazed forms, with a choux-pastry base that makes for a crumb that's slightly damp, improbably sponge-light, and altogether irresistible.
22. Locanda Verde
379 Greenwich St., at N. Moore St.; 212-925-3797
Deborah Racicot now brings her own pastry-chef precision to the understated doughnut program pioneered by predecessors Karen DeMasco and Kierin Baldwin. As usual, the lineup changes often in a way that warrants frequent visits; lemon lavender, a recent flavor, deftly balanced the herbaceous charms of the flower with tart and tiny slivers of candied citrus peel.
23. R&D Foods
602 Vanderbilt Ave., nr. St. Marks Ave., Prospect Heights; 347-915-1196
Only plain cake, cinnamon sugared, and doughnuts dabbed lightly in confectioners sugar are available. Eschewing all possible bells and whistles, however, offers up a rare quality: These are self-evidently great doughnuts, made with care and high-quality ingredients.
24. Leske's Bakery
7612 Fifth Ave., nr. 76th St., Bay Ridge; 718-680-2323
One of Bay Ridge's few remaining slices of its Scandinavian yesteryear offers up round, filled, and square doughnuts with reliably good heft, plenty of icing, and zero gimmicks.
25. Queens Comfort
3618 30th Ave., nr. 37th St., Astoria; 718-721-3800
The doughnut program at Astoria's hyperactive brunch destination is outsourced to one "Donut Diva," who has supernatural gifts with pumpkin butterscotch and marshmallow glaze. The all-out frenzy of mix-ins means that it's not uncommon to find Nutella and Oreos in the same, jacked-up red-velvet doughnuts.
26. Lilia
567 Union Ave., at N. 10th St., Williamsburg; 718-576-3095
Sugar-dusted frittelle sold in the takeaway Caffé are ridged and fluted like crullers, but boast a chouxlike interior and delicately refined sweetness, like a funnel cake after a semester abroad. Yeasted bomboloni are fried and cooled and piped with a rich mascarpone and espresso mix, à la very portable tiramisu.
27. Greene Grape Annex
753 Fulton St., at S. Portland Ave., Fort Greene; 718-717-8193

Just one dozen of these golden brioche beauties, which resemble the classic textbook depiction of Einsteinian space-time curvature, are prepped every morning. Slick chocolate gets a grab bag of rainbow sprinkles; a delightful indigo gloss, improbably packed with genuine blueberry flavor, coats another.
28. Brooklyn Doughnutry
50 Malcolm X Blvd., nr. Lafayette Ave., Bedford-Stuyvesant; no phone
Maple-peanut and banana-walnut flavors have a populist charm and a clear streak of originality. Crucially, these are huge doughnuts, as if an ex-Dunkin' employee went renegade in service of offering what no doubt amounts to the lowest price-per-ounce deal in the city. Have a knife and fork handy.
29. Gossip Coffee
3704 30th Ave., nr. 37th St., Astoria; 718-440-8792
Madcap pastries here are the handiwork of "Scottish" Francis Legge, a former MasterChef contestant who dons fedoras and strives to keep Queens weird, doughnut-wise. The marble variety is a psychedelic swirl of color, and there's dripped and splayed icing in abundance, in colors that correspond to apple and beet flavors and beyond.
30. Cuzin's Duzin
Dekalb Market Hall, 445 Albee Square W., nr. Dekalb Ave.; 914-288-8100
Built for speed, the soft mini-doughnuts are fried to order, with custom flavors calibrated by sprinkles and syrups, including top-shelf options like Hennessy and Ciroc Red Berry Ciroc glazes (season permitting, of course).
31. Sal & Dom's Pastry Shop
1108 Allerton Ave., nr. Yates Ave., Allerton; 718-515-3344
The cream puffs are deluxe, but regulars at the 60-something-year-old Bronx bakery know that the limited-production-run doughnuts tend to sell out quickly. Get there before 10 a.m. to increase your chances of scoring a top-notch Boston cream.
32. Country Donuts and More
4357 Amboy Rd., nr. Armstrong Ave., Eltingville; 718-356-0884
The ersatz Dunkin' vibe at this Staten Island strip mall café belies its popular roster of sturdy doughnuts piped with pastel icings. More endearing is the compact Dutch Crumb, which sports an admirably thin layer of coarse-sugared streusel.
33. Boulis
30-15 31st Ave., nr. 30th St., Astoria; 718-806-101
Lokma are workhorse nubbins of aromatic fried dough — sometimes spiced, almost always doused in honey syrup — that're usually ball-shaped, which is what makes the Astoria café's version so fun: Management brings their dough full circle, literally, making their springy, bronzed loukoumades ideal for an afternoon dip in strong Greek coffee.
34. Nostrand Donut Shop
1449 Nostrand Ave., nr. Church Ave., Flatbush; 718-826-3008
In Brooklyn, just blocks from where Barbra Streisand went to school with Bobby Fischer, time has apparently frozen around a tableau of old Formica, battered old sheet pans, and Bunn-O-Matic coffee. The retro-luncheonette atmosphere can't be beat, and neither can the knotted glazed bow ties.
35. Darn Donuts
8723 Fourth Ave, nr. 87th St., Bay Ridge; 718-833-6300
Your mileage will vary, depending on how you feel about novelty flavors (M&M's, cheesecake) loaded with ostentatious, premanufactured add-ons, but this Bay Ridge establishment is the de facto epicenter for Fruity Pebbled, pretzel-sticked, Oreo-ed, and even Swedish-fished doughnuts. (Purists, fret not: There are also plain glazed on hand.)
36. Alimama
89A Bayard St., nr. Mulberry St., 212-235-7288
The substitution of super-glutinous mochi flour for the everyday, all-purpose kind results in stretchier, denser (also: gluten-free, vegan) dead ringers for the real thing, offered here in six sporty postmodern flavors, including matcha with a mantle of puffed rice.
*This post has been updated to reflect that Black Label Donuts are usually sold on Sundays at Nippon Cha in Bayside.