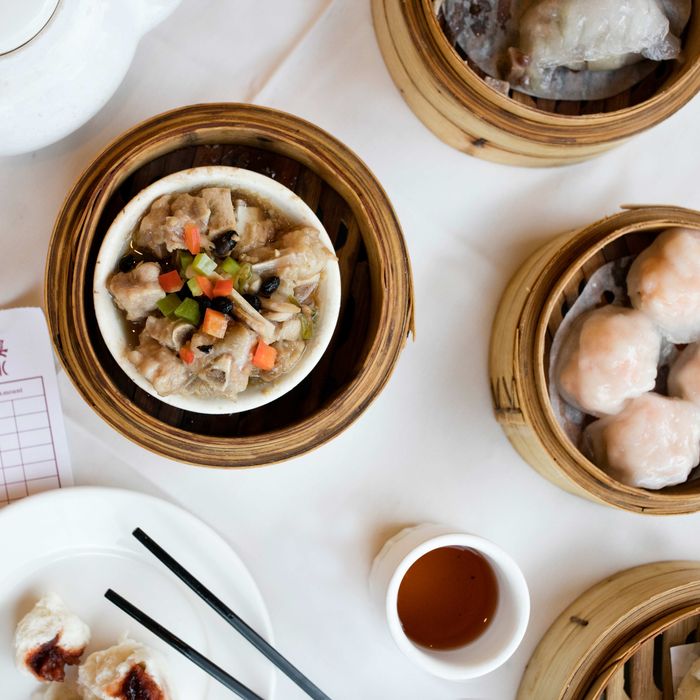 Feast at Bamboo Garden.
Photo: Melissa Hom
The time has come to discuss dim sum, the grand Cantonese cuisine of small snacks that's become a weekend pastime in New York's Chinatowns. The ideal dim sum restaurant should of course serve an interesting and varied selection of dishes (rolling carts not necessary, though), and be a riotously fun place where families and friends gather and you can graze without having to cycle through three plates of shumai before getting something new. These are the city's five best.
1. Bamboo Garden
6409 Eighth Ave., nr. 64th St., Sunset Park; 718-238-1122
Manhattan's Chinatown still has its grand har gow palaces, like Golden Unicorn, but, by and large, those have seen better days. In fact, as the balance of power has shifted in New York's network of Chinatowns to the outer boroughs, so too has the center of the dim sum universe gravitated to Sunset Park, where the sprawling Bamboo Garden, just shy of the Dyker Heights border, offers some of that grandiosity with the same frenetic bustle, with food that's far tastier and more interesting. On any given Sunday, carts zoom around the room, diners clamor for the freshest of the lot, and families gather for a good time. Yes, the restaurant is slammed during midday hours on the weekend, but that's also when you'll find the widest variety of food: Subtly sweet yellow crêpes flavored with peanut and coconut, sticky nubbins of pork with starchy taro, and fried bitter melon and fried Chinese puff pastry stuffed with red bean paste are all accounted for. Dumplings are bountiful and generally well executed, fish cakes are springy and unusually fresh-tasting, and plain rice rolls are chewy and spiked with tiny, briny, funky little shrimp for a flavorful boost. For dessert, durian pastries are certainly not for everyone, but those who can handle the funk will be rewarded by the velvety custard.
2. Joy Luck Palace
98 Mott St., nr. Canal St.; 212-431-8383
When Joy Luck Palace opened earlier this year, it immediately injected some life into Manhattan's sometimes-staid Chinatown scene. Which is saying something since the large dining room looks like an aging Marriott done over for dim sum. Candy-green and red lights snake around on the ceiling, and a big screen in the back displays images of the restaurant's food. There are cutesy, sometimes-clever creations like the pig-faced buns, carrot-shaped glutinous rice dough stuffed with a sweet carrot purée, and armadillo walnut buns. (New inventions appear to roll out regularly and can be tracked on the restaurant's Instagram.) But the restaurant isn't all cutesy gimmicks. The kitchen executes the classics very well. There are plump and meaty har gow and a fish-and-vegetable ball served over a thick square of tofu; taro dumplings that look like the Spaghetti Monster are crisp and crunchy; and plump braised tofu skin rolls are grease-free. It's all good.
3. RedFarm
Multiple locations
Chef Joe Ng's ultra-porky xiao long bao are some of the best soup dumplings in the city, and he is frequently crowned as New York's dim sum king. But the non-dumpling food at his two RedFarms can feel expensive for what it delivers in flavor, which can sometimes be muted. RedFarm also delivers a more subdued dim sum experience than some of the grand Chinatown palaces. Still, Ng's kitchen skills are unquestionable, the ingredients are of the highest quality, and the technique is well honed.
4. East Harbor Seafood Palace
714 65th St., nr Seventh Ave., Dyker Heights; 718-765-0098
East Harbor is another member of Sunset Park's formidable dim sum cadre, which also includes New Spring Garden and local trailblazer Pacificana. At this spot, there are fat dumplings, with thick eggy wrappers and a bounty of meat inside; red-chicken feet and taro wrapped together; cigarette-thin "fish sticks" with serious crunch; and crisp fried tofu skin made plump with shrimp. Pork buns are fluffy and pack a pocket of sweet meat, but keep your eyes peeled for the dessert and pastry carts, which truck around little pearly-white sesame-inflected balls of glutinous rice flour that pack delicious black sesame inside. They come three to an order, which is certainly not enough, so get as many plates as you can fit on your table, and take one or two for the road.
5. Nom Wah Tea Parlor
13 Doyers St., nr. Pell St.; 212-962-6047
The dining room at Nom Wah seems frozen in time. With a beautiful tile floor and sepia tones, it looks like the kind of room where the cast of In the Mood for Love would go when they wanted dumplings. Renovated a few years back, it no longer doles food out in carts but simply offers dim sum à la carte, as the modern Hong Kong restaurants do. The food is decent, if a bit of a mixed bag. The shrimp-and-snow-pea dumplings, the craggy-textured "original" egg roll, and the rice rolls with spare ribs are the things to get. Drink some tea, or maybe a beer, and soak in the atmosphere.