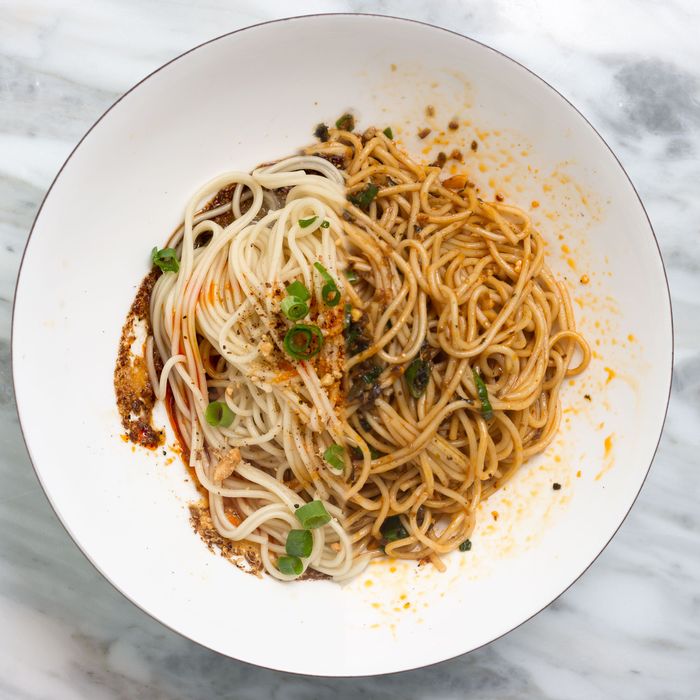 Unmixed (left) and mixed (right) noodles at Madam Zhu's.
Photo: Jed Egan/Jed Egan
The uptick in new Sichuan restaurants in the last ten years has also occasioned a rise in reputation-making fiery food, which diners measure in doses of crushed garlic, chile peppers, and Sichuan peppercorns. But while raw heat and escalating spice is the draw, of course, excellence is not just a function of how much pain line cooks can dole out to customers, and dan dan noodles, which can often be served too sweet with sugar or stingy with spice, have become the benchmark for craftsmanship in the Sichuan kitchen. Here are the three best versions in the city.
1. Hao Noodle and Tea by Madam Zhu's Kitchen
401 Sixth Ave., nr. W. 8th St.; 212-633-8900
Dan dan is the quintessential Sichuanese street food, in which a tangle of fresh, just-boiled noodles is dropped into a fragrant puddle of soy sauce, meat, and finely chopped green scallions with vivid red chile oil, the all-purpose Chengdu condiment used to make all of that starch come alive with body and heat. An untold number of blue-collar variations exist; sometimes greens are added, or the meat is deglazed with a splash of sherrylike Shaoxing wine. Some dan dan–noodle masters even subscribe to an origin story most English-speaking food writers disbelieve: that the noodles owe as much of a cultural debt to the neighboring Chongqing as they do to Chengdu. (They point to the inclusion of certain regionally appropriate forms of preserved mustard greens in older recipes.) Zhu Rong, the restaurateur whose New York menu spans handsome Shanghainese and Cantonese dishes in addition to some deft Sichuanese menu pyrotechnics, is a proponent of this idea. And as a result, Madam Zhu's house dan dan noodles are unlike any other rendition served around town.
Rong's recipe isn't mala xiaomian, mind you — that souped-up, cabbage-y dan dan variant from Chongqing. These noodles involve almost no broth and are skinnier, thanks to structural support provided by egg white, gluten, and tapioca. Like the best ramen, they have a slight alkaline tang, and exact ratios and recipe proportions depend on the weather. Bowlfuls arrive slicked with pork fat, but otherwise no meat. The kitchen pulverizes Sichuan pepper and passes it through sieves, so you get an ultrafine powder rather than hulls like popcorn kernels. The result means the flavor blends in better and imparts more of a faint buzz rather than an obliterating numbness. The broth also gets a creamy texture from sesame and a sharp rush from a glug of black vinegar. True to the dish's roots as a roadside snack, bowls are small but contain a tantalizing balance of several flavors, the best of which include minuscule tidbits of preserved greens and pungent morsels of chile peppers.
2. Little Pepper
18-24 College Point Blvd., at 18th Ave., College Point; 718-939-7788
The most important aspect of Little Pepper's bright, buoyant noodles is advertised on the illuminated yellow box right out front: a cherubic, welcome-banner-wearing chile. The pepper in question — and the restaurant's mascot — is tien tsin, the kind that are sold dried and fried by the billions in Sichuan food. The pepper's appearance, for the most part, is relegated to the deeply flavored and colored oil that comes from a slow, controlled toast (it's a cherry-cola bronze shade known in the trade as "cockroach color," writes Chinese food scholar Fuchsia Dunlop), but the broad, linguine-like noodles are also dotted with a few nutty chile seeds. That oil pools on the surplus of broth in Little Pepper's bowls, which are deeper and bigger than the competition's, with glistening swirls of dark and light soy sauce at the edges. A plentiful amount of ground pork adds a nice lardy sheen, which you'll want to mix in as soon as it hits the table.
3. Szechuan Cuisine
6218 18th Ave., nr. 63rd St., Bensonhurst; 718-331-8866
A handful of kosher pizza parlors and old-guard Italian pastry shops dot this particular stretch of 18th Avenue, where Szechuan Cuisine's grand-opening flags have been rustling in the lower Brooklyn breeze since last summer. The restaurant's proprietor likes to ask first-timers if they ended up there because of spicy food. The answer is often yes, and it's easy to see why: Some diners excavate nuggets of poached fin fish from underneath smothering heaps of vivid red chiles, while others drag tripe and beef tendon with chopsticks through garlicky chili oil. And, of course, most order the dan dan noodles, which are doled out in huge portions and garnished with a mound of crisp, salty meat. Stalks of bok choy appear on top, trailing soft green leaves, and the málà, or numbing component, takes the form of a slow and almost surreptitious burn. It pairs well with the binder of sesame that gives the springy noodles a little extra thickness, in addition to bite.