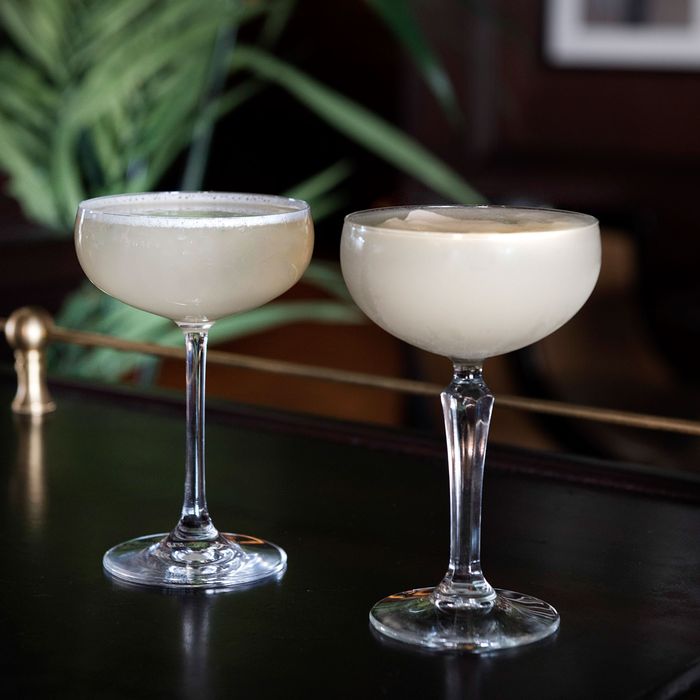 A frothy, freshly shaken daiquiri at BlackTail, and its (full-size) frozen counterpart. It is impossible to say which is better.
Photo: Liz Clayman
Bartenders will tell you a daiquiri is a good way to judge whether a cocktail bar has mastered the fundamentals. Perfectly balancing the spirituous (rum), sweet (sugar), and acidic (lime) elements of this classic cocktail is not easy; and so, while many of the daiquiris being served at the best bars around town are quite acceptable, there are precious few that would impress a bibulous Goldilocks as being jusssssst right. In fact, after scouring the entire city, only four fit the bill and can be considered the absolute best.
1. BlackTail
22 Battery Place, 2nd fl., nr. Little West St.; 212-785-0153
BlackTail, the new bar from the Dead Rabbit team, worked hard on its daiquiri. It more or less had to. If you're going to open an elaborate brick-and-mortar ode to Cuban drinking, you can't be slinging a slipshod daiquiri. It uses a house rum, which is actually a mix of four different spirits: Bacardí Heritage, Caña Brava, Barbancourt white rum, and Banks 5 Island Blend Rum. Two and a half ounces of this is mixed with one ounce of lime juice and a half-ounce of rich cane syrup. It's a smooth and seamless drink, with just a touch of pungency, and no discernible flaws. The only problem with drinking daiquiris at BlackTail is choosing. When you enter, you are handed a small "Snaquiri" — a tiny frozen daiquiri, in which the rum-lime-sugar ratios are closer to two to one to one. I've gone back and forth as to whether I like the regular or frozen version better. I'm still torn. Either way, you win.
2. Leyenda
221 Smith St., nr. Butler St., Carroll Gardens; 347-987-3260
A very close runner-up to BlackTail's is the house daiquiri at Leyenda, the Cobble Hill cocktail bar that specializes in Latin American spirits. Made of two ounces of Plantation 3 Stars white rum, three-quarters of an ounce of lime juice, and three-quarters simple syrup, it arrives with a lime wheel floating atop a lightly frothy rum sea. Light, yet full-bodied, tart and sweet in equal measures, every sip of it is a satisfying liquid meal. You'll be ordering a second before you're halfway through the first.
3. Pouring Ribbons
225 Ave. B, 2nd fl., nr. 13th St.; 917-656-6788
The house daiquiri at Pouring Ribbons also uses Plantation 3 Stars, which is actually composed of a mix of young and old rums from Trinidad, Barbados, and Jamaica. Proprietor Joaquín Simó — a reliable hand at classic cocktails — says he used to blend a few rums to get the taste profile he was after for a daiquiri. He likes Plantation because the blending has already been done for him. He mixes two ounces of the spirit with an ounce of lime juice and about two-thirds of an ounce of a rich cane syrup, which gives the drink a luscious mouth feel. "Can't get that one wrong," Simó says. "The Cuban side of my family would kill me."
4. Cienfuegos and Mother of Pearl
95 Ave. A, at 6th St.; 212-614-6818
Yet more rum-blending is going on at Cienfuegos, the second-floor, East Village rum bar. Beverage director Jane Danger takes one ounce each of El Dorado 3-Year-Old and Banks 5 Island Rum (a complex blend itself), and combines that with one ounce of lime juice and three-quarters of an ounce of simple syrup. The resulting daiquiri is a touch sweet and extremely easygoing. If you don't relish the idea of scaling the steps to Cienfuegos to get one, fret not; the same daiquiri is served at Mother of Pearl downstairs. Everything about having a daiquiri — on the consumer side, anyway — should be stress-free.