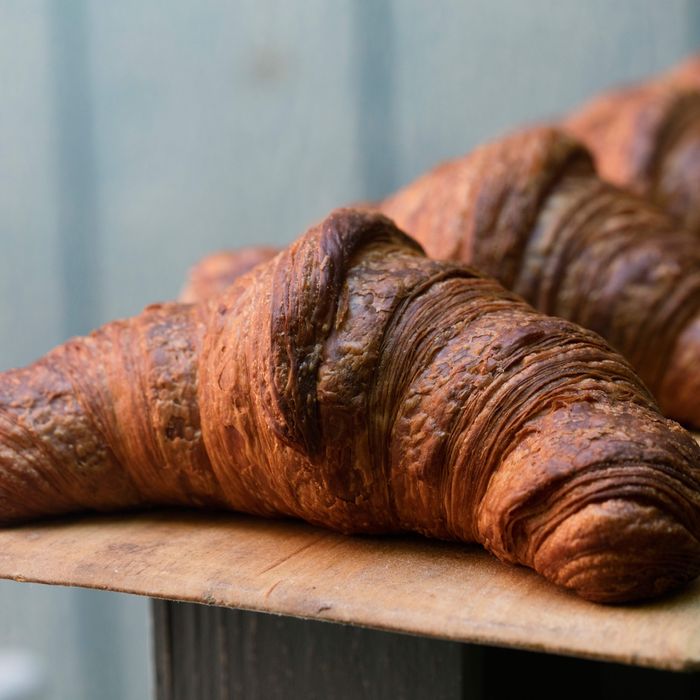 Note the delicate swirl.
Photo: Melissa Hom
New York, as incredible as it is, is not Paris. And that means that not every corner bakery has a craggy heap of aromatic pastries waiting for you. In fact, in New York, a truly outstanding croissant — the cornerstone of any proper patisserie — can be difficult to find. Difficult, but not impossible. These five spots make classic versions with a solid base of well-crafted flaky layers and a blissfully light interior.
1. Bien Cuit
120 Smith St., nr. Pacific St., Boerum Hill; 718-852-0200
Far and away, this Brooklyn shop's croissants most consistently nail the rare perfect balance between an exterior whose lightly glazed layers break into golden snowfall when pulled apart, and a dense, faintly sweet interior whose innards are still defined enough to display the delicate swirl that's indicative of a perfect pastry. 
2. Dominique Ansel Kitchen
137 Seventh Ave. South, nr. Charles St.; 212-242-5111

It probably won't surprise you to learn that the inventor of the Cronut also makes a croissant that is a dreamy, messy, buttery affair with an outer shell that breaks away in a shower of golden crumbs. Inside is layer after layer of silken dough, dense but not weighty, and soft but not undercooked, with a flavor that's all honeyed butter cream with a hint of sea salt.
3. City Bakery/Birdbath
Multiple locations
Though not a classical French example, the famed City Bakery pretzel croissant earns its place on this list because it's an entirely classical New York invention. The salty, slightly sweet balance is fortified by flavorful whole-wheat dough that's always baked to a kind of crusty ideal.
4. Épicerie Boulud
1900 Broadway, at 64th St.; 212-595-9606
The looker of the bunch, Daniel Boulud's croissant is a high-rise of gleaming, tissue-paper-thin layers. Beyond the exemplary aesthetics, the pastry itself is also reliably delicious with a hint of salt, and a soft middle of buttery crumb.
5. Maison Kayser
Multiple locations
A dark horse, if only for its transplant status, the baseline croissant from French chain Maison Kayser is surprisingly solid even when it's made Stateside. Not as fluffy or as layered as some others on this list, Kayser's version nevertheless delivers with a well-balanced flake-to-butter ratio.
6. Buvette
42 Grove St., nr. Bleecker St.; 212-255-3590
Buvette's croissants are tiny. Perhaps only an eighth of the standard size (part of its charm), the petite pastries are served two to an order. It may not exhibit a crusty flake or a beautifully stippled inner ring of pastry, but it is adorable and comes adorned with a dollop of whipped butter and the most impressive raspberry jam you've ever had in your life, which in and of itself makes the order worth it.