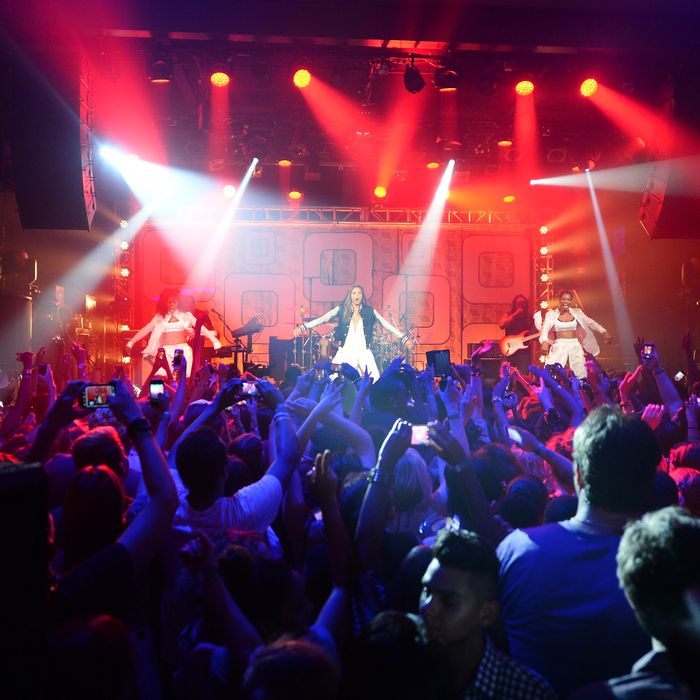 Ciara performs at the Music Hall of Williamsburg.
Photo: Dimitrios Kambouris/Getty Images
Below, the top concert venues in New York. Ranging from a surprisingly versatile sports stadium to a jewel box of a jazz space, these spots all have diverse programming, good sight lines from every seat, and, in many cases, concessions you'll actually want to line up for.
1. Music Hall of Williamsburg
66 N. 6th St., nr. Wythe Ave., Williamsburg; 718-486-5400

With three tiers and a 650-person capacity, the best place to see a concert in New York is at Music Hall of Williamsburg. The Bowery Presents venue occupies the former space of beloved DIY venue Northsix and does its predecessor proud by consistently providing intimate experiences with some of music's biggest names, all with excellent sound quality and production value. Past shows have seen crowds being sweated on by Iggy Pop, falling down dancing to the Faint, and collectively trembling along with Fiona Apple. The downstairs lounge isn't as spacious as the identically designed runner-up Bowery Ballroom, but upstairs, the separated bar, wooden balcony seating, and supercool murals make up for that. Plus, happy-hour drinks here are just $6.
2. Beacon Theater
2124 Broadway, nr. 74th St.; 212-465-6500

There's no shortage of classed-up seated venues at which to catch a show in New York. Up in Harlem, the Apollo has legendary status, while down in Brooklyn you'll find the gorgeously renovated Kings Theatre. But on the Upper West Side, Radio City's smaller, younger counterpart, the Beacon Theatre, shines for consistent booking (both venues are run by the Madison Square Garden Company), clear acoustics, and, if you can believe it, decent drink prices. Sure, shows skew to the older set: This year Jerry Seinfeld chose it for his regular stand-up gigs, and the Allman Brothers used to have a residency. But recent acts have included Adele, Leon Bridges, and Billy Corgan's acoustic tour. For a chill night out, pretty much every seat is a good (and pretty comfy) one, a feat for a venue with a 2,800-person capacity.
3. Barclays Center
620 Atlantic Ave., at Flatbush Ave., Prospect Heights; 917-618-6700
Mammoth stars need a mammoth venue, and this sleek weathered-steel oculus accommodates those massive crowds while also catering to the individual concertgoer. Maybe it's because one of the original co-owners was a musician (Jay Z), but at Barclays — which has hosted such diverse acts as Bruce Springsteen, Rihanna, the family-friendly Barnum & Bailey circus, and the not-so-family-friendly Miley Cyrus — check-in time is swift, food options like Calexico and Fatty 'Cue are actually appetizing, and, for an arena, sight lines actually do the acts justice.
4. Jazz at Lincoln Center
Time Warner Center, Broadway at 60th St., 5th fl.; 212-258-9800
New York jazz fans really are the luckiest in the world, with cozy venues like Iridium, John Zorn's the Stone, Smalls, and Blue Note serving up the best in the genre. But for a real dazzler of a night, head to the Time Warner Center for the jazz arm of Lincoln Center, where legend Wynton Marsalis is the artistic director for this trio of venues: the smaller Dizzy's Club Coca-Cola, which has hosted the likes of Stevie Wonder; the versatile Rose Theater; and the Appel Room, a stone-cold stunner of a space. Here, musicians are placed in front of a 50-by-83-foot wall of glass overlooking Columbus Circle and Central Park. The Appel Room is also home to the popular American Songbook series, which hosts acts of other genres, like St. Vincent, Talib Kweli, and Courtney Love.
5. Carnegie Hall
154 W. 57th St., at Seventh Ave.; 212-247-7800
The venue so iconic it has its own joke (punch line: practice, practice, practice), Carnegie Hall is the gold standard of prestige venues, with pristine acoustics reaching over five levels in the main hall (the Isaac Stern Auditorium/Ronald O. Perelman Stage). First conceived of as a venue for classical acts and orchestras, Carnegie didn't start booking rock acts until 1955, and then the Beatles charmed their way in for two shows in 1964. Today you can see everyone from the Met Orchestra to Patti Smith, though it's best to avoid comedy bookings here: From the top tier, performers tend to look like tiny joke-telling specks.
6. Joe's Pub
425 Lafayette St., nr. Astor Pl.; 212-967-7555
If an artist you like is performing at Joe's Pub, go. Nowhere else rivals this cabaret-style nightclub in its chummy atmosphere and sound quality, hosting multimedia performances by acts like Bridget Everett, who roams the floor (and, if you're lucky, sticks her boobs in your face), and Janelle Monáe, who has danced on tables. There is a food or drink minimum, but, since the menu was overhauled by Andrew Carmellini in 2012, you'll actually want to eat here.
7. BRIC Celebrate Brooklyn! at Prospect Park
Prospect Park Bandshell, 62 West Dr., nr. Prospect Park W., Park Slope; 718-683-5600
Central Park's SummerStage lineup may be the widest in scope, but for ease of access, food selection, and generally affordable and enjoyable times, we prefer its King's County brother, BRIC Celebrate Brooklyn! (formerly: Celebrate Brooklyn!) in Prospect Park. The majority of shows — which in the past have included Mission of Burma and Sigur Rós — are free, with a $3 suggested donation. But even if they aren't and funds are low, you can always set up a picnic outside the fence and stargaze with your own personal soundtrack.