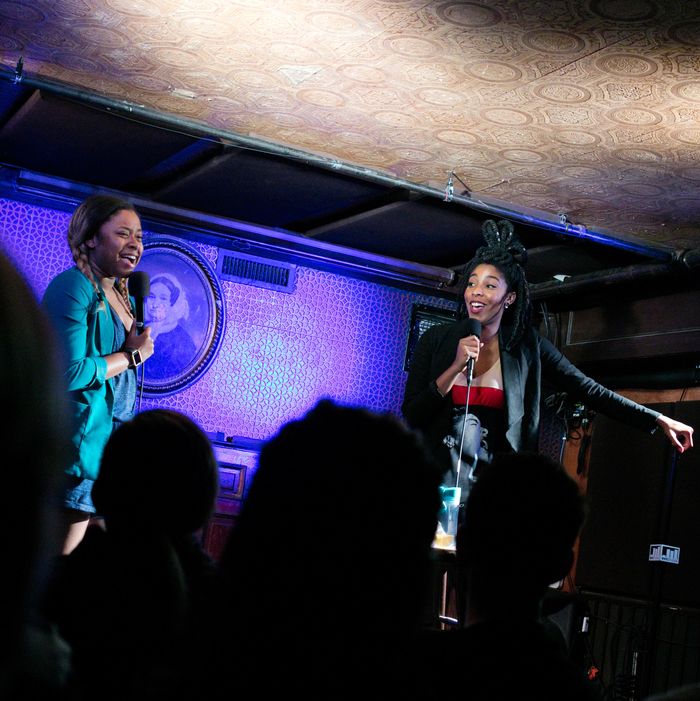 2 Dope Queens is so freaking funny.
Photo: Melissa Hom
We already picked the best venues to see comedy for these comedy boom times, and now it's time for the best comedy shows. Specifically, the list is focusing on permanent, recurring shows, be they of the stand-up, improv, sketch, or late-night variety.
1. 2 Dope Queens
The Bell House, 149 Seventh St., nr. Second Ave., Gowanus; 718-643-6510
When you walk into the best comedy show in a city, the excitement smacks you in the face. It's a buzz, a temperature, a smell, a vibe of people in the exact right place at the exact right time. It's the result of hosts, lineup, audience, venue, intangibles. When I went to the Meltdown in L.A. last year, when it was considered the best comedy show in the country, it had that vibe. And when I've been to 2 Dope Queens, the vibe is there as well.
2DQ, hosted by The Daily Show's Jessica Williams and stand-up and Vulture contributor Phoebe Robinson, is constructed like most stand-up showcases: The host talks up front and in between sets of other comedians doing stand-up (though 2DQ is particularly open to storytelling). The biggest difference here, however, is Williams and Robinson, and the crowd comes because of them. The two are so freaking funny together as they conversationally discuss their lives, pop culture, politics, and whatever comes up, and the crowd laughs and laughs. My favorite phenomenon is that some audience members talk back, not necessarily to be heard by the comedians, but to feel like they are part of a conversation. Audience members feel like they are part of the show, and they are.

Twice monthly (days vary), 8 p.m.; $12
2. Punderdome 3000
Littlefield, 622 Degraw St., nr. Fourth Ave., Gowanus; 718-855-3388
Jo Firestone creates so many delightful, peculiar shows in New York it borders on a compulsion. (Full disclosure: Firestone and I are friendly; she appeared in a play I wrote last summer.) Still, the crown jewel in her lineup is Punderdome 3000, the monthly pun contest/sensation she hosts with her dad, Fred. Though the focus of the show is the compunitors, the star is Jo and her hilarious, awkward reactions to her father.

Tuesdays (monthly), 8 p.m.; $8-$10
3. Night Train With Wyatt Cenac
Littlefield, 622 Degraw St., nr. Fourth Ave., Gowanus; 718-855-3388
TV shows are made out of live shows for a reason. Which is why it came as no surprise when NBC's comedy streaming site, Seeso, announced that a filmed version of Night Train will be premiering there at the end of June. Night Train is arguably the best curated stand-up show in the city. And Cenac's laid-back yet vital hosting is reason enough to come back every week.

Mondays (weekly), 8 p.m.; $5-$8
4. Whiplash
Upright Citizens Brigade Theatre, 307 W. 26th St., nr. Eighth Ave.; 212-366-9176
Y'all like drop-ins? Whiplash, a venerable institution in the scene for seven years now, is your place to see comedy's highest echelon do a set while they're in town. Chris Rock, Louis C.K., Amy Schumer, and Judd Apatow have all performed here. Adding to the mystique is that they don't announce a lineup ahead of time. Still, even if there isn't a surprise guest, Whiplash tends to boast a very high caliber of stand-ups, and it's hosted by one of New York's most enjoyable up-and-comers, Aparna Nancherla. Also, you can't beat the price.
Mondays (weekly), 11 p.m.; free
5. The Holy Fuck Comedy Hour
Annoyance Theatre, 367 Bedford Ave., at S. 5th St., Williamsburg; 718-569-7810
Barely a year old, the New York branch of the Annoyance Theatre is still making its name in New York's UCB-dominated sketch and improv scene. But, for my money (which in this case is $0, as the show is free), Holy Fuck is the most exciting sketch show in the city. The show was brought over from the original Annoyance in Chicago and offers the theater's style of maximalist sketch comedy. Loud and character-focused, Holy Fuck will make you laugh until you scream, or at least scream until you laugh.
Thursdays (weekly), 10:30 p.m.; free
6. Cage Match
Upright Citizens Brigade Theatre, 307 W. 26th St., nr. Eighth Ave.; 212-366-9176
If you want to see the best improv team in the city, go to the Stepfathers. If you want to see famous people improvise, go to ASSSSCAT 3000. If you want to go to the best improv show in the city, go to Cage Match. The difference is the audience. Where the latter finds itself with a lot of young drunks and tourists (respectively), Cage Match, which pits two of the best improv teams in the city against each other each week, is a show for improv fans and budding performers. The audience is a collaborator here, shaping the direction scenes go in. The audience is the difference.
Thursdays (weekly), 11 p.m.; $5
7. The Roastmasters NYC/Roast Battle
The Stand NYC, 239 Third Ave., at 20th St.; 212-677-2600 (Roastmasters NYC)
New York Comedy Club, 241 E. 24th St., nr. Second Ave.; 212-696-5233 (Roast Battle)
Roast Battle, the hybrid of a rap battle and a roast, is a sensation at L.A.'s Comedy Store, with some audience members listening from the hallway outside. New York has two versions of the show, each created by someone with ties to the original. They both have positives and negatives — and the comedians I spoke to are split over which they prefer. Still, while neither matches the original's fervor and quality (they especially lack L.A.'s devoted fanbase), the shows are particularly fun, albeit not for the faint of heart (read: mean).
Roastmasters: Tuesdays (biweekly), 10:15 p.m.; free; Roast Battle: Thursdays (biweekly), 10 p.m.; $10
8. Employee of the Month
Joe's Pub, 425 Lafayette St., nr. Astor Pl.; 212-539-8500
The problem with the talk in most talk shows is that the people aren't really talking — they're reciting the predetermined beats of a promotional conversation. Host Catie Lazarus gets people to talk because that's all they're there to do. Patti LuPone will talk about getting crabs, Broad City's Abbi Jacobson and Ilana Glazer will talk about whether comedians should date comedians, Jon Hamm will talk about his big penis (or at least laugh at a joke about it). David Simon will talk, and he'll also play guitar (sadly, he plays the blues and not a cover of the band Wire). It's a nice time.
Monthly (days vary); $20 to $30
9. Sweet
The Slipper Room, 167 Orchard St., nr. Stanton St.; 212-253-7246
Created and hosted by Tonight Show warm-up comedian Seth Herzog, Sweet has been a mainstay of the New York comedy scene for over a decade. Consistently solid lineups and crowds help, as does the nontraditional yet very classy venue. But what keeps people coming is the clubhouse atmosphere, with Herzog doing bits with special guests (Justin Long on my last visit) and his mom.
Tuesdays (weekly), 9 p.m.; $5 to $7
10. The Dan + Joe + Charles Show
The Shanty, 79 Richardson St., nr. Lorimer St., Williamsburg; 718-412-0874
Are you a comedy lover who also loves barrels and silvery alcohol-making contraptions? Well, do I have a show for you! The Dan + Joe + Charles Show takes place in a functioning gin distillery, which produces a fine product that you can purchase in cocktail form in the adjacent bar. Also, the titular Dan, Joe, and Charles (Licata, Pera, and Gould) are talented weirdos (you might've seen Pera kill on Late Night recently) who put together a very good stand-up show.
Tuesdays (weekly), 8 p.m.; free
11. Good for You
Cantina Royal, 58 N. 3rd St., nr. Wythe Ave., Williamsburg; 347-763-2938
When I asked a young person for comedy-show suggestions, she told me about Good for You. I checked it out, and it was, in fact, good for me. Operating in Williamsburg, in the back of what used to be Monkey Town (everything in Williamsburg used to be something), it features an impressive lineup and particularly enthusiastic crowd. It's a show on the rise!
First Saturday of every month, 9 p.m.; free