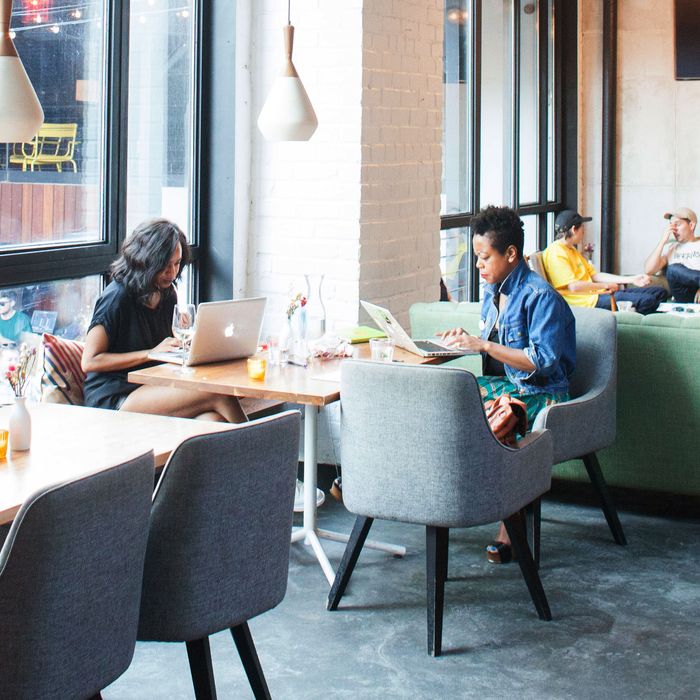 Freehold in Williamsburg.
Photo: Riley Spencer
New York is full of people who either just quit, are about to quit, or dream of quitting their nine-to-five jobs. Some of the first group have ponied up for co-working-space memberships. Some work from their couches. About 5,000 of them work out of a certain hotel lobby on 29th Street. For the rest, there are cafés. A good café work space needs four things: passable coffee, snacks, Wi-Fi (usually — more on that in a second), and a clean restroom. We've tried dozens. Here are the five best places to shield your laptop from croissant flakes.
1. Freehold
45 S. 3rd. St., nr. Wythe Ave., Brooklyn; 718-388-7591
It's a little dull, we admit, to give the top slot to a café seemingly tailor-made to attract freelancers. The whole space — described by an owner as "a hotel lobby but without the rooms" — is a magnet for the Williamsburg laptop class. But it's hard to ignore how perfectly Freehold executes that mission. It opens early and stays open late, serves a never-boring selection of snacks, and even nails the transition to cocktail hour. The seating options span multiple rooms, table heights, and degrees of direct sunlight. This being Williamsburg, there's a regular weekday-daytime crowd.
2. Ground Support
399 West Broadway, nr. Spring St.; 212-219-8733
For Soho residents who don't have a cast-iron loft to work out of — or have one, but just can't create there — Ground Support offers an ideal escape. The shop roasts its own beans, and the people who staff it have incredibly strong feelings about how to brew them. (Depending on the barista, asking for a single espresso invites either a sneer or a lecture.) One can usually find a place to sit down inside — there are a variety of seating options across the two rooms, plus a row of stools at the espresso bar — and there are housemade sandwiches for those working through lunch. In the warmer months, the benches out front make for a nice place to catch a breather between drafts. And, yes, there is a bathroom. (Everywhere included on this list has a bathroom.)
3. La Colombe Noho
400 Lafayette St., nr. 4th St.; 212-677-5834
It has to be acknowledged here that a good portion of café creatives simply work better in the absence of a Wi-Fi signal. For those people, La Colombe's long-standing wireless ban is a bit of a godsend. Though there are now four — seriously, four — additional La Colombes within walking distance of this one, the Noho shop boasts the best arrangement of seating. The hardest part here is making it through the line, which frequently wraps around the bar. But most of those guests are taking their orders to go, so single seats pop up frequently.
4. FIKA
824 Tenth Ave., nr. 55th St.; 646-490-7650
FIKA's Swedish theme (advertised on its coffee bag as "Swedish Coffee Culture") can come off as alternately flaccid or partly aborted, but don't hold that against them. (Like, the ham-and-cheese croissant is made with Jarlsberg cheese. But Jarlsberg is Norwegian. But does it matter?) Instead, note that the espresso is fine, there are plenty of places to sit, and somewhat amazingly, there is a giant, semi-secret patio. This far up in midtown — and this far west — that perfect little roof-deck feels like a portal to a faraway land. Not Sweden, though. Maybe Brooklyn.
5. East One Coffee Roasters
384 Court St., at Carroll St., Brooklyn; 347-987-4919
The newest contender in the category is this bright, industrial-minimalist corner café in Carroll Gardens. A restaurant and coffee-roasting machine occupy the space in back; the café up front serves excellent espresso drinks, beer, wine, and pastries. There are two long communal tables, and a bench snaking around the edge of the room, providing for both quiet corners and spots to gather. When it opened in March, all the stay-at-homers in the neighborhood made the rounds to check it out, and quickly realized the seating alone made it a better working space than the sparsely chaired nearby equivalents. (Worth noting: The coffee is also a lot better.) It hasn't been empty since.
Birch Coffee
21 E. 27th St., nr. Madison Ave.; 212-686-1444
Lacks Wi-Fi, but makes up for it with a quiet, bookshelf-lined nook.
Kaffe 1668
275 Greenwich St., nr. Murray St.; 212-693-3750
Strong Wi-Fi, a long communal table, and plenty of places to perch.
Swallow Cafe
156 Atlantic Ave., nr. Clinton St., Brooklyn; 347-689-4192
Bright and open, with plenty of tables and a cozy loft.
Think Coffee
1 Bleecker St., at Bowery; 212-533-3366
Plenty of tables, some of them outdoors, many occupied by loitering NYU students.
Toby's Estate Coffee
125 N. 6th St., nr. Berry St., Brooklyn; 347-586-0063
Come for the coffee, stay for the doughnuts and a spot on the couch.