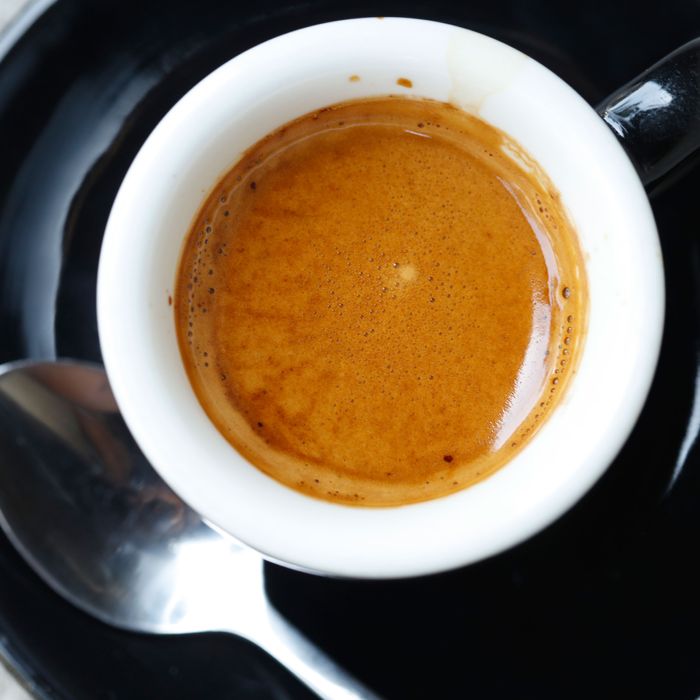 The winning shop only does one thing — and it does it extremely well.
Photo: Melissa Hom
It's time to talk coffee. Once a city of watery industrial brews and diner coffee, New York is saturated with great espresso, cold brew, and pour-overs — but some places just do it better. Here, the best places to drink coffee in New York right now.
1. Parlor Coffee
84 Havemeyer St., at Metropolitan Ave., Williamsburg; 718-218-9100
There are two main things you should know right up-front about the shop serving the city's best coffee: It is hidden behind a barbershop, speakeasy-style, in Williamsburg. Next, and perhaps more important: It only serves espresso. There is no canteen of batch-brewed drip coffee, no high-end siphons, not even a French press. Instead, there is espresso, and only one variety at a time. Yet what might at first seem like limitations instead reveals itself to be a kind of maniacal, single-minded devotion, ensuring every single shot pulled receives the staff's complete focus, from the time it's roasted locally until the moment it drips out of the shop's sleek, rare Speedster machine that was hand-built in the Netherlands. There is one concession: milk, which is carefully foamed and used in the shop's cortado, which balances slightly tart beans with a small dollop of dairy.
2. Everyman Espresso
Multiple locations
At Everyman's two cafés in the East Village and Soho, there's an inquisitive, creative approach that stands apart from other shops in town. If Parlor succeeds by narrowing the focus, Everyman broadens it just enough, offering three rotating varieties of espresso; two filter coffees, currently from Honduras and Papua New Guinea, brewed in batches; and brewed-to-order in an Aeropress or Chemex. Espresso drinks are a particular strength, in part because the coffee avoids bitterness while maintaining plenty of complexity. Champion barista Sam Lewontin, who runs the Soho shop, even offers coffee "cocktails" fashioned after boozy drinks, like a citrusy, smooth coffee old-fashioned that's far better than it has any right to be.
3. Sweetleaf
Multiple locations
Sweetleaf is one of New York's most successful homegrown cafés, steadily expanding over the last eight years without a decline in quality along the way. Celebrated early on for carrying a variety of beans from top micro-roasters, the company now roasts its own coffee and typically offers four to six types of beans at each shop. Owner Rich Nieto favors Colombian beans and supplements those with seasonal selections, like Ethiopian, Guatemalan, and Kenyan varieties this summer. The espresso tends to be balanced, appropriately thick, and bracingly acidic. There are also notable specialty drinks like the Voodoo Child, a creamy Vietnamese coffee that's best as an afternoon dessert, and the popular Rocket Fuel, which is cold-brewed coffee with chicory, maple syrup, and milk.
4. Plowshares
2730 Broadway, nr. W. 105th St.; 212-222-0280
Upstate roaster Plowshares may not have the name recognition of competitors like Parlor, Blue Bottle, or Ritual — but that needs to change. Owner Anthony Kurutz roasts beans in truly small batches that he says never exceed 30 pounds, to ensure freshness and quality control. Each type of bean is roasted according to its properties and flavors, but the resulting coffee all marries the bright, clear flavors of the best blonde roasts with the heft and slight caramel flavors of a darker roast. At Kurutz's Upper West Side café, the staff puts those beans in the spotlight in a small space with a few tables and a couple of small counters. There's a flight of Chemex coffeemakers for pour-over, a La Marzocco machine for espresso, and a high tech Modbar, which features electronic components, a touch screen, and extensive controls over variables like cleaning, brewing temperature, and more.
5. Blue Bottle
Multiple locations
Founder James Freeman is a notorious perfectionist. It might seem like there's a new Blue Bottle shop popping up in every neighborhood in town, and the company has become one of the biggest names of the so-called "third wave" coffee movement, but Freeman has been surprisingly careful about expanding his Oakland-based empire, going so far as to shut down his wholesale bean-sales business because the company couldn't control how other cafés served Blue Bottle coffee. For those lucky enough to have one of New York's eight Blue Bottle shops nearby, this is a blessing. The coffee is roasted in Williamsburg, the chain's unofficial New York headquarters, and the resulting beans tend to be blonder with fruity flavors accentuated. There are espresso machines of various makes — some custom — at different locations, single-origin pour-overs, iced-coffee drippers in Williamsburg, and the cult-favorite New Orleans–style cold brew, also available in to-go cartons, which should be everyone's unofficial coffee of the summer.