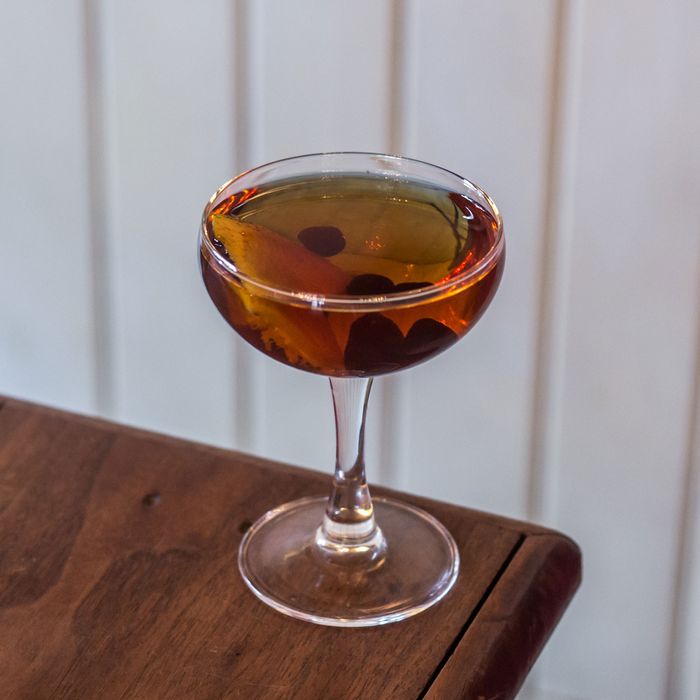 A near-genius innovation at Buvette.
Photo: Paul Wagtouicz
There is no drink more closely tied to New York's history than the aptly named Manhattan, one of the two titans of the cocktail world. Unlike martinis — the best versions of which can be found here — the Manhattan is slightly more forgiving of improvisation. So, after many years of researching the topic, it seems fitting that the city's very best versions would also highlight a bit of eclecticism, too.
1. Buvette
42 Grove St., nr. Bleecker St.; 212-255-3590
A classic Manhattan, of course, is two parts whiskey to one part vermouth. Throw in a couple of dashes of bitters and a garnish, and you've got just about the world's most perfect cocktail. Any variation on the formula really has to work if it's going to elevate this drink, which is why it's so surprising to learn that boldly swapping the whiskey for cognac, as the barkeeps at Jody Williams's West Village French bistro do, qualifies as a near-genius innovation: It's simple without being obvious, and clever without being annoying. More important, it results in a drink that's a little sweeter and smoother than the original, less spicy than a Manhattan made with rye. Purists will balk, understandably, and we've got whiskey versions covered below, but the Paris Manhattan, as it's called, is an example of the exact right drink being served in the exact right setting, which is just the kind of drink that should sit at the top of this list.
2. Eleven Madison Park
11 Madison Ave., at 24th St.; 212-889-0905
Nobody can say Eleven Madison Park — widely regarded as one of the best restaurants in the entire world — is underappreciated. Even the bar program, helmed by Leo Robitschek, is littered with accolades. But one aspect of the restaurant that could use an additional round of applause is the rolling cart specifically dedicated to Manhattans. Guests who order the drink can choose from one of six variations, all of which are mixed table-side: the Little Italy, spiked with Cynar; the Brooklyn Heights, with a hit of Campari; the Brooklyn, with classic French liqueur Amer Picon; the Arthur Avenue, laced with mezcal; the Carroll Gardens, with orange amaro in place of curaçao; or an excellently rendered traditional version. Sure, it's probably needless to declare that a restaurant this sufficiently praised also happens to make not one but six mighty good Manhattans — like noting that a Stuyvesant valedictorian mastered German, French, and Spanish — but that's kind of the point. There's nothing more quintessentially New York than overachieving.
3. Slowly Shirley
121 W. 10th St., nr. Greenwich Ave.; 212-243-2827
The cocktail bar beneath the Happiest Hour can seem a little cookie-cutter — like it was purchased whole, signage and all, from a licensed dealer of Subterranean Faux Speakeasys — but it's hard to find anything particularly basic about the brilliant two-page homage to Manhattans, which reads like the liner notes of Now That's What I Call Manhattans: Vol 1. Varieties span 1884 to present day, and include the Vieux Carre (New Orleans's booze-heavy take on a Manhattan, created at Carousel Bar in 1938) alongside nouveau creations like the Weeski — David Wondrich's 2005 ode to underappreciated Irish single-pot-still whiskies — that all feel at home on this greatest-hits list. Drinks are served in a small carafe, which itself rests in a bed of ice, so you could conceivably nurse a well-chilled, undiluted cocktail for the better part of an hour. The thing is, though, you'll probably wind up drinking it much faster so you can get to the next version.
4. Schiller's Liquor Bar
131 Rivington St., at Norfolk St.; 212-260-4555
Though "Jerry Thomas–style" drinks are now ubiquitous in New York cocktail bars — especially at places, like Slowly Shirley, that fetishize origins — credit must be given to Keith McNally's Lower East Side mainstay Schiller's for casually introducing a J.T. Manhattan recipe on its bar menu more than a dozen years ago. What makes a Manhattan "Jerry Thomas–style" is a split base of rye whiskey and curaçao, a.k.a. orange liqueur. At Schiller's, the liqueur is Grand Marnier: perfectly sweet, with a nice bit of citrus to cut the vermouth. Is Schiller's the perfect bar? No. But its ability to stir up an excellent old-school cocktail, and the fact that it has done so, so well, for so many years and with such little fanfare, is more than enough to earn it a place on this list.
5. Prime Meats
465 Court St., at Luquer St., Carroll Gardens; 718-254-0327
One glorious aspect of the Manhattan is that its three ingredients are more or less available at any bar, at any given time, ensuring it's always a good order. But at Prime Meats, one ingredient is literally handmade in house, for no other reason than to make the drink really sing. It works, all because of the restaurant's own bitters derived from Buddha's hand, the fragrant, fingered citrus fruit, which nicely offsets the vermouth and overproof rye.
6. Attaboy
134 Eldridge St., nr. Broome St.; no phone
Every bartender in New York knows how to make a Manhattan, so the plan was to limit this list only to bars and restaurants that specifically feature Manhattans on their menus. Attaboy doesn't technically have a menu, so it's something of a gray area, yet the bar's main mechanism for ordering (tell the bartender what you like, and they'll come up with a good drink) allows the Manhattan-starved drinker a few possible options. The first is to order the drink by name. It will be exceedingly well made. The other way is to beat around the bush a little, asking more vaguely for a not-too-sweet whiskey drink with some citrus, and see what happens. They'll know what you mean and exactly the drink you really want — even if all you really want is a perfectly made Manhattan.