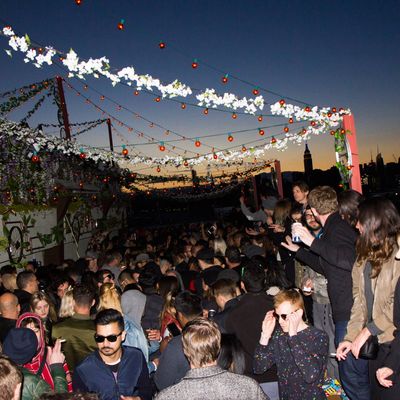 Everyone goes to Output for one thing: the music.
Photo: Camilo Fuentealba
It's time to declare the best nightclubs in New York. The city's options come in a variety of styles, so anyone can find a version that fits their preferences, but note that clubland changes fast.
1. Output
74 Wythe Ave., nr. N. 12th St., Williamsburg; outputclub.com
What in daylight looks like an obtrusive, gray blob of an eyesore becomes a club heaven once the sun sets. Let's start with the no-bottle-service premise. That's how you know everyone's here for one thing: the music. That includes the sound system — Funktion-One, one of the best in the world — and the DJs, each of whom brings a particular crowd, changing the scene nightly. On any given evening you might hear Arca playing menacing, deconstructed club beats as someone stands on a speaker and strips down completely (which happened this December) or watch a bunch of foreign trance-loving bros slingshot up and down to Gareth Emery at 1 a.m. on a Wednesday. All of this can happen in one place because the main dance floor is massive but intimate. It feels cavernous, sunken in and contained beneath a balcony, but that's only the beginning. Behind one door there's the Panther Room for smaller events; up a back staircase you'll find the roof, with the Manhattan skyline as a backdrop; and through a separate entrance you'll land upon its newest addition, Halcyon, a record shop, café, and bar that has DJs spinning all vinyl sets all weekend.
2. Black Flamingo
168 Borinquen Pl., at Keap St., Williamsburg; 718-387-3337
The appeal here is simple: It's a club that doesn't actually feel like a club. That means all of the annoying things that might normally turn you away — overpriced cover, bottle service, obnoxious doorman — are nowhere to be found. Instead, with the only barrier to entry an already capacity crowd, you'll walk into a Miami-inspired bar with palm trees and pink flamingo drink stirrers. But it's the sweaty, 70-person-capacity downstairs dance den that'll surprise you. All of the light wood walls are awash in a red glow. The funky house and techno, oftentimes played on vinyl, is orchestrated by Eli Goldstein of Soul Clap, Philipp Jung of M.A.N.D.Y., and Gadi Mizrahi (Wolf & Lamb), who prefer to keep it casual, so you'll often see multiple friends messing around at once behind the decks. The mostly over-25 and always unstuffy crowd doesn't care, because they're there to let loose, not be seen.
3. Good Room
98 Meserole Ave., nr. Lorimer St., Greenpoint; 718-349-2373
Smaller than Output but more spacious than Black Flamingo, the Good Room brings club life to an area where it was rarely found before: Greenpoint. Designed by nightlife bigwig Steve Lewis, who outfitted the two-room space with stained glass and a chandelier made of ram's horns, Good Room is best known for its more unknown but cult-favorite DJs — the ones who might get looked over at Output but still find hard-core fans in Brooklyn. That includes Irish electronic musician Shit Robot, Brooklyn-based rapper Mykki Blanco, and dance-music pioneers who might no longer be recognized like Nicky Siano, the former resident DJ of Studio 54.
4. Bossa Nova Civic Club
1271 Myrtle Ave., at Hart St., Bushwick; facebook.com/BossaNovaCivicClub

For Bushwick's techno crowd who congregate here, the drink of choice is not a bubbly Prosecco, but the natural energy elixir Club-Mate. After a brief closure in early 2015, the tropical-themed Bossa Nova reopened with a ramp to meet the regulations of the Americans With Disabilities Act, and a totally revamped DJ booth to the delight of the mostly local but well-known DJs. The vibe is like a local bar that just happens to be the best techno club in the city. The best part, though, is that it's located right beneath the Central Ave. M stop, deep enough into Brooklyn to avoid curious riffraff and cater to the real heads only. Plus, it's one of the only places to host a Monday night party in the neighborhood, recently throwing a World Star Techno event starting at happy hour.
5. Flash Factory
229 W. 28th St., nr. Seventh Ave.; 212-929-9070
We'll admit it: Dancing still happens in Manhattan. The newest and biggest addition to the scene is Chelsea's 10,000-square-foot Flash Factory, with stained glass and design accents reclaimed from churches, created with the specific goal of making Manhattan dancing relevant again. What that means, basically, is an Output-inspired music-focused vibe, but with VIP seating. It's built for the festival-lover who wants big-room names and will still shell out for a private, roped-off table. So far, it's working: Owners Michael Satsky and Brian Gefter, better known for the exclusive Provocateur, are attracting big names to play across the water. Later this summer, they'll host the funk duo Chromeo and the co-founder of Glasgow's most tastemaking label, Jackmaster.
6. The Lively
26 Ninth Ave., nr. 13th St.; 212-837-4700
In clubland, a fresh face is always preferred, and the Lively arrived this February to expand on what one can expect at a Meatpacking club. Here, that means live music, as in bands. Almost every night local outfits like Ohnomoon and Starlight Girls play until 10 p.m., when DJs like Getlive!, Lloydski, and Eli Escobar take over for a crowd arranged on stadium seating. Plus, if you end up here and the whole Meatpacking vibe is too much, there are snow-cone cocktails to save the evening. And you can buy Pinot Noir by the can.
7. 1 OAK
453 W. 17th St., nr. Tenth Ave.; 212-242-1111
The most remarkable thing about 1 OAK is that it is a club that has existed in New York City since 2008 and still manages to make headlines because Justin Bieber might've shoved Kanye's latest protégé, Desiigner, there last weekend, and there are still lines down the block every open night. Of course, you'll have to dance among New York's elite dropping Daddy's billions on thousand-dollar-plus bottles, but once inside the 375-capacity room, you're pretty much guaranteed to hear a live performance of the day's biggest hip-hop hit, run into models — or possibly Rihanna — and dance next to a basketball player and/or a Kardashian on any given weekend. The guessing game is half the fun.