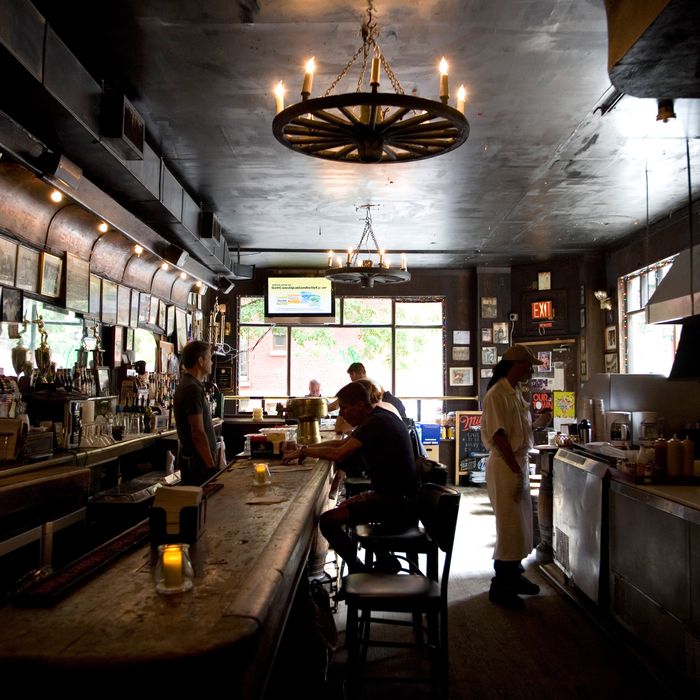 Nothing at Julius' has changed in decades.
Photo: Konstantin Sergeyev
While there are all sorts of historic bars in New York, only a few manage to truly transport drinkers to a different era without laying it on so thick that it begins to feel like some Epcot Center version of Manhattan. These five, though, manage to capture a specific time in excellent fashion, meaning you should check them all out sooner rather than later.
1. Julius'
159 W. 10th St., at Waverly Pl.; 212-243-1928
This bar opened in 1864, but it really became legendary in 1966 as the site of a "sip-in" when several men visited, were refused service because they were gay (although the bar was known for its closeted gay clientele before that), and called attention to the practice of not serving gay guests. Since then, the spot has become a proudly divey gay bar where regulars stop in for $6 burgers and $3 happy-hour drinks. It's a very comfortable retro bar, and everything inside — beer-barrel tables, posters from queer-cinema icons, a decades-old Greenwich Village map — seems like it hasn't been moved for decades. Indeed, it takes only old currency, too; Julius' is cash-only.
2. Bemelmans Bar
35 E. 76th St., nr. Madison Ave.; 212-744-1600
If you can't find a date, the best way to drink at Bemelmans is to do so during the day, when it's still quiet. There is almost nowhere in the city more transporting to a different time and place, and that makes the very steep prices feel at least somewhat acceptable. The drinks are great, though, and bar snacks are included, plus the murals by Ludwig Bemelmans (the Madeline illustrator) are as beautiful, interesting, and serene as everyone says they are. It's all just an excuse to put on some nice clothes and pretend, at least for a moment, that we all live in a pre-internet, less-worried, less-hurried New York.
3. McSorley's Old Ale House
15 E. 7th St., nr. Third Ave.; 212-473-9148
McSorley's is regularly filled to the brim with tourists, it's cash-only, and it didn't even allow women until relatively recently; despite all this, it's a treasure that hopefully never disappears, and a bar New Yorkers should visit routinely. The best time to do that is during a weekday afternoon, when it's quieter but still full of patrons whom your visiting parents might call "real characters." By now, you know the deal: You have your choice of "dark" or "light" beer, and you should order the cheese and crackers, which will arrive as a sleeve of Saltines with Cheddar and raw onion (don't forget the spicy mustard). That familiarity, of course, is all part of the charm.
4. Fanelli Café
94 Prince St., at Mercer St.; 212-226-9412
There are a number of bars that claim to be among the city's oldest (Ear Inn, Pete's Tavern; the true owner of the title is up for debate). Of them, Fanelli's is probably the least-trafficked. It's a neighborhood bar for the Soho of the '80s, and while artists aren't really the customer base anymore, the place still presents a Real New York Experience to the tourists and local employees who come in for a beer or burger. It's old-timey, then, in the sense that it's survived and not given in to commercialization in a Soho that's now all high-end shops. (You very well may spot some employees from the Apple store across the street.) The bartenders guarantee a fun time. In fact, when its most legendary employee announced he was leaving, his last night merited a long New York Times profile.
5. Sunny's
253 Conover St., nr. Reed St., Red Hook; 718-625-8211
Do you believe in ghosts? Sunny's, whose namesake owner died in March, makes a strong case that you should (at least the friendly variety). The Sunny's you hear stories about — the one that operated without a liquor license for years, was open only on Fridays, and had sort of a magnetic pull on New York's most lovely misfits — was part of a time that really no longer exists in crowded, trendy, young Red Hook. But Sunny Balzano imbued his bar with a sense of love and a joyful feeling that does still exist on slow, pleasant, lazy nights spent sharing stories over Budweisers in the pretty little back garden, or posted up at the worn wooden bar, or listening to a bluegrass jam in back. In that sense, the old-timey-ness here is more of a spiritual feeling, so don't miss it.