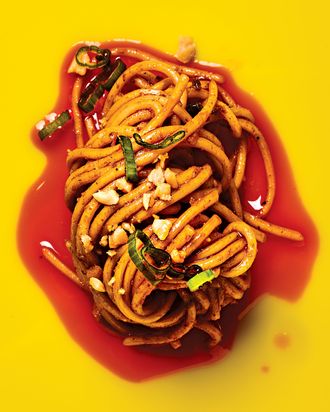 Hao Noodle and Tea by Madam Zhu's Kitchen.
Photo: Bobby Doherty/New York Magazine
In the course of our exhaustive explorations of the Absolute Best of everything there is to eat in this food-obsessed city, we've covered the best dim sum, the best restaurants in the Chinatowns of Manhattan and Sunset Park, the best dumplings, and the best version of that most sacred and Royal Chinese dish of all, Peking duck. So consider this a kind of wide-angle, drone's-eye view on the rest of the city's sprawling, ever-changing Chinese-food scene. Here are the best Chinese restaurants in New York for a nourishing bowl of noodles, a fiery Sichuan fix in midtown, and the annual big-money, banquet-style splurge.
1. Hao Noodle and Tea by Madam Zhu's Kitchen
401 Sixth Ave., nr. W. 8th St.; 212-633-8900
Sure, the name is a mouthful, but take a bite of the pastry-thin scallion pancakes, or the painstakingly constructed dan dan noodles, or Zhu Rong's wonderful "family recipe" for Chongqing tomato stew, and you'll see why certain overenthused critics are declaring this to be the finest Chinese restaurant to arrive on our fair shores since the great General Tso invasion of the 1970s. Unlike the proprietor of your average carryout joint down the street, Madam Zhu recruits her cooks from her string of successful restaurants in Shanghai, Sichuan, and Beijing. Everything on the dynamic, seasonally attuned menu is good (you'll find recommended dishes on the current winter menu for "moderate cold" and "heavy snow"), but pay attention to the noodle, soup, and dumpling sections, which read like a carefully curated, Bourdain-style tour of the markets and noodle dens of modern China.
2. Mission Chinese
171 E. Broadway, nr. Rutgers St.; no phone
The totemic dishes at the center of Danny Bowien's fiery Sichuan vision (e.g., thrice-cooked bacon, heritage-pork mapo tofu) are still worth a special trip, but the menu additions of the talented former executive chef Angela Dimayuga and a larger, more permanent venue have raised this restaurant up into the growing pantheon of New York's next-generation Chinese destinations.
3. Little Pepper
18-24 College Point Blvd., College Point; 718-939-7788
The cooking at this bright, classic, deceptively sophisticated little College Point destination is a blessed relief from the over-oiled, over-spiced, one-note Sichuan menus that have been proliferating, lately, all over this Sichuan mad town.
4. Lake Pavilion
60-15 Main St., at Horace Harding Expressway, Flushing; 718-886-6693
The key to this bustling Cantonese seafood palace is demand, which leads to freshness, which leads to an endless array of variety. Up to five kinds of crab are available — depending on the season — but if you happen to have $60 in your pocket, try the Dungeness monsters, which arrive at your table more or less direct from places like the chilly waters of Alaska.
5. Guan Fu Sichuan
3916 Prince St., G-01, Flushing; 347-610-6999
The sauces at this ambitious new Flushing establishment are made in-house and vary in spice and heat levels from dish to dish. If you really want to feel like you're dining on the streets of Chengdu, you can choose from an abundance of forbidden pleasures ranging from "hot stone" boiled sea cucumbers to several varieties of finely seasoned pig's trotter and braised turtle to a generous helping of boiled bullfrog chopped into palatable little pieces and served with proper ceremony in a large porcelain terrine.
Café China
13 E. 37th St., nr. Madison Ave.; 212-213-2810
There are almost too many Sichuan options to count in midtown these days, but none is quite as satisfying, or as elegant, as this carefully styled, Michelin-starred, real-life mom-and-pop shop (he's from Shanghai, she's from Harbin) in the shadow of the Empire State Building.
Decoy
529-1/2 Hudson St., nr. Charles St.; 212-691-9700
Eddie Schoenfeld and his chef partner, Joe Ng, operate several worthy ventures around town, but for our money, this West Village Peking duck atelier is the finest. Only 25 perfectly cooked birds are prepared every evening, but pay attention to the housemade hoisin, and those impeccable pancakes.
Dumpling Galaxy
42-35 Main St., Flushing; 212-518-3265
There are a billion dumplings in the naked city, but for serious scholars of the genre, there's no better one-stop destination than Helen You's commodious sit-down destination in the Arcadia Mall. The menu boasts more than 100 varieties, many filled with nontraditional ingredients like octopus, cod roe, and pumpkin.
Hakkasan
311 W. 43rd St., nr. Eighth Ave.; 212-776-1818
We weren't big fans of this lavish, London-based chain when it first opened. But the Peking duck is one of the best in town, and our father, who is a scholar in such matters, says that it's the place to take your high-end Chinese friends and clients for a slap-up banquet feast — provided, of course, they're paying.
Han Dynasty
90 Third Ave., nr. E. 12th St.; 212-390-8685
We specify the original New York branch of this fast-growing Philly chain, and not the newer, blander UWS outlet. Lunchtime is our preferred hour to visit, when the packed, little room fills up with the smell of coriander and ma-la pepper. The eight-person, $25-per-head, set-course dinner remains one of the best-tasting deals in town in any cuisine.
Xi'an Famous Foods
41-10 Main St., Flushing; no phone
The whole city seems to be addicted to the Wang family's western-Chinese-noodle delicacies these days, but for variety, comfort, and ye olde Flushing verisimilitude, this flagship establishment is where we like to get our semiannual fix of lamb-face salad.
*A version of this article appears in the March 6, 2017, issue of New York Magazine.