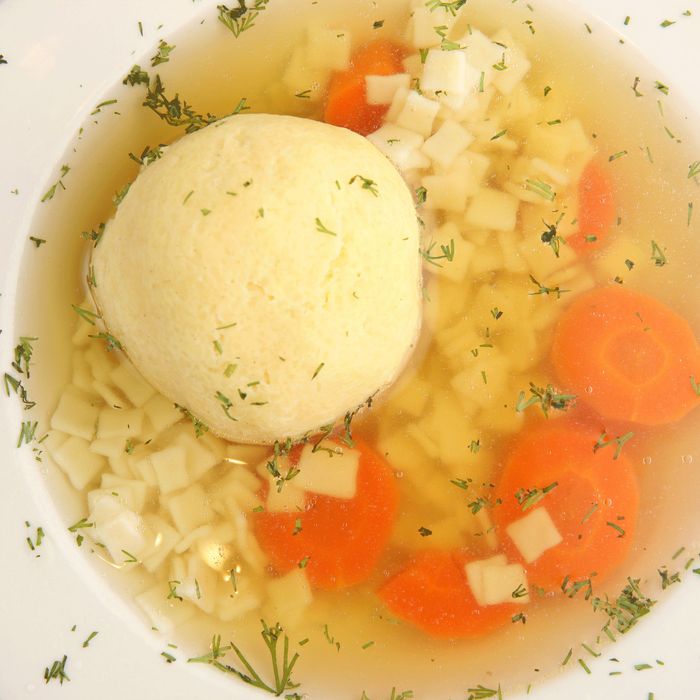 2nd Avenue Deli has matzo-ball soup on lock.
Photo: Melissa Hom
A diverse and dazzling number of soups could qualify as chicken soup: Korean chicken hotpot with shirataki noodles, Ukrainian broth with tiny dumplings, pozole, ramen, and even bone broth. Here are the best for what ails you, from relative newcomers like Little Mo to stalwarts like the venerable Little Poland.
1. 2nd Avenue Deli
162 E. 33rd St., nr. Third Ave.; 212-689-9000
The city needs chicken soup. For its soul, sure, and for all sorts of less crucial reasons. While several fantastic delis do nice renditions of matzo-ball soup, 2nd Avenue has it on lock. The simplest foods require the most attention and consideration to detail, and that's been the leitmotif all these decades of triple-decker pastrami, from its namesake beginnings downtown to its move to 33rd and Third and beyond. Eggs always fluff the matzo balls, and a little baking powder famously keeps everything buoyant inside the immense 120-quart stockpots behind the line. The most important factor is that the matzo meal gets mixed with schmaltz; longtime cooks have an intuitive sense about the days when they'll need to add a little more.
Several New York foodstuffs have a dense thicket of food-culture mythology grown around them. This becomes clearest when the server starts in with the ceremonial table-side pour of golden broth into the bowl, enriched with carrots and festively strewn with dill. It can be a little much. But the made-to-order bit helps ensure the broth is never salty, not too fatty, and totally nourishing, and thankfully, 2nd Avenue delivers anywhere in Manhattan, no table-side theatrics needed. On days when it's needed the most, there's even the max-strength chicken in a pot, a glass jar of matzo soup with the little Chiclet pasta noodles, plus half a boiled kosher chicken.
2. Malecón Restaurant
764 Amsterdam Ave., nr. 97th St.; 212-864-5648
While the beautiful bronzed rotisserie birds up front are what Junot Díaz once described to us as "fight-worthy pollo," the stewy sopa de pollo has no doubt inspired a scuffle or two over the years. Its reputation for making diners feel battle-ready, however, has everything to do with its uplifting, nourishing effects. Jumbo-size portions brim with chopped-up white and bone-in dark meat, and burnished bits of chicken skin deepen its flavor. Yucca, or the starchy tuber cassava, seethes in the dark broth, alongside diced carrots and potato. On the Upper West Side and at Malecón's Inwood location, the hearty soup is technically a daily special, which means when the rotisserie racks are empty and the cleavers have made fine work of all that roasted meat, there's probably no more. Get there early, especially if you're feeling like you need the extra fortification. It's unclear if anyone refers to this stuff as Dominican penicillin, but everyone should.
3. Little Mo
1558 Myrtle Ave., nr. Ditmars St.; 929-210-8100
Most customers seem to opt for the pork-belly bánh mì or the terminally nutritious kale salad, but Mondays through Fridays, customers can order a big bowl of chicken phở ga. It comes loaded with wispy-thin rice noodles and soft, shredded organic chicken. Bean sprouts pile up on top with a stemmy boutonnière of Thai basil, which releases some kind of strong, clove-ish, and excellent volatile flavor compound when the leaves are dragged through the hot broth. Add the crisp chile condiment and fish sauce from a squeeze mustard bottle as needed, and consider two secret weapons: The first is garlic that's been fried past the point most kitchens are willing to take it. It has a thorough bitterness, but also a dense, oniony caramel that escorts the soup into some trippy new dimensions. The second is a healthy sprinkle of pork cracklins' strewn across the top of each bowl like meat croutons. They lose their crunchy oomph as they melt into the broth, where they transform into salty pork nuggets.
4. La Superior
295 Berry St., nr. 2nd St.; 718-388-5988
It's a study in green. Beneath a sheen of chicken fat are al dente zucchini batons and a stockpile of soft simmered chayote. Poblanos and corn kernels are in there, too, with a curiously minimal amount of salt. La Superior turns chicken breast and thigh meat into enchiladas, flautas, and tinga de pollo, which make up the bulk of business; the lean flavor of the bones and simmered scraps comes through, however, in its simplest form with this soup. Save for fresh vegetables, there's an undercurrent of epazote and gentle trace of wild, citrusy Mexican oregano. Each bowl comes with a rough chop of cilantro and onion on the side, as well as minced green bird chiles, for diners who are compelled to tweak the greenery.
5. Little Poland
200 Second Ave., nr. 13th St.; 212-777-9728
"We Suggest Our Very Fine Garlic Bread," the menu says. Heed the menu. You'll get what is essentially a flaky butter sandwich, knife-scored for easy tearing and infused with a big dose of high-potency roasted garlic. The menu sports a photo of the Frédéric Chopin statue in Warsaw's Royal Baths Park, with the caption "The food we serve is as good as music of Chopin." Yes, fine, if you've ever listened to "Fantasie in F minor" and thought it could use a dash of salt. Luckily, there's a shaker on the table. There are bigos with dumplings on the specials board, and the server is ready to refill your coffee. This is one of the best low-key places in all of New York, and the hot bowlful is the stuff served at the kind of lunch counters and diners that seem to disappear by the dozen each year. When you're done, you can also buy take-home cold pierogi by the dozen.