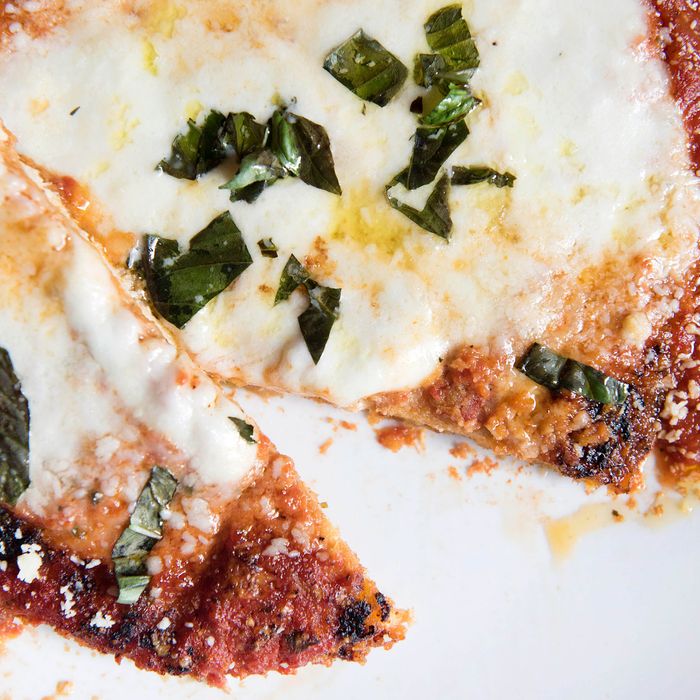 Emilio's Ballato, where the chicken parm has beautifully fried crust.
Photo: Liz Clayman
Chicken parm is in the canon of all-time great New York City dishes for a reason. At its best, it shuns delicacy and sophistication in favor of saucy, gooey, deep-fried excess. When it's done right — with bright sauce, creamy mozzarella, and a crisp plank of delicate meat — it's truly a thing of beauty. These five spots all treat this dish with the respect it deserves.
1. Emilio's Ballato
55 E. Houston St., nr. Mott St.; 212-274-8881
Whatever else there is to say about this downtown mainstay — that it's a campy red-sauce joint full of tourists and celebrities — the chicken parm is truly peerless. It manages to be as ostentatious as you'd hope, without being too over-the-top or hefty. Coming in at around half-an-inch thick, the beautifully fried crust is crunchy and craggly, without overpowering the chicken. The meat is moist and tender; the tomato sauce is vivid, but not so robust that it bogs down the chicken; and the blanket of melted buffalo mozzarella is surprisingly light and slightly tangy. There's more sauce on the side, and you should very much use it for dipping.
2. Pietro's
232 E. 43rd St., nr. Second. Ave.; 212-682-9760
Given Pietro's proximity to the strip once called Steak Row, it's fitting that the chicken parm here is the size of a porterhouse. It's served swimming in a low tide of tomato sauce, and unless you're a competition weight lifter, you won't be able to eat it alone. The chicken is pounded thin and fried in a large skillet, before being broiled in the oven under a blanket of sauce and an even layer of Parmesan that creates a fricolike crust at the edges. As the tomato sauce mingles with the browned and blistered mozzarella, the entire surface takes on the orange hue of a classic New York slice.
3. Rubirosa
235 Mulberry St., nr. Prince St.; 212-965-0500

Little Italy's best days are behind it, but there are still standouts to be found, even among the tourist traps. At this nouveau, populist paean to all things red sauce, the chicken parm can be had as a sandwich (during lunch) or served simply on a plate, alongside a tangle of spaghetti marinara. The chicken is sheathed in the restaurant's housemade mozzarella and finished with Parmesan, which is bubbly and ostentatiously applied, and the sauce is sweet and properly acidic, making it a nice foil to the creamy cheese and tender meat.
4. Emmy Squared
364 Grand St., nr. Marcy St., Williamsburg; 718-360-4535
One could argue that "culinary innovation" has no place as far as chicken parm is concerned — sometimes, people need to learn to leave well enough alone — but the chicken-parm sandwich makes a strong case for a reasoned rethinking of the red-sauce classic. For one, it's served on a pretzel roll. The chicken is brined in buttermilk and gochujang, before being coated in panko. The slightly spicy marinara, melted mozzarella, and fresh basil are all applied sparingly, too, but somehow it all works — never straying too far from the chicken-parm ideal, while simultaneously adding something new to the mix.
5. Ortobello's
6401 Bay Pkwy, nr. 64th St., Mapleton; 718-236-9810
With its fading painted sign, Frank Sinatra soundtrack, and intricate, lit-up diorama, Ortobello's hasn't aged entirely gracefully, but this place, nevertheless, continues to turn out masterful chicken parms. The meat is juicy and tender, served with a steak knife for a bit of ceremony. It's blasted by the oven, lending some hefty char in spots, and the cheese drapes over the sides of the cutlet. Moderation has never been a concern here, it seems, and this parm is the beautiful result of that approach.