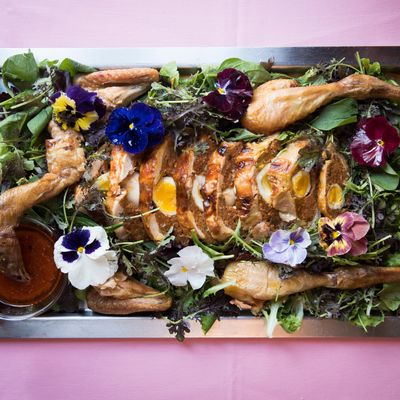 The winner, based on a recipe from the chef's grandmother.
Photo: Liz Clayman
Chicken is one of those things that can easily be a restaurant's most boring dish — or its most exciting. Perfectly roasted chicken hits all the right notes: crisp, bronzed skin; soft, flavorful meat; maybe some stuffing or garnish that amplifies the entire experience. And for our money, whole birds are where it's at, so without further ado, these are the absolute best roast chickens in New York.
1. Mission Chinese Food
171 East Broadway, nr. Rutgers St.; 212-432-0300
It's easy to love Jonathan Waxman's plate of golden, salsa-verde-topped chicken at Barbuto. The brick-flattened half-chicken at Marlow & Sons is among the most consistently comforting dishes in the city. But nothing beats the majesty of a whole bird, activating some primal impulse to share an entire beast among friends. No bird in New York is more majestic than the one served at Mission Chinese Food, glistening with fat and cut into thick, oversize slices. Based on a recipe from executive chef Angela Dimayuga's grandmother, the kitchen debones the breast and stuffs it full of spiced pork, olives, raisins, cheese, butter, and just-cooked eggs before roasting it all until everything melds into meaty, fatty whole. Just as Obi-Wan warned Darth Vader was "more machine than man," the finished bird is probably more sausage than chicken. And you cannot resist. Embrace the dark side.
2. St. Anselm
355 Metropolitan Ave., nr. Havemeyer St., Williamsburg; 718-384-5054
These compact chickens, enough to feed one and not much more, arrive at the table with their heads and claws intact. Bird plus fire, in its most elemental form. The only garnish, if you want to call it that, are two little lemon wedges tucked into the wings. Silverware is provided, but the better move is to dive in with your hands. The dark skin has a satisfying crackle, while the flesh underneath is firmer than what you find in a supermarket bird. A sweet-tea brine doesn't seem to add any actual sweetness, which is nice, and instead only serves to deepen the flavor of the meat itself.
3. Le Coq Rico
30 E. 20th St., nr. Broadway; 212-267-7426
The dish to get at famed French chef Antoine Westermann's so-called "bistro of beautiful birds" is his interpretation of the Alsatian baeckeoffe, a whole bird stewed with — among other things — Riesling, potatoes, herbs, and olives. But this is gilding the lily, because the birds that Westermann uses are a French breed, raised upstate, and slaughtered at the ripe old age of about three months. Simply ordering a whole chicken straight from the rotisserie allows the deeply comforting and somehow … familiar flavor of the meat to shine properly. At about $100 per chicken (with a saucer of proper jus on the side), a meal here isn't cheap, but do yourself a favor and spend the extra $7 for some French fries, which are the only real way to sop everything up.
4. Pok Pok NY
117 Columbia St., at Kane St., Columbia St. Waterfront District; 718-923-9322
An excellent roast chicken doesn't have to cost as much as a monthly subway pass. The deeply golden, $12 birds at Malecón have a devoted following. The cumin-and-cinnamon-scented whole pollo a la brasa from the Chinese-Peruvian chainlet Flor de Mayo is easily among the best things that can be bought for $15. Even that St. Anselm bird holding down the No. 2 spot will run you $23. But for $24, the whole Kai Yaang Tua from Andy Ricker's Brooklyn Thai spot is one of the city's true steals. Enough to feed two, it's packed with a bright-green mix of garlic, lemongrass, and coriander, and as you dig in, dipping the juicy meat in tamarind sauce, it gets all over your fingers and only adds more dimension. There's a reason they serve this thing with Wet-Naps.
5. The Nomad
1170 Broadway, at 28th St.; 212-796-1500
One of New York City's original luxury chickens — a butter-burnished bird, stuffed with foie gras and brioche under the skin, that's presented whole before being scurried away to the kitchen to be carved and individually plated — is as technically impressive as you'd hope, given that the kitchen is run by Daniel Humm and executive chef James Kent. And it's very difficult to overstate how elegant and rich the little cocotte of truffled thigh meat truly tastes. So look: It's all lovely and delicious and you eat it and get that kind of deeply happy feeling that only truly exquisite food can make you feel. But it nevertheless loses just a few points because the refined presentation feels a little at odds with the hedonistic satisfaction you're truly after when you're eating a whole animal.