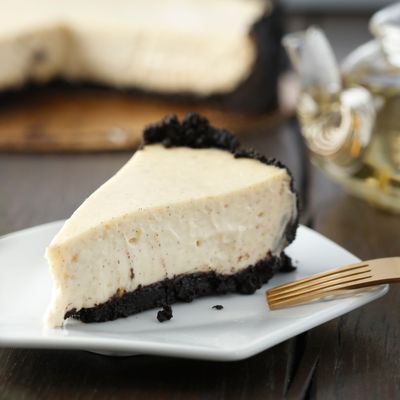 Mah-Ze-Dahr Bakery's cheesecake is for scaffolders and debutantes alike.
Photo: Melissa Hom
It's time to name the best cheesecake. Cheesecake, of course, is shorthand for New York cheesecake, which for some is a roundabout way of saying creamy like an old-school Lindy's slice, or ricotta-rich in Little Italy, or tart and crumbly on a diner plate, or cool and crust-free like a Baby Watson at the beginning of Ed Koch's second term. In other words, several variations on a theme. Here are the city's most compelling, circa now.
Umber Ahmad's illustrious past includes degrees from MIT and Wharton, as well as a stint at Goldman Sachs. None of these things would seem to be a prerequisite for introducing the most elegant and spectacular cheesecake to come along in a while, but, well, here we are. The impressive nine-inch version weighs in around five pounds, with the dimpled cream-cheese base towering mightily above the upper limit of the chocolate crust. The bakery uses sour cream to keep the richness in check; a pleasant undercurrent of lemon oil comes from bright flecks of zest, and the cocoa cookie swathing its exterior adds a bitter crunch as well as a black-tie dapperness. It's fancy without being ostentatious, simple but tremendously impressive; a cheesecake for scaffolders and debutantes alike. A more traditional graham-cracker crust, as well as a smaller, four-inch format, are also available. The shop, which has built up a loyal clientele with online orders for the past two years, plans to debut its brick-and-mortar bakery in June.
2. Eileen's Special Cheesecake
17 Cleveland Pl., nr. Kenmare St.; 212-966-5585
This cramped Cleveland Place institution was dealing full-size and puckish mini-cheesecake tarts entire decades before real-estate speculators concocted the word Nolita. The house special is still fluffy after all these years, and the kitchen keeps a dizzying array of varieties that encompass trendiness (salted caramel, red velvet) and beyond (piña colada, tofu) in stock. Customers in SUVs with Jersey plates still double-park on Kenmare and try to sneak away with the 12-flavor sampler before NYPD Traffic comes around, and it's sometimes hard to maneuver around the out-of-towners lugging fancy cameras and bags of flash gear, so assertiveness is crucial. Despite its late-breaking forays into meme culture, Eileen's remains a destination for excellent, beautifully un-hip cheesecake. We hope it never changes.
3. Petee's Pie Company
61 Delancey St., nr. Allen St.; 212-966-2526
Petra "Petee" Paredez's impressive bid to make New York cheesecake great again began with research, a lot of cream cheese, and the pie expert's generally classicist approach. She's made improvements in the form of scraped vanilla beans and discernible hits of zest that are deployed into the cake. Moreover, because she is a master of crust and has plenty on hand, Paredez bakes some, then pulses it to produce a smooth buttery crumble that rivals any cheesecake set in pulverized graham crackers. The cake itself has a bright, almost savory bite, and the perfect density. Paredez also draws on her in-house reserves of sour cherries and wild blueberries to make fantastic fruit toppings that have genuine flavor and zero gloop. The end result is sufficient to inspire pangs of nostalgia for an older New York history that may have never really existed but is now available whole and by the slice.
4. Dominique Ansel Bakery
189 Spring St., nr. Thompson St.; 212-219-2773
Dominique Ansel Kitchen
137 Seventh Ave. S., nr. Charles St.; 212-242-5111
The hardworking Cronut creator puts a resolutely Ansel-esque spin on cheesecake at his original Soho bakery with a "cotton soft" version, which he says is for people who think they don't like cheesecake. It sits on a dainty almond biscuit base and wears a brûlée-like crown of torched sugar. While its ingredients officially include whole-milk ricotta folded into whipped cream with a wisp of lemon, all that may as well be shorthand for moonbeams and frankincense and the odd buttercream Horcrux. The dessert comes apart in an airy crumble, yet somehow retains its shape and manages to evoke the balance of smooth and tart found in the oldest of old-school cheesecakes.
You wouldn't expect the guy who whips yuzu curd for his tarts à la minute in a milkshake machine to serve the same dessert at his other, would you? At his West Village location, the inventive pastry chef puts the cheese back in cheesecake. Dominique Ansel's other cheesecake starts with crème fraîche and a little cream cheese, which are baked in a water bath until just set. The finished cheesecake is freckled with vanilla but has the dappled appearance of a round of washed-rind goat cheese, hammered home because it is packaged in a wooden cheese box that makes it eminently portable. The texture is smooth, almost molten, with a slight tang and extra bit of sweetness from a spoonful of truffle honey glaze.
5. Gabriel Kreuther
41 W. 42nd St., nr. 6th Ave.; 212-257-5826
If he chronicled beautiful pastries instead of snazzy dressers, street-style photographer Bill Cunningham would no doubt keep coming back to Gabriel Kreuther's lounge to see what's fresh. "I never change the basic DNA," says pâtissier Marc Aumont, gesturing to the two half-moons of cheesecake at the bottom of the bowl. While the crust comes in the form of a decorative crumb, the dessert is accessorized with whatever is seasonal. A recent iteration included halved raspberries with quenelles of berry sorbet and frozen fromage blanc. An airy red bark of raspberry meringue gave the dessert a fine-dining architectural complexity and added a bitter note, which (of course) Aumont says is based on eating sweets in Japan. Although he could have opted for some obscure washed-rind appellation, for the cheese itself Aumont followed in the footsteps of fellow Frenchmen Alain Ducasse and Pierre Hermé, who swear by old-fashioned Philadelphia, which, despite the name, was made first in New York.
6. Marta
29 East 29th St., nr. Madison Ave.; 212-651-3800
Jessica Weiss, the pastry chef Marta and Maialino, says she is way too in love with the former restaurant's cannoli cheesecake to take it off the menu. All that sentiment is a major win for New York. Weiss deploys sweetened condensed milk as a dairy mediator of sorts between ricotta and cream cheese, and builds a formidable crust out of crushed cannoli shells set with a protective layer of dark chocolate to keep things crunchy, and the cheesecake sets with more chopped chocolate folded into the batter. The result is like the house dessert at Villabate Alba in Bensonhurst took the bus up Flatbush to meet the classic at Junior's. As a final touch, Weiss steeps Sicilian pistachios in milk and sugar, then blends them with a shot of amaretto. Just before serving, the crema is burr-mixed with a little fresh cream. It has a powerful flavor and ultralight texture, the coolest whip of all.