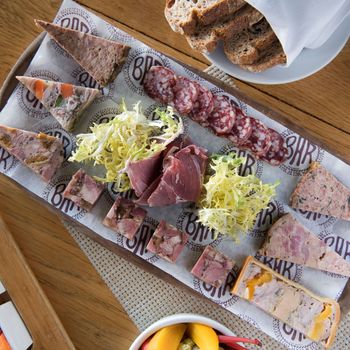 Over the last decade, a nicely curated plate of cured and prepared meats has become a menu necessity for New York restaurants. Pâtés are gloriously plentiful, and — thanks to a greater availability of better meat, more nose-to-tail enthusiast chefs, relaxed import rules, and pockets of DIY salumi enthusiasts — it's easier than ever to find something that's been turned into a sausage. These are the restaurants that offer the very best charcuterie options in town.
1. Bar Boulud
1900 Broadway, nr. 64th St.; 212-595-0303
One chilly afternoon three decades ago, a hushed silence descended upon Le Cirque's ritzy Thursday lunch crowd, as its rebellious new chef wheeled out an enormous platter crammed with assorted shanks, steaks, marrow bones, demi-deuil chickens, and a whole poached foie gras — in place of the usual veal-head bollito misto. That chef was Daniel Boulud, and he's been upending expectations about meat since. Now, the chef has his own empire of restaurants, and he serves so much charcuterie that one employee, Vivien Lallement, runs the program from a commissary servicing all of his restaurants. With an assist from Gilles Vérot — the famed third-generation, Paris-based charcutier — Lallement works through scores of recipes for pâtés, terrines, and whole-muscle cuts like jambon Parisian. Bar Boulud's French, classic board may include pâté grand-mère, Vérot's porky terrine with chicken liver and cognac; or his grand-père, made with foie gras, truffles, and port. Salumeria Biellese provides the saucisson sec, fanned out in slices, and there's a wedge of finely shredded rabbit encased with a large dice of colorful spring vegetables in a terrine bound by gelatin. Specials run for a day or so — and may include a stately squab pithivier, or crisped pig ears — while the bread basket is filled with an assortment of crackle-crusted and wispy-crumbed slices, and even the pickled-vegetable side astounds.
2. Chefs Club
275 Mulberry St., at Jersey St.; 212-941-1100
Aurélien Dufour, Daniel Boulud's former chef charcutier, recently struck out on his own, and the compelling results of his namesake company are on display now at the Chefs Club bar. Even if Dufour is faithful to the craft, he's certainly way less bound by tradition. Duck grattons, which are popcorn-esque nuggets of rendered skin, have a hybridized nuttiness of good gribenes and the lofty crunch of chicharróns. Saucisson Lyonnais en brioche resembles a glazed Chinatown steamer-basket bao, more than anything out of Carême. And the cured fat atop each slice of duck prosciutto ripples away and dissolves like lardo. Finally, a textbook-perfect pâté en croute is matched by the novelty of an eye-popping vegan version, made with overwintered root vegetables that are naturally rich in concentrated sugars.
3. Cherry Point
664 Manhattan Ave., nr. Norman Ave., Greenpoint; 718-389-3828
Chef and partner Julian Calcott is something of an unrecognized charcuterie savant. His whole-animal butchery program at the newish Greenpoint restaurant yields an ever-evolving lineup of small-batch terrines, rillettes, saucissons, and wursts. Landjäger makes way for Portuguese chorizo; short rib cured like speck with coriander is swapped out with house liverwurst. Sides of grilled country bread brushed with beef fat are a nice touch, as are the orbit of potent Mostardas, mellow fruit butters, and dabs of whole-grain mustards on the side. (If you want to toss some gas on the fire, the kitchen specializes in creamy quenelles studded with morsels of brown butter.) Fish, like mole- or beet-cured char, along the potted smoked whitefish, finds equal footing with the meat, and reinforces the impressiveness of the skill on display here. Calcott's Calabrian 'nduja — the spreadable sausage made with pork belly and shoulder and fermented with chiles and salt for about a month — was sold out on a recent night. Luckily, the kitchen had a beef 'nduja ready to go, made from short rib, flat iron, and chuck roll. Each version had its own distinct sweetness and spice. Both glimmered on the board, even when the floor staff dimmed the old, repurposed John Deere–factory lamps to welcome the evening crowd.
4. Il Buco Alimentari e Vineria
53 Great Jones St., nr. Bowery; 212-837-2622
Just as good sushi needs no wasabi, certain Italian salamis and whole-muscle cuts should stand on their own without mustard. Nowhere in New York is this more evident than in one of the high seats up front at Il Buco Alimentari, where a cured-meat selection for two people is a board laden with prosciutto, culatello, mortadella, and lonza — all deftly made in-house. Every slice of fennel-seeded finocchiona and shaving of nutty, 48-month proscuitto — not to mention the damper, country ham–ish culatello — grew out of Bernardo Flores's butchery department, and was cured under precise climate-controlled conditions. Alimentari and the original Il Buco have been working with Flying Pigs Farm for some time, and in the last five years, the ambitious curing project has really evolved. The results are incredible — and at $18 for two people, or $28 for four people, these boards are also among the absolute best deals in town.
5. Benoit
60 W. 55th St., nr. Sixth Ave.; 646-943-7373
Alain Ducasse recently pulled a floor-to-ceiling renovation of his sole NYC property, and installed Laëtitia Rouabah, a protégée, in the kitchen. The chef's new menus sport a broader array of influences that push past the traditionally bistro-fied limits of roast chicken and steak-frites. The overall effect is a less storied, more vital restaurant that extends to the charcuterie: Garlicky rounds of Rosette de Lyon and culatello are arranged next to a slab of rillettes smoothed out with a bit of duck fat, and there's a thick pâté gone streaky with chicken liver and pork fat. In the center is the Lucullus, a deep-cut charcuterie specialty of Valenciennes. It's a compressed sandwich of thinly sliced, cured beef tongue and foie gras mousse presented in a dense fatty stack. To complement it all, there's a polished silver pot of airy gougères, mustard, cornichons, a small pot of warm lentils, and a cocotte of hearty potato salad.
Aldo Sohm Wine Bar
151 W. 51st St., nr. Seventh Ave.; 212-554-1143
At the Le Bernardin side project, the so-called "Brooklyn Charlie's Charcuterie Selection" globe-trots from pimentón-spiked, Basque-style saucisson to wild-boar sausage. Potent, subtly spiced tongue and blood sausage are like something your grandma from Normandy gives you to build muscle, while the chicken-liver mousse would be right at home during a swanky cocktail party.
The Cannibal
113 E. 29th St., nr. Park Ave. S.; 212-686-5480
On a recent evening, the $85 "Grand Tour" meat extravaganza included tartare presented with béarnaise sauce and green herbs, a cross section of chicken liver pâté that spread like mousse, silky ribbons of Mangalitsa lardo, spectacular mounds of country ham, dueling washed-rind cheeses, Biellese salami, and yet more goodies. The charred broccoli-rabe side turned out to be the ideal vehicle for more of that lardo, and had our party planned ahead and called the necessary 14 days in advance, we could have also ordered a whole roasted pig or lamb for the table.
North End Grill
104 North End Ave., nr. Vesey St.; 646-747-1600
Chef Eric Korsh's charcuterie arrives in composed plates that can be mixed and matched, and which change frequently: One day, chicken-liver terrine is threaded with with black-truffle shavings, like something out of the Book of Bocuse; next time, it has cranberries and is just as good. Long Island duck is salted for 36 hours, then coated in a pastrami-ish mix of toasted coriander and pepper, and then aged for weeks. Cured tongue is thin-sliced and paired with an undersung eggy gribiche; there's a luminous jellied ring around the pâté, plated with snappy vegetable pickles. Duck rillettes are torpedo-shaped and fried, paired with Korsh's pleasantly bitter olive-oil mayo, and fine slices of trotter torchon are served with a brash parsley salad, dressed with raw shallot and decimated bits of cornichons.