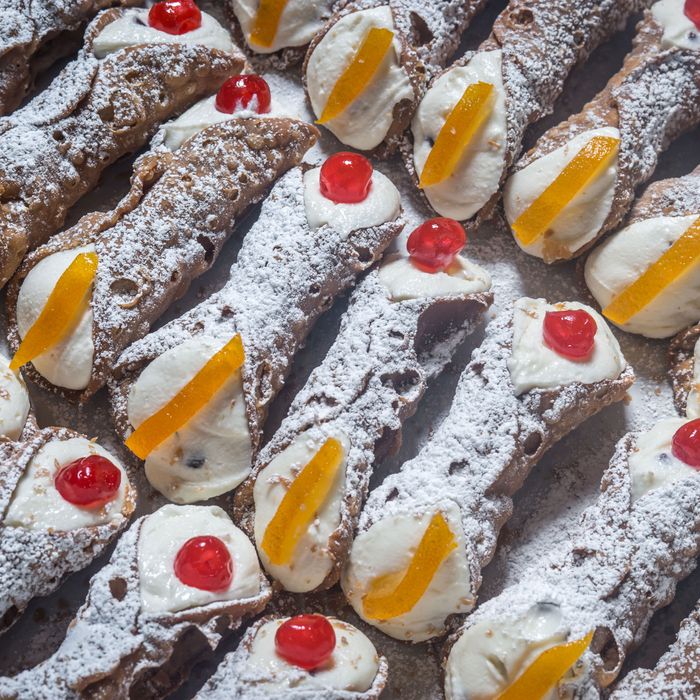 Truly breathtaking cannoli from an Italian-American institution.
Photo: Paul Wagtouicz
There is a widely held belief that a great cannolo must be filled to order, ideally in full view of the paying customer. This is a food myth that needs to go away. Indeed, no combination of ricotta and impastata automatically makes for soggy cannoli; that's just something that happens as a result of subpar technique. Still, it's easy to see that the once-spectacular New York cannoli can be very hard to find these days. Luckily, there are still some places that do this traditional pastry proud — here are the absolute best.
1. Villabate Alba
7001 18th Ave., at 70th St., Bensonhurst; 718-331-8430
Nassau County accents heard on the sidewalk and a gaggle of SUVs with Jersey plates double-parked outside are indicators of this Brooklyn bakery's wide-reaching fanbase. Inside, there are clear signs of its bakers' precision, like the display case stocked with a mind-boggling number of flaky, creamy pastries, as well as an easy-to-miss sign announcing that the kitchen uses ricotta imported from Sicily. This makes sense: Modern cannoli can be traced to Palermo, where Villabate Alba's cheese is made. In addition to an expected rich, silky texture, their cannoli have a grassy, almost salty flavor that makes for a strikingly elegant contrast with the crisp shell, which is fried until nutty. The bakers don't overdo with the chocolate chips or citron bits in the whipped filling, either. There's a lone, decorative maraschino cherry on one end, plus a barely candied strip of orange peel on the other, and they alone do most of the pastry's sweet-talking.
2. Juliana's Pizza
19 Old Fulton St., nr. Front St., Dumbo; 718-596-6700
Pizza legend Patsy Grimaldi's 800-degree coal ovens melt down vast supplies of fresh mozzarella each day, so there's no doubt that the five-year-old shop's reliance on top-notch dairy yields the smooth, sweet ricotta the kitchen uses to fill its natty, bow-tie-shaped shells. Served with a (traditional) spoon and a garnish of adorable rainbow sprinkles, these cannoli brighten up the area's permafrost of tourist gridlock, and even add irresistible levity to the block's fabled and protracted pizza wars.
3. Barano
26 Broadway, nr. Kent Ave., Williamsburg; 347-987-4500
Over by the Williamsburg waterfront, chef-owner Albert Di Meglio takes a minimalist approach, piping just-sweet sheep's-milk ricotta into shells that come apart in a righteous crackle. Small nuggets of dried fruit and morsels of dark chocolate add candied flavors and bitter, floral edges to the mix. (They get bonus points for being perfect, late night, with a glass of Sicilian Marsala at the bar.)
4. Rimini Pastry Shop
6822 Bay Pkwy., at Bay Ridge Ave., Bensonhurst; 718-236-0644
The frenetic atmosphere at Bensonhurst's other beacon of Sicilian baked goods sometimes teeters off into a sort of customer-service slapstick, but the unending line is a sign of Rimini's vitality. Cannoli here sport standard-issue red cherries and brightly stained citron nubs, but also come with a delicate and inexorable undercurrent of spice, somewhere on the nutmeg-cinnamon spectrum, which culinary seekers have associated with the ideal Brooklyn cannoli.
5. Mamma Guidara's at the NoMad
1170 Broadway, at 28th St.; 347-472-5668
The theatrical red-sauce extravaganza at Mamma Guidara's, this spot's Sundays-only pop-up, caps off with a dish of tiramisu and a single, cigarlike cannolo. Mark Welker, the pastry chef, makes a few hundred beautifully cratered shells in the morning, then fills them with strained cows'-milk ricotta mixed with vanilla, sugar, and a nudge of salt. One end is dipped in decimated green pistachio, the other in crumbled dark chocolate that scans more like crushed cocoa nibs than standard Italian bakery chips. As much as the weekly pop-up, now a permanent addition to the calendar, emphasizes an unbuttoned nature, these cannoli remain some of the most elegant pastries in town.
Caffe Roma
385 Broome St., at Mulberry St.; 212-226-8413
Nonstop tourist traffic means you run the risk of getting poked in the eye with a selfie stick anytime you venture to this Little Italy spot. For some, the shell may be too thick and unruly, but the cool, ineffably spicy filling — is that cinnamon? — at this tin-ceilinged institution (since 1891) remains a powerful draw. Grab an espresso and brag how the old-school signage, today somewhat unchanged, makes an appearance in The French Connection.
Cannoli Plus
6903 New Utrecht Ave., nr. Bay Ridge Ave., Bensonhurst; 718-331-1058
Speaking of The French Connection: Not far from where a crucial leg of the iconic chase scene takes place is this tiny cannoli showroom, beneath the elevated subway over New Utrecht Avenue. While individual cannolo are available filled-to-order, Cannoli Plus is a to-the-trade supplier that is open to the public, so anyone can grab a pack of fresh shells from the floor-to-ceiling display, choose a prefilled bag of cream in the back, and go have a cannoli rager.
Circo's
312 Knickerbocker Ave., at Hart St., Bushwick; 718-381-7199
Circo's has been open since 1945, yes, but it's not so steeped in tradition that the crew is beyond crafting a fondant-wrapped bong cake for every struffoli platter. Sugar-dusted and decorated with two cherries, Circo's cannoli exude a great deal of old-school charm.
Court Pastry Shop
298 Court St., nr. DeGraw St., Boerum Hill; 718-875-4820
The bread-and-sweets showroom turns 70 next year, and it (pleasantly, certainly) seems like much is unchanged; sfogliatelle are no doubt as endearingly flaky as they were 21 years ago, when the pastry took top honors in this magazine's Best of New York issue. The filling is never too sweet or at all gritty, and shells have a wonderful crunch.
La Guli
29-15 Ditmars Blvd., nr. 29th St., Astoria; 718-728-5612
Petite cannoli here brim with an airy, custardlike filling that can't be found anywhere else. The Queens institution opened in 1937, after its Italian-immigrant owners had spent more than a decade opening bakeries in Manhattan. Via special order, customers can still partake in the so-called "pregnant cannoli," one of the shop's most enduring oddities, which consist of a gaggle of tiny cannoli nestled in a jumbo shell.
Santina
820 Washington St., at Gansevoort St.; 212-254-3000
The petite, tricolore cannoli at Mario Carbone and Rich Torrisi's sunny High Line restaurant, which have received plenty of high marks in the past, are still loaded with potent dark cherry, smooth coconut, and super-nutty pistachio variations of sheep's-milk ricotta filling.
Quality Italian
57 W. 57th St., at Sixth Ave.; 212-390-1111
In a flourish, a server rolls up after dinner with a variety of fillings (chocolate peanut butter, cookies and creme), shells (sugar, glazed, chocolate), and base sauces (caramel, coulis). The table-side ritual is completely over-the-top, and that's the whole point.
Vito's Bakery
1916 Ave. U, nr. Ocean Ave., Sheepshead Bay; 718-332-3577
The thick shells pack more of a crunch, and there's more semisweet chips per square centimeter in the filling than pretty much all its major metropolitan-area competitors. None of this bothers the former regulars, who make special visits back to Vito's after they've moved away.