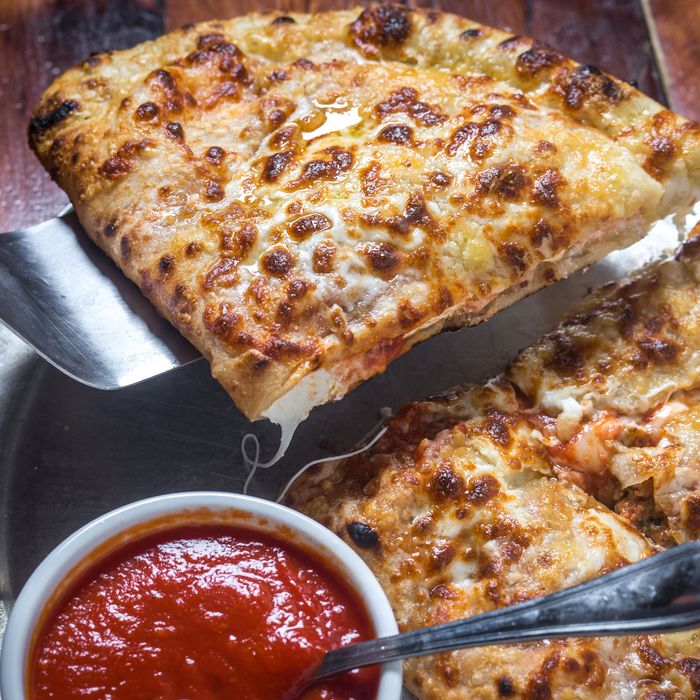 You'll never smear calzones again after going to Wheated.
Photo: Paul Wagtouicz
Too often, the calzones at New York's old-school pizzerias are indifferently made gut bombs. They overflow with enough bargain-bin ricotta to feed a small army of Olive Garden line cooks. But there's nothing not to like about a good, thoughtfully made calzone, whether it's the ostentatious, unabashedly cheesy Italian-American or the more restrained Neapolitan style. A good crust is essential. The fillings shouldn't be carelessly packed in, even if the stuffing is a bit over the top, and a bunch of low-grade cheese won't cut it. Tomato sauce isn't a must, but it never hurts. So, yes, it's an outside-in pizza — but that doesn't have to be a slur.
1. Wheated
905 Church Ave., nr. E. 10th St., Kensington; 347-240-2813
David Sheridan may make the best Neapolitan-esque pizza south of Prospect Park, a land ruled by the likes of Di Fara and Totonno's. But his meatball calzone is a thing of beauty, one that might actually have you (shockingly) choosing it over pizza. Cooked in an electric deck oven, the soft but chewy sourdough is speckled on the bottom like a proper pizza and comes with a crown of cheese that, applied before baking, gets lightly cooked in its own fat. There's a trio of cheeses inside: gooey, stretchy fresh mozzarella that's delightfully stringy like Polly-O cheese sticks; aged mozzarella for texture and robust flavor; plus a little ricotta for good measure. The meatballs are broken up and have a pleasurably soft texture, enhanced by a smidgen of tomato sauce. (There's also a ramekin of marinara on the side for dunking. Do not hesitate.) The end result tastes like a reengineered version of the sort of ultracheesy, fast food–ish stuff you'd eat at a suburban pizzeria-arcade — in the best possible way.

2. Lucali
575 Henry St., at Carroll St., Carroll Gardens; 718-858-4086
While it's offered both small and large, Lucali's opinionated fanboys and fangirls will tell you that you're missing the point if you don't go big. Whichever size you choose, what you'll get is the ultimate version of the style peddled by Italian-American pizzerias. It's that nicely charred thin-crust texture that helped make the pies famous, which makes the eating experience more pleasant because you aren't consuming something unnecessarily and densely bready. It's stuffed to the gills with melted ricotta and mozzarella, which spill out temptingly as soon as you take your knife to it. What seals the deal is the giant bowl of red sauce brought to the table, served with parmigiana and basil leaves, which elicits the sort of wide-eyed "oohs" and "aahs" usually mouthed by kids watching the teppanyaki chef work magic at Benihana for the first time. It's the exercise in excess that an old-school Italian-American calzone should be.
3. Ops
346 Himrod St., nr. Wyckoff Ave., Bushwick; 718-386-4009
The calzone at this Bushwick pizzeria isn't the kind you grew up on. For one, it's manageably sized. Then there's the fact that the bread is sourdough, light, springy, and something you'll actually want to keep munching on. Currently served only on weekends, it's made in the Neapolitan style, and not stuffed like cheese is going out of style. There's always creamy, housemade ricotta, but otherwise the fillings change regularly. One weekend, it could be the sensational, salty combination of escarole, olives, capers, and anchovies. Another, the simple but pleasing combination of ricotta and salami — or the compellingly creative mix of soft, nutty kabocha, ricotta, and thinly sliced ribbons of guanciale. Both of those are served with a side of tomato sauce; don't hesitate to ask for a little Pecorino for sprinkling.
4. Roberta's
261 Moore St., nr. Bogart St., Bushwick; 718-417-1118
At Roberta's proper, you'll find a couple of traditional calzones. Both come with tomato sauce and mozzarella, of course. But at dinner, it's also stuffed with ham and mushrooms, while brunch means pepperoni. The crust is lacquered with olive oil — which makes it golden, but also charred near the center — and it's served with a side of tomato sauce that's a bit more robustly flavored than the simpler sauces often served at other spots. These calzones are very good, but even better are the "involto" sold at the restaurant's takeout annex. A sort of hybrid Neapolitan calzone-stromboli that's open-faced on either end; it's essentially a Roberta's pizza folded onto itself, resulting in a deliciously chewy bread. The fillings are unsurprisingly freewheeling. There's meatball with tomato, parmigiana, and mozzarella, yes; but also roasted broccoli and alpine cheddar, juiced up with Calabrian chili, and served with excellent house ranch; and a meaty Cubano — the fattiness of the roast pork mitigated by sliced pickles and sharp mustard — with a side of mayo. Don't be embarrassed to ask for a side of ranch with that one, too.
5. Louie & Ernie's
1300 Crosby Ave., nr. Waterbury Ave., Schuylerville; 718-829-6230
This Bronx institution proves that, yes, old-school Italian-American pizzerias still make exceptional calzones. Here, you'll find them with cheese and ham, eggplant or chicken parm, meatballs, and other fillings. These are more individual-size and not at all bready — but thinner and shatter-crisp at the top, but moister and thicker at the base. Make note of the sausage and cheese, a favorite made with the same Italian sausage — from Dominick's S&D Caterers down the street — as Louie & Ernie's justifiably famous sausage pie. Just don't pass on the broccoli rabe and cheese, the bitter green and its crunchy stems entangled in cheese.
6. Ribalta
48 E. 12th St., nr. Broadway; 212-777-7781
The wood-fired pizzeria makes a fine version of the Neapolitan-style calzone in a New York (hulking) portion. There's just one option, and it comes smeared with a thin layer of bright tomato sauce, a few wilted basil leaves, and islands of fresh mozzarella. Inside, there's yet more mozzarella, mixed with creamy ricotta and a piece of prosciutto cotto here and there, though not too much. The draw here, really, is the dough, which maintains all the best qualities of a Neapolitan pie.
7. Motorino
139 Broadway, nr. S. 6th St., Williamsburg; 718-599-8899
The Neapolitan standard-bearer serves a weekend-only rotating calzone at its more expansive Williamsburg location. It's been stuffed with fillings like porchetta and roasted eggplant; but more recently, they've embraced brunch with a trio of fennel sausage, provolone, and egg. The result is something like a breakfast sandwich crossed with the Italian turnover: plenty of melted cheese mixed (in the brunch spirit) with the soft egg, broken up by nubbins of crumbled sausage. The fried garlic on top offers a touch of pungency, and the dough is soft and properly blistered. Tear off a piece, and dip it into that bright, lightly seasoned tomato sauce, which cuts the fattiness without taking away from it.
8. Don Antonio by Starita
309 W. 50th St., nr. Eight Ave.; 646-719-1043
The midtown pizzeria is known for its quirky creations and propensity for frying its pizza before baking. It's no surprise, then, that it serves unusual calzones like its U-shaped Corna di Maradona, thoroughly stuffed with ricotta and pork rinds. Best of all is the Night and Day, which doubles down on the ricotta, mozzarella, and ham inside — with a topping of tomato sauce, fresh mozzarella, Pecorino Romano, basil, and olive oil. The sauce and cheese cook slightly and the basil blisters, so it's almost like you're getting a little bit of pizza with your calzone.
9. Tufino Pizzeria
36-08 Ditmars Blvd., nr. 36th St., Astoria; 718-278-4800
The Astoria spot reaches a compromise of sorts between styles, briefly frying its calzone before baking it in its wood-fired oven. That results in a texture that's still puffy and zeppolelike, but more delicately crispy. It's given a pat of tomato sauce and cheese on top, with a classic filling of fresh ricotta, mozzarella, and slivers of prosciutto cotto. There could be more of the prosciutto, but it's a minor complaint.