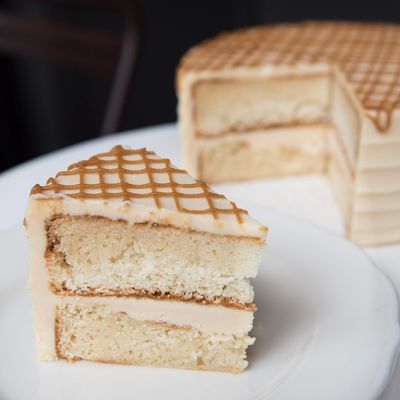 Vanilla salted-caramel cake at Ovenly.
Photo: Liz Clayman
Let's be honest: There is no perfect cake. There is no perfect cake because as long as it looks like a cake and walks like a cake, it is most likely a perfect-ish cake. Even bad cake can be great. Sure, one person's frosting ratio may be too heavy for the next, and someone might not tolerate a dash of simple syrup dabbed onto a crumb layer to lend a little moisture, but all cake can nevertheless be plotted on a continuum of goodness. That said, even if all cake is good, some are markedly better. These options below — all available by the slice — are the very best.
1. Ovenly
31 Greenpoint Ave., nr. West St., Greenpoint; 347-689-3608
Cakes generally don't have a point of view, but that's really the best way to describe Brooklyn Blackout, once made by the famed Ebinger's Bakery, but now in a wonderfully updated form by Ovenly. It's funny, then, that Ovenly's version doesn't adhere to the technical specs of any Brooklyn Blackout Cake of yore. This is good, because while sugary frostings or gloopy puddings mar nearly all current iterations, Agatha Kulaga and Erin Patinkin decided to go in another direction: They added Brooklyn Brewery stout, which deepens the unimpeachably chocolaty layers — rendered midnight-black with cocoa from Guittard — with an almost fermented, fantastically malty flavor. There's also a nice amount of salt.
Elsewhere, Ovenly's birthday cake has rainbow sprinkles embedded right in the frosting. Last fall, amber-brown, caramelized peaches crowned a gorgeous study of ochre layer cake with plush bourbon buttercream. A recent hibiscus-buttercream-coated buttermilk-cocoa cake filled with raspberry compote is an impressive demonstration of a tricky flavor balance, and in particular, knowing when to hold back on the sugar. A current beauty in pale-honey buttercream is made with honeycomb and pistachios, and happens to be gluten-free. It should be the official cake of spring.
2. Untitled
99 Gansevoort St., nr. Washington St.; 212-570-3670

The imaginative pastry chef Miro Uskokovic excels at making irresistible towering cakes that approximate the look of classic Betty Crocker Americana, but happen to be fascinatingly unique: Consider the toffeelike banana-and-Concord-grape number with hazelnut crunch; another sports vivid green matcha layers cut with jammy-strawberry stripes. Adding yet more depth: Uskokovic has ditched refined white sugar altogether, in favor of a molasses-tinged, coarse-grained type and cones of Indian jaggery. The current devil's-food cake with marshmallow frosting looks like a shaggy mastodon. Gluten-free and served with a spoonful of tangy passion-fruit seeds, it boasts chocolate from Red Hook and terrifically torched marshmallow fluff, made in house.
3. Two Little Red Hens
1652 Second Ave., nr. 86th St.; 212-452-0476
During peak hours, the tiny Upper East Side bakery can intimidate even the most staid New Yorker, as the attentive staff goes full throttle with their spatulas, and wall-to-wall customers double-fist cupcakes like it's the End Times. But stay the course because the rewards are ample: simple and elegant yellow cake, with a choice of Swiss vanilla buttercream or a dark, sharply fudgy version. Coconut is a perennial hit, as is the aromatic banana slathered with cream-cheese frosting. The 25-year-old bakery doesn't do slices, it should be noted, but instead makes its catalog available in the form of four-inch mini-cakes. It's not exact math, but in terms of surface area, each one is the equivalent of two jumbo wedges, but with a super-generous boost of frosting.
4. Butter & Scotch
818 Franklin Ave., nr. Union St., Crown Heights; 347-350-8899
The pie specialists, and makers of the city's absolute best birthday cake, say their pretty-pink frosting is a nod to kid's-birthday-party schematics and pink-sprinkled Simpsons doughnuts, but with its hint of cream cheese and subtle sweetness, it packs a lot of personality of its own. Ditto for the "Blingkles," a bedazzled, edible gold-glitter, and gold-crystal sugar combo applied liberally to the Hotline Bling cake. Grub Street tends to have a zero-tolerance policy as far as edible gold is concerned, but there's something masterful about the slight crunch those Blingkles bring to the faintly bitter chocolate frosting and hearty crumb, which is gently basted with salted caramel.
5. Mah-Ze-Dahr Bakery
28 Greenwich Ave., nr. W. 10th St.; 212-498-9810
It's not all stupendous brioche doughnuts and perfect cheesecake: The fluffy, scalloped meringue tops of lemon-meringue cakes are as delightfully retro as their curd filling is sunny, as if the recipe had been locked away in a vault since the 1950s and now just wants to shine. The Devil in Ganache's sheeny coating of chocolate cut with whipped cream, in place of buttercream, makes it the kind of cake a Bond villain would order. And most carrot cakes present a paradox, in that they never really taste like their top-billed ingredient; Mah-Ze-Dahr's wholesome and unpretentious version, smoothed out with maple-cream-cheese frosting, is two layers of damp, nutty, and dense crumb with an almost herbaceous, bona fide carrot flavor baked through.
Amy's Bread
Multiple locations
Cakes at this venerable, humble 25-year-old institution are made around the clock, and as such don't have time to be over-the-top fancy. Buttery red velvet doesn't have the yicky, perfumey quality found in the same cake most everywhere else. Classic yellow is never dry; icing is never too sweet. The three-tiered German chocolate comes with a filling that could be described as a coconut-pecan praline, which wins with a kind of brute-force deliciousness.
Baked
Multiple locations
Beginning in 2005, Matt Lewis and Renato Poliafito set out to revive a certain (and certainly endangered) species of mid-century layer cake: Pitch-perfect versions of diner-style devil's foods and Coca-Cola Bundts, some dolled up in buttercream, all generally flawless. Of course, Martha Stewart was an early adopter; and in addition to a swanky Tribeca outlet, Baked's repertoire over the years has grown to dozens of three-layer beauties that depart from vintage specs in all kinds of exciting lemon-curd-buttercream-frosted, peppermint-filled, boozy-grasshoppered, and raspberry-lemonade-themed directions.
Lady M
Multiple locations
The homegrown boutique is now a mini-chain, and a bit frilly one at that. Even the most devoted Lady M customers would argue that the house specialty is mille-crêpe cake, in creamy citron and wonderfully dusty matcha versions, and that mille crêpes don't really qualify as "cakes" at all. There are plenty of other options: The gâteau, covered with flamboyant chestnut-pastry-cream squiggles, is spectacular; and the strawberry shortcake is bafflingly fluffy. Chocolate or green-tea, ganache-covered checkers cakes are (painstakingly) made from concentric rings of featherlight sponge, held together with whipped cream, so each slice takes on a dainty and wholly unnecessary tessellated effect.