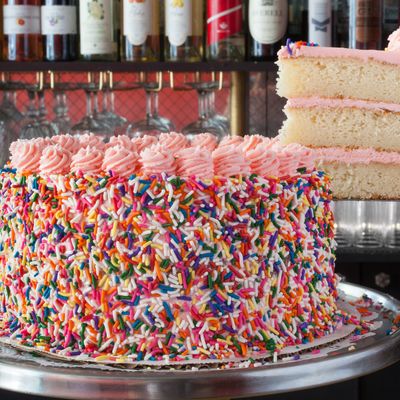 Even better: You can order a slice of one of the winning cakes in a bar.
Photo: Miachel Breton
Yes, any cake can technically be a "birthday cake" if you put a candle in it, but we wanted the version specifically billed as a "birthday cake" on the bakery's menu, because celebrations are no time to be wishy-washy about your intentions. Now that we've come back down from our sugar highs, we're happy to inform you that these are officially the cakes that will take you back to your childhood and put the biggest smile on your face.
1. Butter & Scotch
818 Franklin Ave., nr. Union St., Crown Heights; 347-350-8899
Bakers Allison Kave and Keavy Blueher make the platonic ideal of a childhood birthday cake: a 9-inch, three-layer vanilla white cake with pink frosting and rainbow sprinkles. And, look, there's no other way to say it: The cake is moist, miraculously so, and it stays that way even hours after you've cut the first slice, owing to an expert reduction in the amount of flour that's used in the batter. The cake also happens to nail a perfect level of sweetness, giving you the sugar fix you're looking for without making you immediately reach for a glass of milk. In fact, because the cake is sold by the slice at Butter & Scotch's combination bakery and bar, you can reach for a glass of something considerably stronger to wash everything down.
2. Momofuku Milk Bar
251 E. 13th St., nr. Second Ave.; 347-588-9504
If you've been to a birthday party in New York in the last few years, you have almost certainly seen, and possibly eaten, one of Christina Tosi's now-iconic "naked" unfrosted birthday cakes. It's essentially a status cake, but it also happens to taste like the pastry-chef version of childhood: Tosi's team soaks the cake in milk and vanilla extract and bakes sprinkles, Funfetti style, right into the batter. The rainbow-cake crumble on top is an A-plus garnish, too. In fact, the cake only loses points because the vanilla frosting between layers is so aggressively sweet that it's hard for all but the most hardcore sugar fiends to eat more than a few bites in one sitting.
3. Duane Park Patisserie
179 Duane St., nr. Greenwich St.; 212-274-8447
Through her Tribeca bakery, Madeline Lanciani makes cakes for some seriously highbrow clients, like the Met Costume Gala. What makes Lanciani's cakes really stand out is their ornate appearance. Almost always custom orders — consisting of three layers of actual cake and two layers of a filling encased with icing — the finished cakes can be made in the likeness of a tiara, a piano, or your own photograph. Anything you want, in other words. You can choose whatever flavor combination you want, too, but by default Lanciani suggests a combination of yellow cake with chocolate icing. You should take her advice: The combination is classic for a reason and, and in contrast to many of Duane Park's competitors, the sugar level is ratcheted down a bit to give these high-class cakes an adult-appropriate sweetness.