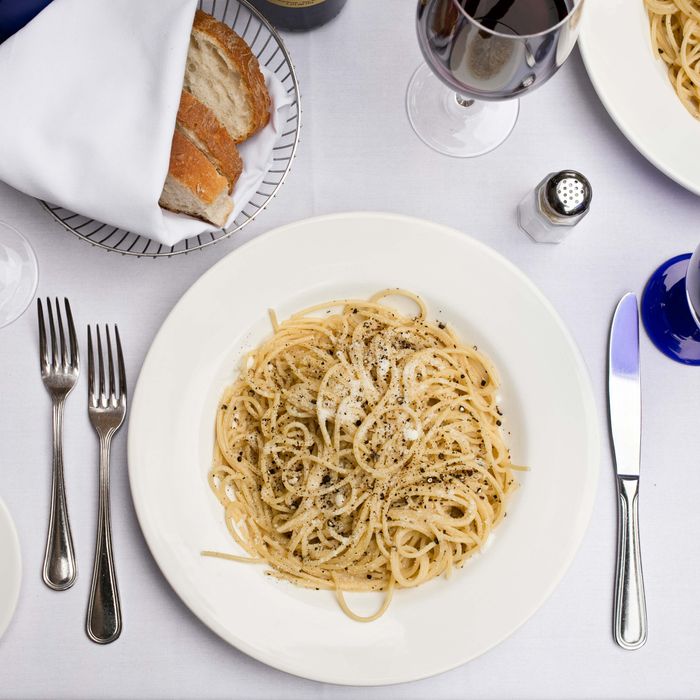 Sandro's off-the-menu cacio e pepe.
Photo: Melissa Hom
Here, the best versions of the cucina povera classic pasta cacio e pepe, which may be more popular in New York these days than it is in Rome.
1. Sandro's
306 E. 81st St., nr. Second Ave.; 212-288-7374
Cacio e pepe is just three ingredients: pasta, cheese, and pepper — four if you count the pasta cooking water, which you should since it's the key to a smooth sauce. But there's more to it than that. There's the matter of getting hot pasta water and fatty cheese to play nice. There's vigorous tossing and vigorous stirring. And there's much precision shuffling of saute pans on and off the heat. In short, there is technique, the goal of which is a sharp and spicy emulsified sauce that clings to but doesn't weigh down the pasta. All of this requires something like the quick thinking and lightning reflexes of an NBA point guard. Which may be why Sandro Fioriti, the Roman-expat chef, entrusts his off-the-menu cacio e pepe to no one in his kitchen but himself. His ultra-traditional version (spaghetti, Pecorino Romano, coarsely ground black pepper) strikes the right balance between sauce and pasta. The sauce is not too loose, not too viscous. Each particular strand of spaghetti seems to have been dipped in it the way bon bons are dipped into vats of tempered chocolate. It goes without saying that the spaghetti is cooked al dente, and served piping hot. If there's a secret to his success, Fioriti isn't spilling, but it must be practice and more practice — the 68-year-old chef has been making the dish almost his entire life, having gotten his start in the kitchens of Rome at the age of ten.
2. Hearth
403 E. 12th St., at First Ave.; 646-602-1300
Another off-the-menu sensation, Marco Canora's cacio e pepe, made with spaghetti alla chitarra, is an out-and-out flavor bomb that gives the lie to the common refrain that pasta cacio e pepe is Italy's baby-palate answer to mac and cheese. Canora uses olive oil (generally acceptable), finishes with butter (officially verboten, but used by more cooks than you'd think), and doesn't skimp on the freshly ground black pepper. His C.E.P. should come with an NC-17 rating.
3. Maialino
2 Lexington Ave., nr. 21st St.; 212-777-2410
Nick Anderer's cacio e pepe is distinguished by the kitchen's springy housemade tonnarelli (which would be even better if it had just a little more bite) and an unbelievably creamy sauce made, of course, without cream. It's so popular, they offer it practically 'round the clock — at lunch and dinner, between lunch and dinner, and on the late-night menu. If that's not enough, come back for breakfast and try the softly scrambled cacio e pepe eggs.
4. I Sodi
105 Christopher St., nr. Bleecker St.; 212-414-5774
Rita Sodi's superbly textured spaghetti cacio e pepe is not too wet, not too dry, never clumpy, and well-peppered. According to Sodi, it's her most popular pasta dish — which is saying a lot considering how good the other primi selections on her menu are.
5. Lupa
170 Thompson St., nr. Houston St.; 212-982-5089
Mario Batali put bavette cacio e pepe on the menu when he and Joe Bastianich opened Lupa way back in 1999. Which might be why some people who need to get out more think he invented the dish. It's still as rich and satisfying as it was 16 years ago.
6. Momofuku Nishi
232 Eighth Ave., nr. 22nd St.; 646-518-1919
Italians have many pasta rules. One of them is no cream in the cacio e pepe. Ditto butter. So who knows what they would say about chickpea hozon, the cheesy, miso-like, fermented-chickpea paste that stands in for Pecorino Romano in Momofuku Nishi's ceci e pepe? What we say: brilliant, innovative, and, yes, delicious. Respectful of tradition in its own way, too. And even if most Roman cacio e pepe scholars would not condone it, they could probably get behind chef Josh Pinsky's springy housemade bucatini.