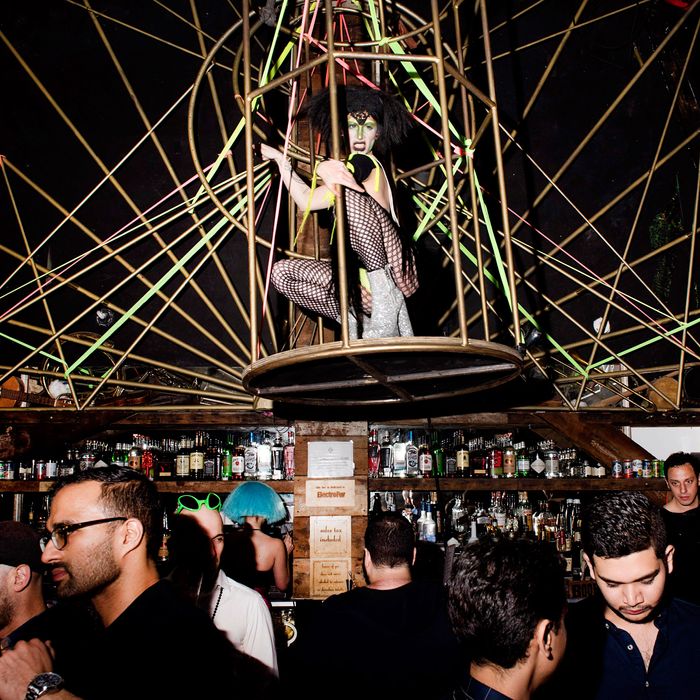 House of Yes is part Burning Man, part burlesque, and totally glitter-queer.
Photo: Liz Clayman
Blame it on Hannah Horvath: She came, she partied, and she left in her wake an explosive Bushwick bar scene. Now, the neighborhood of warehouses, bodegas, and Spanish soul-food restaurants is crawling with crowds. Weekend nights can sometimes look as busy as the scene in Williamsburg or the East Village, but amid all the din, there are some great spots for a memorable night out.
1. House of Yes
2 Wyckoff Ave., at Jefferson St., Brooklyn; no phone
As the streets around the Jefferson stop on the L continue to gentrify, HOY is keeping things as weird and spiky as a sequined stiletto in a sea of New Balance sneakers. Part Burning Man, part burlesque, and totally glitter-queer, this gorgeous, roomy performance venue offers a dazzling array of events, from Tasha Blank's Thursdays' sweaty dance party the Get Down (come early for the pre-party yoga) to Wednesdays' Bingo Fabulous (free) with Madame Vivien V and DJ Matty Glitterati. Also, a Bottomless Brunch, amateur burlesque night, and Eric Schmalenberger's mad monthly variety show, Blunderland.
2. Featherweight
135 Graham Ave., nr. Johnson Ave., Brooklyn; 646-257-0946
This hidden gem has an unmarked entrance and an impressive array of cocktails — like the grapefruit-and-rum Anchor Bend, and the bright, bordering-on-healthy Norse Buck, with ginger, carrot juice, and Aquavit. "How can I make your day a little smoother?" said the bartender, Leonardo, to a recent patron.
3. Duckduck
161 Montrose Ave., nr. Humboldt St., Brooklyn; 347-799-1449
With its duck-themed décor and wood-paneled interior, this bar has a sense of humor and a warm, friendly neighborhood vibe. It's roomy, high-ceilinged, and welcoming to all, plus there's karaoke every third Thursday. It just feels good to be there.
4. The Cobra Club
6 Wyckoff Ave., nr. Jefferson St., Brooklyn; 917-719-1138
This performance space, yoga studio, and café is like Manhattan's Rockwood, Yoga Shala, and Café Grumpy all rolled into one. But don't be fooled, at night, like an illusionist, it becomes a bar. Not just any bar — one with grit, hard drinks, and a sexy atmosphere. It's a great place for local comedy and to bob your tipsy head to bands. Recent nights hosted women-of-color punk bands and a pure-metal night.
5. Heavy Woods
50 Wyckoff Ave., at Willoughby Ave., Brooklyn; 929-234-3500
It's hard to stay smiley when your neighborhood starts thronging with tourists, but Heavy Woods maintains a friendly demeanor. Maybe it's the tasty food: The Louisiana-style restaurant offers gumbo, po'boys, and Hoppin' John. "Be nice or leave," says the menu.
6. Happyfun Hideaway
1211 Myrtle Ave., nr. Willoughby Ave., Brooklyn; 917-999-8282
This divey, queerish bar somehow keeps pretentious people away. With its drink specials, $5-to-$7 beer and shot deals, and $6 PBR, it's also inexpensive. It's the kind of place where you can drink a bottle of mini-Champagne out of a straw and no one will judge you.