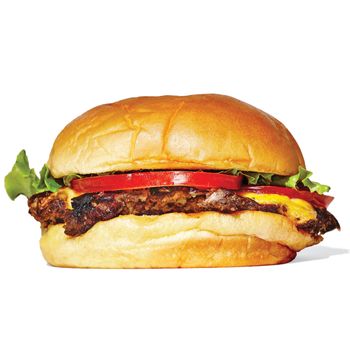 Everything about the ShackBurger is pretty much perfect.
Photo: Bobby Doherty
There was a time, not so long ago, when New York was considered a second-rate burger town. Well, folks, times have changed. We are now inarguably and unrelentingly a first-rate burger town. If anything, we have too many great burgers. Here are the best burgers in NYC.
1. Shake Shack
Multiple locations
The beauty of the burger is that it can take many forms within a certain template. And what's great and worth celebrating about this burger-besotted nation of ours is the regional variations you'll find in places like Minneapolis, Minnesota; Santa Fe, New Mexico; Chickasha, Oklahoma; Prairie du Chien, Wisconsin; and Rocky River, Ohio, to name but a few. But if you had to define the burger in the way that, say, committees of brand-savvy Neapolitans have taken to codifying pizza through their various pizza-policing gangs and associations, you couldn't do better than to point to the ShackBurger as your model. Everything about it is pretty much perfect: Its blend of freshly ground beef (antibiotic-and-hormone-free, it goes without saying). Its flawless smash-burger execution. Its distinctive, addictive flavor, as if the cooks secretly seasoned it with some illicit umami-enhancer. Its just-right size. The textbook squish of the bun. The molten meltedness of the cheese. The not-horribleness of the lettuce and tomato, even out of season. Its ability to satisfy on some elemental level that fancy burgers cannot. In short, its Ur-burgerness. Yes, it might have been inspired by the chains of Danny Meyer's midwestern youth and can now be found everywhere from Arizona to Istanbul, but it's a New York native with a local origin story — a hometown burger made very, very good.
2. Bowery Meat Company
9 E. 1st St., nr. Bowery; 212-460-5255
Somehow, out of the Champagne-dreams-and-caviar-wishes preposterousness sparked by Daniel Boulud's DB Burger, the Shake Shack–driven back-to-basics burger correction, and the subsequent modernist burger movement, there emerged a terrific new upscale burger — a superb synthesis of high and low, cheffed up but toned down, a fancy-pants burger with a bar-burger soul. The apotheosis of this style is the cheeseburger Josh Capon griddles to crusty perfection at Bowery Meat Company: seven ounces of 30-day-dry-aged custom-blended beef, smothered with caramelized onions and raclette, dressed with tomato aioli, and gently shoved into a well-tailored brioche bun. It's the only burger we know that owes as much to the Pat LaFrieda meat-aging locker as it does to a trick Capon stole from In-N-Out — that is, swiping the patty with cheap mustard before searing it on the plancha.
3. The Brindle Room
277 E. 10th St., nr. Ave. A; 212-529-9702
Anyone who survived the gourmet-burger boom of the early aughts knows that the number of perfectly good patties ruined by a chef's compulsion to dress them up with fancy buns and condiments is considerable. All those ciabatta rolls! All that housemade ketchup! All that exquisite farmstead cheese that wouldn't melt! Jeremy Spector's dry-aged burger, a deckle-larded six-ounce dynamo served with caramelized onions and two Kraft singles on a squishy bun, is the antidote to all that mishegoss. The Brindle Room burger reminds us that burgers are, first and foremost, about the beef, but also that you can't deny the supremacy of cheap buns and American processed cheese. A big fat bonus point to Spector, too, for giving the middle finger to the burger-nerd orthodoxy, stating on his menu that this steakburger is "recommended medium." "If somebody just wants to, like, think that I'm stupid because they only like mid-rare or rare burgers," he says in a Food Curated video, with a delivery that would do Jeff Spicoli proud, "these are the types of problems I try to avoid."
4. Raoul's
180 Prince St., nr. Sullivan St.; 212-966-3518
On paper, the Raoul's burger sounds like an all-American burger aficionado's worst nightmare: First, it's Frenchified to within an inch of its life, spackled with peppercorns, basted in butter, served on a challah bun slicked with au poivre mayo, and gilded with a dainty pat of Saint-André, a triple-crème cheese. There is watercress. There are cornichons. There's a sidecar of au poivre sauce for dipping. Did we mention the cornichons? And if all that isn't enough, chef David Honeysett has created the illusion of scarcity, rationing the LaFrieda brisket-blend patties like water during a drought to just a dozen a night, served only at the bar (except at brunch, when he relaxes the policy). Stunts like that, combined with the dish's almost absurd over-the-top-ness, should work against it. But one bite — and maybe another, yes, dunked in the sauce — might even convince you that all burgers should be au poivre (and French).
5. Hard Times Sundaes at UrbanSpace Vanderbilt
230 Park Ave., at Vanderbilt Ave.; 646-747-0810
Andrew Zurica made his name in the New York burgersphere hawking four-ounce smash burgers from a truck he parked in Mill Basin and South Williamsburg, but he has lately taken up residence at a midtown food court. And while there is much to be said of the pleasures of gobbling smash burgers from a truck en plein air, whether it be the plein air of Mill Basin or South Williamsburg, the move indoors hasn't diminished the quality of Zurica's crackerjack griddle work. His is a whole-is-greater-than-the-sum-of-its-parts burger, with every ingredient carefully considered and masterfully combined. Chief among these ingredients is grease — that deep, delectable flavor of a broken-in flattop that imparts to each loosely packed puck of meat the seasoned remnants of burgers past. The American cheese is less melted than infused; it's unclear where yellow goo ends and meat and bun begin. And that bun — a Martin's potato roll given a ride on an automatic butter-roller, then toasted on the griddle — manages to both contain the burger and cohere to it. That goes for the more precarious (and delicious) doubles and triples, too.