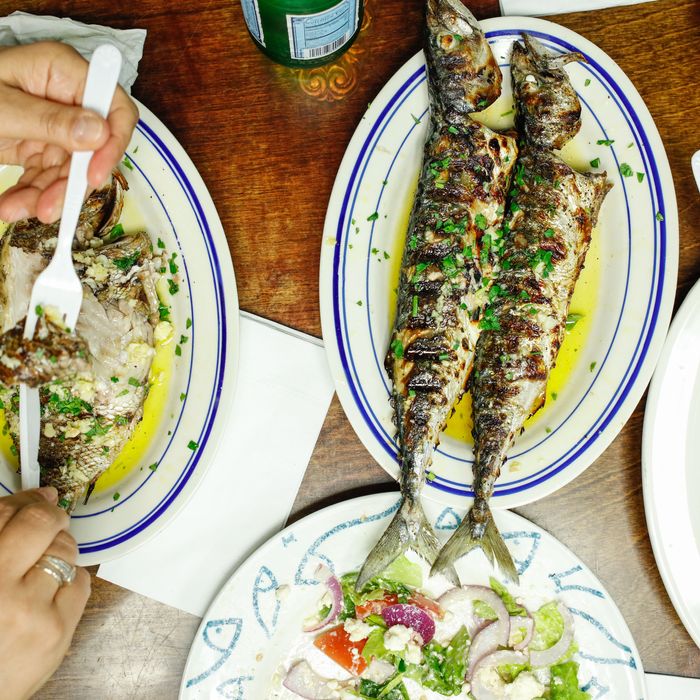 The freshest fish needs nothing more than lemon, a little oil, and maybe some parsley.
Photo: Melissa Hom
Exquisite seafood is something that can easily get expensive, but it doesn't have to break the bank. In fact, the city is full of places that offer big deals on little fish, including torpedo-sized croquettes, bags of peel-and-eat shrimp, and gonzo calamari tacos.
1. Astoria Seafood
3710 33rd St., nr. 37th Ave., Astoria; 718-392-2680
The freshest fish needs the fewest garnishes. Lemon is good, maybe some parsley. Both are readily available at Astoria Seafood, where diners bag their own seafood before the cooks grill or fry it. Porgies and whiting, left whole, are among the low-cost options; plump, sweet sea scallops are a step up; and there's hulking swordfish steak alongside immense, shell-on prawns from the Mediterranean. There's garlic bread for dunking whatever juices are leftover, and a mild BYOB rowdiness that comes from convivial rounds of grappa, ouzo, and Michelob. Repeat visits suggest that, à la Di Fara Pizza, long waits are common, but people remain generally cheerful. Fun, maybe even more than the high-quality fish, is in fact the common denominator here.
2. North End Grill
104 North End Ave., nr. Vesey St.; 646-747-1600
Danny Meyer's North End Grill routinely fills up with banker types in three-piece suits and bespoke sweatpants, yet the dinnertime seafood options listed under the heading "snacks" on chef Eric Korsh's menu max out at less than $7 per piece. The chef skews French, but not fancy. Among the best options are deeply flavored cured anchovies on slabs of olive-oil-drenched bread, with a zucchini slice and dash of Espelette pepper. There's poached salmon belly with shallots for the rillettes, which are best when spread atop a still-warm hunk of grilled country bread. A croquette of cod (or hake) comes with a blistered Calabrian chile, and mayo emulsified with potent Arbequina olive oil. It's easy to make a meal of these at the bar, and since service is now included in the prices, the deal is even more appealing.
3. Coney Shack
2909 W. 8th St., nr. Surf Ave., Coney Island; 347-856-8356
Coney Shack is very aptly named, a dinky and squarish structure armored in diner-style diamond steel that is almost hidden between the vastness of the local DMV and a Ukrainian grocery store. A handful of picnic tables are perfect for watching the elevated Q and F lines, and the nominal theme is Southeast Asian tacos. Bass is tossed in cornflakes, fried, and served with cabbage and cilantro in a sturdy tortilla at a cost of $9 for three. Fried calamari tacos, meanwhile, involve a five-spice flour dredge, pickled onion, lemongrass mayo, some sheeny condiment called tomato-basil Creole sauce, and toasted sesame. The final tacos are weirdly raucous, as borderline genius as they are overkill, so why not add some hot sauce? There are eight bottles to choose from.
4. Sons of Thunder
204 E. 38th St., nr. Third Ave.; 646-863-2212
It's unclear if the gas will ever get turned on at this Murray Hill establishment, but all sorts of tricked-out burgers and fries were promised last fall when the place debuted. Who cares if the grill remains cold and buns never cross the pass, though, because the house-specialty poke really only requires sharp knives and a solid rice cooker. Also, that poke is excellent: The build-a-bowl format means choices are limited to vivid-red ahi, marinated octopus, and salmon streaked with fat. Add extra fried garlic seasoned with the Hawaiian sea salt known as alaea, some extra avocado, and spicy sauce. Touches like generic mesclun mix and off-the-shelf wakame do detract from the experience slightly, but the breezy and warm service more than makes up for it.
5. Bon Chovie
7604 3rd Ave., nr. 76th St., Bay Ridge; 718-836-7777
Last year, Renae Holland moved her 5-year-old Smorgasburg stall to the wilds of Bay Ridge, where she now serves cornmeal-breaded squid and a towering $23 burger that looks a little phantasmagorical when you first see it on someone's table, owing to its double crowns of lobster salad and Cheddar. Lowly fried anchovies remain the least expensive menu item, though, and they are still the main draw. Golden breadcrumbs coat the sides of the tiny whole fish, which are served minimally with smoked-paprika mayonnaise and a lemon wedge. Get a side of fries dusted with Old Bay, and call it a meal.
6. Lolo's Seafood Shack
303 W. 116th St., nr. Frederick Douglass Blvd., 646-649-3356
Chef Raymond Mohan deftly represents Belize with airy conch fritters, while simultaneously doing Maryland proud with lump crab cakes. Start with perfect fried smelts with garlic fries on the patio. After that, the peel-and-eat shrimp, which include a choice of sauce such as coconut-curry or ginger-butter-and-scallion, are the perfect accompaniment to the sunshine. Or go ecofriendly and get the $11 "shark and bake" sandwich, made with extremely sustainable Atlantic Spiny Dogfish and served on johnnycakes.
7. Jus Fishy
555 Flatbush Ave., nr. Maple St., Prospect Lefferts Gardens; 718-826-0616
The thick Caribbean punches on the menu come in flavors like carrot and peanut, hence the "Health Juices" banner on the menu, but the plates of whole steamed snapper and kingfish may be even healthier. If fried seafood is more your thing, large plates of tilapia or whiting with chips clock in under $10. Green plantains can be swapped for fries, and an option to get your seafood grilled means fish like salmon can be nicely blackened. The fish broth is a bona fide restorative, and roti are available on Saturdays along with the occasional special. The fish is super-fresh and pretense-free, but counter service does tend to get frenetic whenever there are more than three customers waiting.