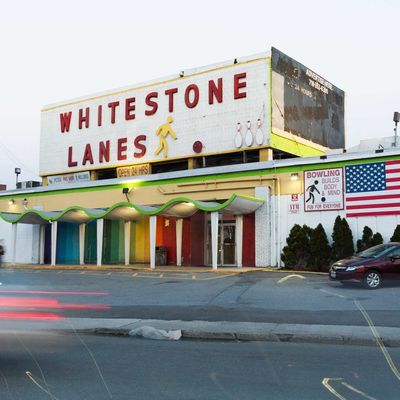 Open 24 hours, Whitestone Lanes is a true bowler's bowling alley.
Photo: Camilo Fuentealba
Here are New York City's best bowling venues, for when you're craving the sport's soothing rumble and clatter, the fist-pumping satisfaction of a perfectly delivered strike, or the well-deserved high-five after a tricky spare.
1. Whitestone Lanes
30-05 Whitestone Expy., at Linden Pl., Flushing; 718-353-6300

New York's finest bowling alley may not be the easiest to get to, but when you finally arrive at the one-story building in Flushing, you'll know you've made the right choice. The rainbow façade — with its retro wavy roof, peeling sign promising that "Bowling builds body and mind," and American flag — tells you everything you need to know: This is a classic bowling alley. And while it may be a seven-block walk from the closest train, it's arguably among the most accessible alleys in the city, thanks to three magic words posted on the front of the building: "Open 24 hours." Inside, you'll find all of the required ingredients for a prototypical bowling experience: bizarrely patterned carpeting underfoot, gray plastic lane-side seating, and automatic scoring monitors displaying surreal interstitial animations of balls chasing pins. With 48 polished lanes, Whitestone Lanes is also one of the city's largest alleys, accommodating everything from league tournaments and birthday parties to family outings and first dates. Games cost between $4.50 and $7.50 depending on day and time, and Whitestone offers regular all-you-can-bowl specials. There's an unremarkable bar and a basic offering of snacks, but you're not here for the food and drinks. You're here to bowl, and you've come to the right place.
2. Bowlmor Lanes Chelsea Piers
Pier 60, West Side Hwy., at 23rd St. ; 212-835-2695
Manhattan's bowling alleys skew nightclub-y, which can be a distraction if your focus is knocking down pins, not knocking back drinks. At the recently renovated Bowlmor Lanes at Chelsea Piers, the 40 lanes glow a slick blue in the darkened alley, and the far wall is made of huge TVs. But the alley is kept honest by its sporty environs — batting cages and indoor soccer fields are a softball pitch away — allowing Bowlmor to strike a pleasant balance between traditional bowling alley and trendy Manhattan nightlife spot. There's a full bar and a selection of pub-y comfort foods for snacking, including nachos and burgers and "pizza cupcakes" (it's like a mini-calzone). And if you get tired of bowling, you can play laser tag or climb on an indoor ropes course. Bowlmor also has a multilevel location in Times Square, with themed sections decorated like different New York neighborhoods. Head for the scarlet-drenched Chinatown lanes and admire the giant golden dragon, or go to the Central Park section and bowl in lanes flanked by grass.
3. The Gutter
200 N. 14th St., nr. Berry St., Williamsburg; 718-387-3585
Sure, the eight lanes at the Gutter are scuffed, and the decades-old electronic scoring system is prone to malfunction, but there's no denying the dive-bar charm of this Brooklyn gem. The lived-in feel comes from the fact that the Gutter lifted its eight lanes from a genuine 1970s bowling alley in the Midwest. Old bowling paraphernalia and hanging stained-glass lamps complete an effect that exemplifies the best of hipster Brooklyn: a calculated nostalgia trip that somehow avoids pretension. The Gutter has a top-notch beer selection and a "Spare Room" in the back that hosts regular $5 rock shows. There's no food, but feel free to order in: There's a binder full of delivery menus on hand. A caveat: Be prepared to learn how to keep score the old-fashioned way, with pencil and paper, as scoring machines here can be temperamental. And don't worry, you probably won't catch Ebola.
4. Melody Lanes
461 37th St., at Fifth Ave., Sunset Park; 718-832-2695
Melody Lanes in Sunset Park is a classic of the genre: brightly lit and painted in bold colors, featuring a space-themed neon backdrop on the back wall. If every bowling alley in the city has its own distinct flavor, then Melody Lanes is bowling-flavored. A midsize 26-lane alley with a neighborhood feel, it has a no-frills bar and an old-school snack canteen with round diner stools, offering both crinkle and curly fries.
5. Brooklyn Bowl
61 Wythe Ave., nr. N. 11th St., Williamsburg; 718-963-3369
Brooklyn Bowl is equal parts restaurant, concert venue, and bowling alley. So if you're looking to take in a live rock show or enjoy some classic Brooklyn fare (hello, kale and quinoa salad) while you work on your 7-10 split, Brooklyn Bowl is the place. Be warned that the 16 lanes are rented by the half-hour, under an expensive and slightly stressful system that can be more conducive to clock-watching than relaxation. But if you've got the time and the money, there's no feeling like hitting a strike with a great band playing onstage, with live video footage of every guitar lick projected on screens above the flying pins.
6. Frames
550 Ninth Ave., at 40th St.; 212-268-6909
Frames, tucked discreetly into a corner of the Port Authority bus terminal, calls itself a "bowling lounge," which is apt, given the mood lighting and plush banquette seating at its 28 lanes. Formerly known as Leisure Time Bowl and accessible only from within the terminal, Frames underwent an extensive makeover several years ago and emerged as a satisfying nightclub–bowling alley hybrid. Like a lot of Manhattan bowling alleys, it's a popular spot for corporate team-building outings, but it also has league play, including teams with matching bowling shirts. Frames has a good selection of beer, wine, cocktails, and eclectic bar food, including fried-egg BLTs and chicken and waffles. Games cost between $7 and $12.