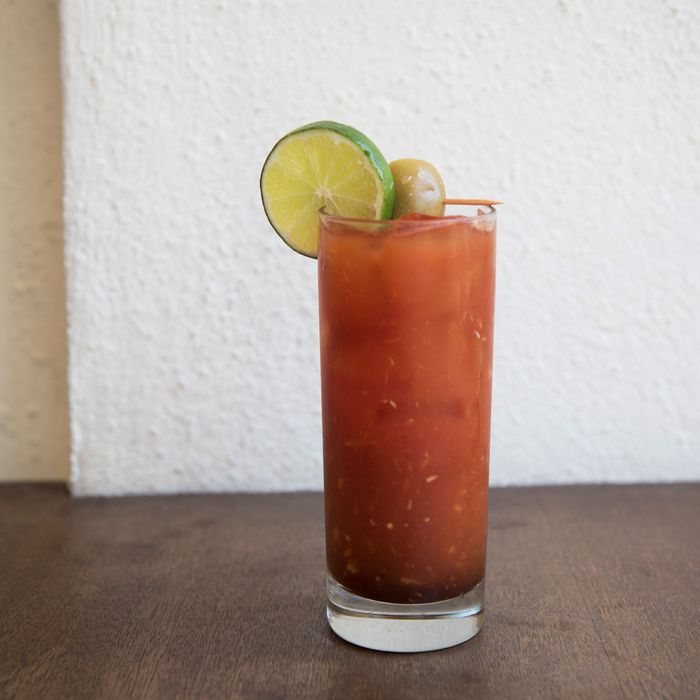 A paragon of the form awaits you in Fort Greene.
Photo: Liz Clayman
It's time to declare the absolute best Bloody Mary in New York, a city that of course has a deep history with the classic daytime drink (so deep, in fact, that common wisdom has it at least some version of the drink was invented here). At its best, the drink is a fresh-tasting, streamlined collection of ingredients that all amplify one another, with no gratuitous embellishment. So you won't find any fried-chicken garnishes here. Instead, these three spots offer absolutely perfect versions of the classic recipe.
1. Colonia Verde
219 DeKalb Ave., nr. Adelphi St., Fort Greene; 347-689-4287
One of New York's most prominent farm-to-table chefs once confided to us that no amount of heirloom-tomato moxie can top the "fresh" flavor standard set by Sacramento-brand tomato juice. Henry Koehler, the person tasked with devising the drinks at this laid-back Fort Greene spot, seems to agree. There are a number of inventive cocktails (the "Chili Wili" combines mezcal with vermouth that's infused with hibiscus and orange), but the house Mary sticks more or less to the script, starting with Sacramento juice, prepared horseradish, and a jigger of Three Olives–brand vodka. Then the ever-so-slight tweaks that elevate this drink above the usual fray: Maggi stands in for Lea & Perrins, adding a bona fide fillip of MSG, and Mexican hot sauce adds a little more nuance than traditional Tabasco. "Sometimes you just want something super-classic," Koehler says. That it is. The result is a flavor that's best described as "super fresh," owing perhaps to the umami-boosting glutamic acid in the tomato juice. But why bother philosophizing? It's just a damn good Bloody Mary. In fact, it's the best.

2. King Cole Bar
St. Regis Hotel, 2 E. 55th St., nr. Fifth Ave.; 212-339-6857
The stately, marble-plated St. Regis hotel is Ye Olde New York incarnate, clubby and surreptitious, the kind of place where a conversation with a stranger might lead to a great stock tip. Head to the famous bar in the back with Maxfield Parrish's even-more-famous mural of King Cole and order a just-as-famous Bloody Mary, or — as it's called here — a Red Snapper, which is aptly named, as it's the most fantastically strong Mary in town. Plus, a cheery bartender doles out bowls of free olives and nuts, and it's fun to drink under the watchful eye of Parrish's neo-classical goons. The hint of citrus and slow burn of cayenne is the same as it ever was, and — hopefully — the same as it will ever be.
3. Prune
54 E. 1st St., nr. First Ave., 212-677-6221
No reservations are taken during brunch, which means the line on 1st Street swells to epic proportions during peak hours. That fact is as insufferable as it is inconvenient, but Gabrielle Hamilton's dedicated Bloody Mary menu has long been famous, and justly so. Another devotee of the nectar otherwise known as Sacramento-brand tomato juice, Hamilton is equally inflexible about Worcestershire (Lea & Perrins), horseradish (Gold's), and hot sauce (Tabasco). The base is used for versions containing spirits like aquavit and gin, and there's a roster of pretension-free garnishes like jerky or house-pickled turnips that are also conveniently available à la carte.