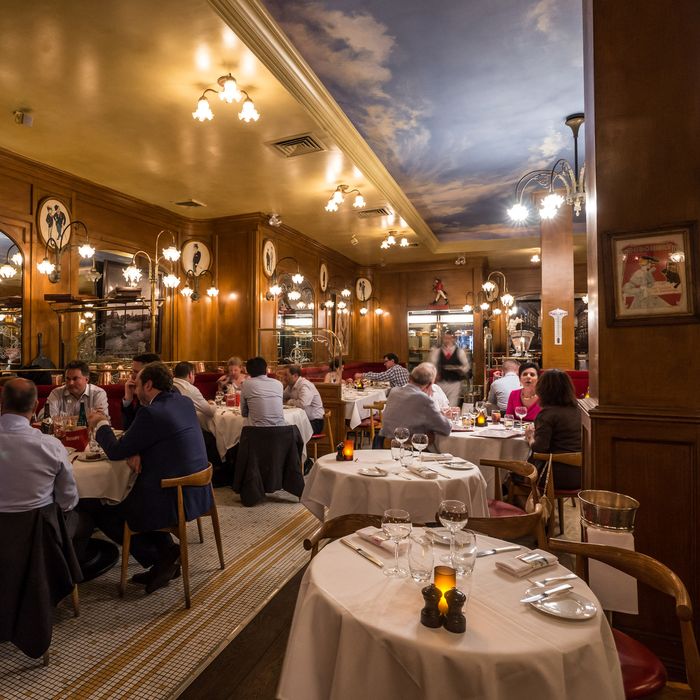 Great things are happening on West 55th Street.
Photo: Paul Wagtouicz
This list is all about bistros, as in the kind that serve traditional hard-to-come-by staples like veal blanquette and oeufs mayo. Vive la France!
1. Benoit
60 W. 55th St., nr. Sixth Ave.; 646-943-7373
Benoit's tenure in midtown began in 2008 as a kind of bistro simulacrum. Its inspiration was and is Alain Ducasse's Paris establishment of the same name. With trademark Duccassian pomp, we learned the 133-seat quasi-clone would be outfitted to the gills with Opinel knives, slate lion's-head soup bowls, and the hardwood bones of a 19th-century Bordeaux apothecary reconstituted to create a private dining room. What diners got instead was a stilted museum-quality reproduction of the form, "without purpose or passion," as Adam Platt put it. Diners were all but told how to eat their cassoulet — that is, when the staff was paying attention. "I think Americans don't quite understand French bistro," Ducasse finally scoffed.
Eight years on, as the influence of new-wave Parisian bistros like Bones and Frenchie has spilled over Stateside in the form of places like Rebelle and the newly minted Le Coucou, great things are happening on West 55th Street. Philippe Bertineau, Ducasse's chef since 2010, carries the torch for pâté en croûte: Cubes of lean and fatty pork turn up in cross-sectional slabs with hunks of foie gras and speckles of pistachio; head space between the veal-shoulder pâté and its pastry encasement brims with meaty, reduced ruby-port gelée, and there's a stoneware crock of pickles and mustard on the side. A special of soft-shell crabs with spring peas is light and pitch-perfect; sweetbreads with chanterelles and more peas a few weeks later are even better. The mess of Provençal vegetables adorning the loup de mer, as well as king salmon with favas and marjoram, are some of the simplest, best-handled fish dishes in the entire city. The famed quenelles de brochet are still a war between the domineering flavors of freshwater pike and crustaceans, waged with cream and butter and served piping hot in enameled iron, but the hard-to-pull-off contrast of fluffed and smooth textures is more deft than ever. Benoit is by no means inexpensive, the way we're supposed to think something like it might be in Paris, but the contrast between it and other so-called bistros is more apparent, and wider, than ever.
2. Chez Napoléon
365 W. 50th St., nr. Ninth Ave.; 212-265-6980
Order the poufy Grand Marnier soufflé when you sit down, because it really will take an hour; get an entrée, or a minimum of three appetizers. Follow the house rules, and Chez Napoléon almost always delivers excellence. The dim, gauzy Hell's Kitchen dining room turns 56 this year, but, thanks to the the run-down Gallic kitsch it exudes, it doesn't look a day over 84. Napoléon bills itself as a transatlantic cousin to the kind of cluttered, rustic, fierce-spirited bistro you might find near the Seine, but the truth is that the whole endive vinaigrette isn't as good at those places, if those places exist at all, and Chez Napoléon's spirit is uniquely, fiercely, New York–ish. Try the herby littlenecks "Josephine," or the escargot, which are buttered up inside ceramic, mollusk-shaped servingware shells, the kind that fell out of favor decades ago everywhere else. Chez Napoléon gets no memos, and we are better for it. Grand-mère Marguerite Bruno's menu is chockablock with faithfully prepared standards; the Frenchest-sounding ones — sweetbreads, cassoulet, half-duck confit with crisp skin — usually pay off the most.
3. Tout Va Bien
311 W. 51st St., nr. Eighth Ave.; 212-265-0190
At first glance, the broad-checked tablecloths make this Theater District oldie seem like it's a place to get spaghetti and meatballs. The sporty, flag-festooned bar telegraphs little more than an attractive Bud Light happy-hour-pricing schematic. The heart of this 69-year-old dining room, however, is larded through with morsels of saucisson sec. Its soul is all croûte everything. "Sorry for the Service in Advance" made it onto the menu in all caps, and a sort of food-magazine aesthetic looms. Specifically, it's the February 1961 Gourmet. Mashed potatoes are piped out of a bag with a fluted tip, while ham-and-cheese omelettes are offered at dinnertime alongside the steak, the way Carême intended. Head cheese comes with eggy gribiche, and veal kidneys are offered with a choice of mustard-wine sauce or Bordelaise. The coq au vin appears to have been obliterated in some kind of nuclear fallout, except instead of fallout it's demi-glace and red wine, and instead of atomic devastation it's the lowest, slowest braise ever. "My French girlfriend was impressed," someone pleaded on Yelp last month. Spend long enough mulling over the wonders of saucisson brioche, and chances are you will be, too.
4. Café Loup
105 W. 13th St., nr. Sixth Ave.; 212-255-4746
"The walls are beige and hung with prints," this publication noted in 1978, shortly after Café Loup's debut. The prints are now black-and-white photographs, but not much else has changed. It should be pointed out that Loup took New York's "Best Smoker-Friendly Restaurant" in 1998, which suggested a bright, nicotine-tinged, and entirely incorrectly prognosticated future for this West Village fortress of lardons. Otherwise, where there were Montmorency cherries on the duck in the '80s, there are now Granny Smith apples and shiitake rice. Gay Talese championed the icy house martini, which means the same drink is right now being endorsed by some poorer-dressed blog-to-book wunderkind at table five. This is a genuine neighborhood bistro that welcomes repeat diners with an effortless kind of warmth, and while it is more or less a classic bistro, the scene has never devolved into overly reverential spectacle. Café Loup has done fine without plastering its interior with French artifacts and souvenirs. This means the prix fixe onion soup still bubbles under a mantle of Gruyère, and the dining room remains the only place in the universe where Sunday jazz brunch has ever been acceptable.
5. Le Veau d'Or
129 E. 60th St., nr. Lexington Ave.; 212-838-8133
There were probably fresh-cut peonies on the bar when Oleg Cassini met Grace Kelly here in the 1950s, nearly 20 years into the restaurant's tenure on 60th Street. Business deals and divorces alike worth millions have roots in the house celery remoulade, creamy and unchanged since who knows when. More than 60 years ago, wheels of genuine Roquefort cheese took turbojets from Paris to Idlewild and were trucked into midtown. All for a salad. Next year Le Veau d'Or turns 80, which basically makes it immortal. Its trademark mix of money and humble bistro food — including the namesake veal kidney dijonnaise, or scalloped cutlets with lemon butter — has long since reached an infallible kind of durability. So what if the skate wing has too much of a hard sear, or the enormous poached leek with vinaigrette is a little waterlogged, or the stiff cube of gratin with the sole amandine lingered in the broiler a little too long? It's a cool thrill to sit and eat in a dining room where years are metered out in curly parsley sprig garnishes. Also, the île flottante is for real, and perfect.
6. Quatorze Bis
323 E. 79th St., nr. Second Ave., 212-535-1414
The restaurant is temporarily closed, with a projected reopening by July. Its reputation for clubby, elite clientele is well-deserved and readily apparent from the signed dust jackets on the wall. Menu prices are tellingly high, but the food is thoughtful and cooked well. Some green and red bitter chicories from the salad with warm bacon vinaigrette wend their way into another, beneath a seared slab of goat cheese, and it's nice that someone still cares about skate Grenobloise. Grill marks on the chicken are identical diamonds; the fries are golden and crisp. If you cannot stomach kvetching about your $100-a-month rent hike while the guy at the next table (loudly) cannot decide whether to gift his son's 501(c)(3) $5 million or $10 million come Q3, there's a long list of Calvados, Armagnac, and Sauternes to take the after-dinner edge off, or just get you drunk. Cheese, profiteroles, and poached pears belle Hélène are offered as desserts, along with an apple tart with fanned slices of caramelized fruit that are so pretty they appear be in a pastry-school textbook, or a socialite's dream.
7. L'express
249 Park Ave. South, at 20th St.; 212-254-5858
Four words: Baked Camembert at dawn. If you end up here at 5 a.m., you can enjoy a round of stinky cheese, warmed through, with greens and crusty bread on the side. The Gramercy restaurant is open 24/7, and its graveyard menu brims with snails bubbling in vivid green garlic butter, and tripe a l'ancienne. It's not an overnight dish, but you can get a round of foie gras torchon, sometimes, if you ask nicely. "How about our famous onion soup instead?" The server asks, which is all right because it's one of the few great questions in the history of language, and the stoneware cauldron is roughly half molten cheese and half funky onions. The steak quotient of the steak-frites looks a little more like sirloin flap, or the Frenchified "bavette" more than it does the advertised cut of hanger, but it has a decent sear and is plated with a tangled heap of thin, salty fries.
8. La Mirabelle
102 W. 86th St., at Columbus Ave.; 212-496-0458
Peter Kump, who banded together with Julia Child to co-found the James Beard Foundation and who started the cooking school that later became the Institute of Culinary Education, was an early champion of La Mirabelle. "Two Frenchwomen run it, and it's like going back into the sixties," he told this publication, in 1987, three years after it opened on the Upper West Side. (One of them, Annick LeJeune Le Douaron, died in October, at the age of 70.) The wine list skews French and has always been based on the idea that, to accompany meals, reds or whites should be affordable, enjoyable, and funner to order by the bottle than by the glass; the least expensive is a Chardonnay from Mâconnais, for $21. When I ordered the chicken livers, a man at the next table leaned in to say he orders the same dish once or twice a month. When the server went to go put in my order, he added that the prix fixe is $39.50 and includes a glass of wine, and mentioned a waitress who bursts out into song whenever the dining room begins to fill up.