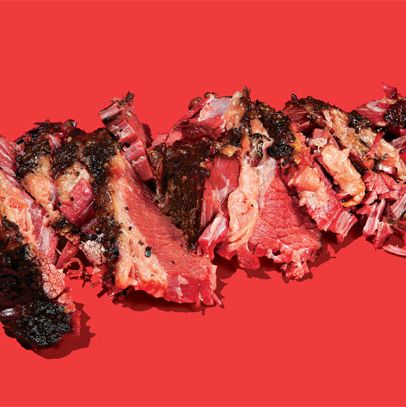 You can't really order wrong at John Brown Smokehouse.
Here are the city's best spots for bbq, including sticky, saucy ribs, fall-apart-soft brisket, smoky burnt ends, and all the traditional accompaniments.
1. John Brown Smokehouse
10-43 44th Dr., Long Island City; 347-617-1120
The most consistently sensational barbecue in New York can be found at this casual Queens restaurant, where the product of owner Josh Bowen's smoker has never been better. First things first: the burnt ends. Ordering these in New York is a gamble; you can sometimes end up with tough and dry hunks of meat that should never have been sold as burnt ends. This specialty, cut from the ends of a brisket, can create a surplus of brisket if they're a popular order, so lesser restaurants might serve burnt-end approximations. (At John Brown, Bowen used his leftovers to experiment with pastrami, and the peppery, coriander-y, mustard-seed-y result is surely one of the best happy accidents since the chocolate-chip cookie's chance creation.) There's no reason to fear dryness here, though: The flavorful, sticky bark slides off the intensely soft burnt ends like the blackened exterior of a marshmallow at a bonfire, and the meat melts when you eat it in a similar fashion. You don't even need the bottles of sauce atop every table, which is saying something at a restaurant paying homage to Bowen's barbecue-sauce-adoring hometown of Kansas City, but you'd be remiss not to try the sweet-and-spicy version and the crazy-hot-ghost-pepper sauce. Douse it on, perhaps, the ribs, or the pulled pork, or even the mac and cheese or coleslaw. You can't really order wrong here. Plus: All of this can be taken in the backyard, where there's frequently live music, and accompanied by a number of craft beers — including ones local to here and K.C.  
2. Hometown
454 Van Brunt St., at Reed St., Red Hook; 347-294-4644
By barbecue standards, this venue is practically fancy. Coupled with the clientele (30-somethings, strollers), the soundtrack (on a recent night, early-era Shins), the décor (a giant painted American flag, Edison bulbs, and fairy-style ceiling lights), it's easy to be skeptical of the quality of the 'cue. But cast off your doubts: The food is fantastic, like the appropriately fatty brisket, which is served plastic-fork-tender and with the most peppery bark you'll find in New York.
3. Royal Rib House
303 Halsey St., nr. Throop Ave., Bedford-Stuyvesant; 718-453-9284
"Have a blessed day," employees at this 1968-founded to-go 'cue joint tell customers as they pass them their bags of ribs, chicken, and cole slaw. Arrive early if you can, because dishes sell out (one Saturday the kitchen announced around 8 p.m. it had sold out of candied yams, and one guest pleaded, "Do you have any yam residue?!"). And don't bother calling ahead; little if any attention is paid to the phone. Also: Don't be surprised to spend an hour on line and waiting for the food. (You can catch up on neighborhood stories during this time with the locals, who line up at this family-owned spot on the three days it's open: Thursday, Friday, and Saturday.) Whatever you do, don't let any of this lead you to skipping out on Royal Rib House's meaty pork and beef ribs, its fried shrimp, its top-notch chopped-barbecue sandwiches, wet with slow-cooked juices and collard-green liquid dripping over from the side container of the takeout box, the pork drenched in a tangy house-brand sauce.
4. Blue Smoke
116 E. 27th St., nr. Park Ave. South; 212-447-7733
The historian Jonathan Bass has written that the three kinds of barbecue restaurants are black-owned; white "joints"; and upscale urban white. Blue Smoke is this last. But the restaurant's chef, Louisiana native Jean-Paul Bourgeois, is clearly respectful of sacred barbecue traditions, and the food here is terrific. Try the seven-pepper brisket, which at lunch can be ordered as part of a $18 special with a biscuit, one side, coleslaw, and a pickle. Choose the rich baked beans to accompany the super-soft brisket, charred nicely, not quite to candied-edge level, and served with hot sauce. Also: Other Southern sides are lovely, like pimento cheese. It's the kind of place you might visit with your parents for a graduation dinner, or maybe on a Sunday night with 6-year-olds in tow (there's a kids' menu, and the Danny Meyer service is, natch, smooth and gracious).
5. Fette Sau
354 Metropolitan Ave., nr. Havemeyer St., Williamsburg; 718-963-3404
The best way to do Fette Sau: Step up to the counter, ask for a half-pound of Berkshire-pork belly, maybe some broccoli salad; say yes when offered a potato roll. Turn your attention to the bar, which happily offers a large selection of American whiskies. Place an Old Fashioned order, then grab your dinner, served on brown butcher paper on metal trays. There are four sauce options (sweet, chile, spicy mustard, and vinegar); we'd suggest blending the mild, ketchupy first with the smoky-chile second. This pairs well with the belly, which tastes of brown sugar and cumin and makes a fine DIY sandwich with your Martin's roll.
6. Linda's Rib Kage
260 Halsey St., nr. Tompkins Ave., Bedford-Stuyvesant; 718-230-0407
You're encouraged to dress to your heart's content the thick ribs served at this little spot down the street from Royal Rib House, and given three choices of sauce: a mustard-based tangy version, a spicy jerk number, and a sweet barbecue option. "Don't be shy," the counter worker will tell you. Be sure to follow their advice. The ribs are perfectly good on their own, but the tangy, slightly sweet, a little bit hot, sunset-orange barbecue sauce makes it. No matter how much you pour on the meat, you will wish you had more, to dip your cornbread in or just lick right off your fork.