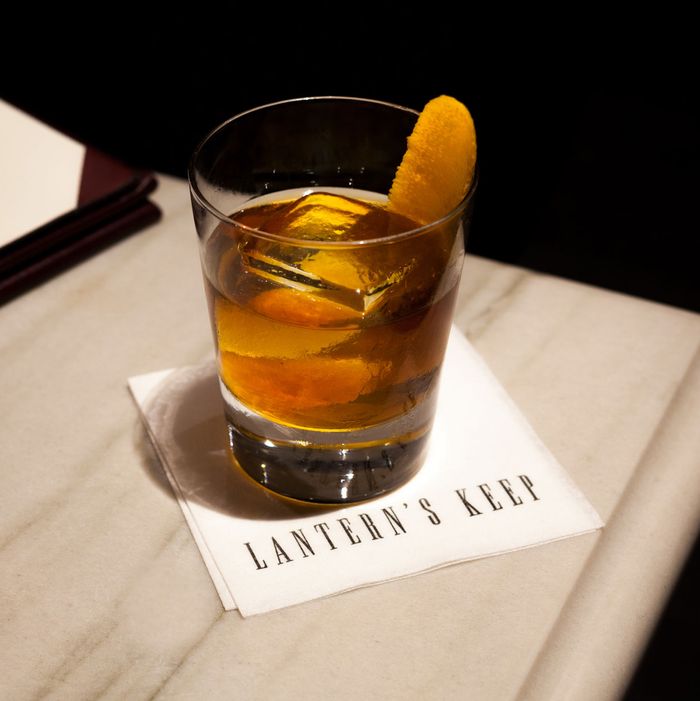 Four barstools and a handful of tables.
Photo: Miachel Breton
Having ranked the best hotel bars downtown, it's time to turn our attention to midtown and above to find the best hotel bars above 23rd Street — spots that match elegant settings with sophisticated drinks, while hundreds of people sleep upstairs.
1. Lantern's Keep at the Iroquois Hotel
49 W. 44th St., nr. Sixth Ave.; 212-453-4287
Size does matter. And in hotel bars, smaller, it turns out, is better. (There is nothing intimate or romantic about a row of bottles and some stools at the edge of an airplane hangar, after all.) Lantern's Keep would top this list for its cocktail quality alone, but its size is a significant part of the appeal. Four bar stools. A handful of tables. It's like a tiny temple to drinking well, which is a good thing because the cocktails are some of the best you can get in this part of town, the collection wide-ranging and inclusive. The bar gets added points for its low-alcohol sherry-based drinks, but you can definitely get something full-strength if you don't plan to drink all night long. Whichever route you choose, you're in good hands, even if it is a little weird that the place is in the back of a hotel on a soulless stretch of 44th Street.
2. Bemelmans Bar at the Carlyle
35 E. 76th St., nr. Madison Ave.; 212-744-1600
Look, we live in a time where some of the city's most beautiful, high-end hotels can get away with serving absolutely garbage cocktails. Some of the worst drinks in New York are being served at the Plaza's Rose Bar and the St. Regis's King Cole Bar. (Trust us: Two editors sampled widely from the menus at each and did not come away impressed.) Which is what makes the Carlyle's iconic muraled piano bar so phenomenal: It doesn't just look good. It's actually good. Maybe this is because the white-jacketed waiters clearly take pride in what they do; maybe it's because the live music tends to draw a tight crowd — C-suite types, well-heeled tourists, affairs still in the honeymoon stage — every night of the week, so they get a lot of practice. Whatever it is, the martinis and Manhattans sent out into the room, sparkling under the gold-leafed ceiling, are exactly as well made as a room like this deserves, even if it's surprisingly rare to find these days.
3. The Bar Downstairs at the Andaz
485 Fifth Ave., at 41st St.; 212-699-5602
The Andaz treats its basement bar like a mash-up of a beer hall and an experimental restaurant. Long communal tables surround an open kitchen; there is no formal bar to speak of. And it's dark, in the sexy way. Cocktails are arranged in two groups: seasonal and classic. The classics are spot-on, but break from your comfort zone and try something new. Drinks like the "Where There's Smoke" (made with a phenomenally complicated base of rye whiskey that's infused with smoked black tea) prove that the bartenders back there in that open kitchen don't just know what they're doing, but have big ideas about how to do it. It works.
4. The Mark Bar at the Mark Hotel
25 E. 77th St., nr Madison Ave.; 212-606-3030
This small, fluid room tends to function as a bit of a holding area for the Jean Georges restaurant hidden down a hallway behind it, but it's very much its own bar, and it's a surprisingly good one to be located so far uptown, and so close to the park. Signature cocktails are assembled with care (order a MARK Manhattan and the bartender will walk you through its flavor profile to make sure you understand how it differs from a traditional Manhattan), and the wine list, thanks to Jean-Georges, no doubt, has blessedly few clunkers. Though the furnishings are a bit manic (please, divest your cowhide holdings), the space in the summer — with early evening light still flooding in, when the doors are open to the street — is just right for a postwork drink or three. Get here early enough, and claim a patch of cowhide.